Expression of epigenetic machinery genes is sensitive to maternal obesity and weight loss in relation to fetal growth in mice
Clinical Epigenetics
The official journal of the Clinical Epigenetics Society
2016
8:22
Received: 24 November 2015
Accepted: 12 February 2016
Published: 27 February 2016
Abstract
Background
Maternal obesity impacts fetal growth and pregnancy outcomes. To counteract the deleterious effects of obesity on fertility and pregnancy issue, preconceptional weight loss is recommended to obese women. Whether this weight loss is beneficial/detrimental for offspring remains poorly explored. Epigenetic mechanisms could be affected by maternal weight changes, perturbing expression of key developmental genes in the placenta or fetus. Our aim was to investigate the effects of chronic maternal obesity on feto-placental growth along with the underlying epigenetic mechanisms. We also tested whether preconceptional weight loss could alleviate these effects.
Results
Female mice were fed either a control diet (CTRL group), a high-fat diet (obese (OB) group), or a high-fat diet switched to a control diet 2 months before conception (weight loss (WL) group). At mating, OB females presented an obese phenotype while WL females normalized metabolic parameters. At embryonic day 18.5 (E18.5), fetuses from OB females presented fetal growth restriction (FGR; −13 %) and 28 % of the fetuses were small for gestational age (SGA). Fetuses from WL females normalized this phenotype. The expression of 60 epigenetic machinery genes and 32 metabolic genes was measured in the fetal liver, placental labyrinth, and junctional zone. We revealed 23 genes altered by maternal weight trajectories in at least one of three tissues. The fetal liver and placental labyrinth were more responsive to maternal obesity than junctional zone. One third (18/60) of the epigenetic machinery genes were differentially expressed between at least two maternal groups. Interestingly, genes involved in the histone acetylation pathway were particularly altered (13/18). In OB group, lysine acetyltransferases and Bromodomain-containing protein 2 were upregulated, while most histone deacetylases were downregulated. In WL group, the expression of only a subset of these genes was normalized.
Conclusions
This study highlights the high sensitivity of the epigenetic machinery gene expression, and particularly the histone acetylation pathway, to maternal obesity. These obesity-induced transcriptional changes could alter the placental and the hepatic epigenome, leading to FGR. Preconceptional weight loss appears beneficial to fetal growth, but some effects of previous obesity were retained in offspring phenotype.
Keywords
Maternal obesityPreconceptional weight lossFetal growth restrictionEpigenetic machineryHistone deacetylases (HDACs)Lysine acetyltransferases (KATs)PlacentaLiver
Background
The worldwide prevalence of obesity in women was 38 % in 2013 [1]. Obesity during pregnancy comprises increased risks for metabolic and obstetrical complications (e.g., gestational hypertension and diabetes, and preeclampsia) but also stillbirth, prematurity, and congenital malformations [2]. Fetal growth could be particularly impacted by maternal obesity. Maternal obesity is associated with macrosomia or, on the contrary, with fetal growth restriction (FGR) [3–6]. FGR is associated with a high incidence of metabolic diseases in adulthood [7, 8], which is consistent with the developmental origins of health and disease (DOHaD) concept. This concept, also named "developmental programming" or "conditioning," states that environmental factors during early development could predispose an individual to chronic diseases [9].
Despite the high incidence of FGR in obese women, little is known about the underlying mechanisms. FGR could result from insufficient oxygen supply due to disturbed vascularization, increased lipid accumulation, and macronutrients transport in the placenta, crucial organ regulating appropriate fetal development [10–12]. Importantly, different placental parts have different functions and cellular populations [13]. The labyrinth is a zone of active exchange between maternal and fetal blood, while the junctional zone provides hormone production and storage of nutrients that are necessary for fetal development [13]. The structure and the function of several organs could be affected in the offspring of obese mothers. In utero alterations of hepatic development and function by maternal obesity could disturb metabolic homeostasis [14, 15]. The effect of obesity on organogenesis and gene expression in growth-restricted fetuses needs further investigation; the current efforts are indeed focused on FGR induced by poor maternal nutrition [16].
Modulation of offspring phenotype in response to maternal environment could be mediated by epigenetic mechanisms. Epigenetic marks (e.g., DNA methylation, histone posttranslational modifications) are stable but reversible covalent modifications that are regulated by a complex epigenetic machinery. Its actors "write," "erase" or "read" epigenetic marks, establishing the epigenome of the cell in conjunction with environmental factors. This epigenetic landscape is dynamic during development and controls gene expression patterns in a tissue-specific manner. Alterations of DNA methylation, histone modifications and, to a lesser extent, of their regulators were observed in relation to FGR caused by different factors [17–22]. Epigenetic disturbances in growth-restricted fetuses in the context of maternal diet-induced obesity need further investigation. Maternal unbalanced nutrition and metabolic state could impact certain epigenetic enzymes in the developing organs of the offspring, affecting the epigenome [23, 24]. As epigenetic marks can be transmitted through generations of cell divisions, epigenetics has emerged as a plausible mechanism for long-term memory of environmental insults [23, 25].
To counteract the negative effects of obesity on pregnancy outcomes, preconceptional weight loss is currently recommended to women with high body mass index [26]. Nevertheless, very few studies have assessed the consequences of maternal weight loss on fetal growth [27]. In humans, weight loss between two pregnancies reduces the risk of macrosomia [28]. However, in another cohort, weight loss between the age of 20 years and conception had a negative impact on birth weight [29]. Thus, the impact of maternal preconceptional weight changes on fetal growth and underlying epigenetic processes needs to be clarified. Currently, there is no relevant mouse model to study this important issue for public health.
Based on the observations that maternal obesity impairs feto-placental development, our aim was to examine the impact of maternal weight trajectories (obesity or weight loss) on the expression of epigenetic and metabolic genes in the fetal liver and in the placental labyrinth and junctional zone. We showed that maternal obesity induced FGR, which was associated with an altered expression of histone acetylation modifiers in the fetal liver and labyrinth, but not in the junctional zone. In contrast, correction of obesity during the preconceptional period by nutritional intervention normalized fetal weight and induced an adaptation at the transcriptional level. This study provides a novel mouse model for investigating the molecular mechanisms of obesity-induced FGR and highlights the sensitivity of the epigenetic machinery to maternal nutrition and metabolism.
Discussion
In the present study, we showed that maternal chronic obesity lead to FGR at E18.5, while the weight loss induced by a nutritional intervention performed in preconceptional period allowed a partial fetal weight restoration. These phenotypic changes were associated with a transcriptional response in the fetal liver and placental labyrinth: we showed that 23 genes were significantly altered by maternal weight trajectories in at least one of three tissues between two maternal groups (Fig.
8
). Our results identified that epigenetic machinery gene expression is clearly sensitive to maternal weight trajectories, especially for genes involved in histone acetylation.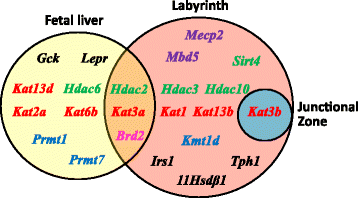 Conclusions
In our mouse model, maternal obesity induced FGR and reduced placental efficiency at term. These phenotypic changes were associated with alterations of the expression of genes involved in epigenetic processes in the fetal liver and placenta. Nutritional intervention during the preconceptional period allowed maternal weight loss and the normalization of metabolic parameters at mating. In the offspring of WL mothers, fetal growth was partially restored and the transcription was normalized only for a subset of genes affected by maternal obesity. Thus, the history of maternal obesity has an impact on fetal growth and transcriptional activity. The epigenetic machinery is highly sensitive to maternal weight trajectories, which could lead to an altered epigenome in the offspring. Histone acetylation modifiers represented a major part of the differentially expressed genes in OB and WL groups that could account for reminiscence of the obese status.
This study highlights the importance of investigating the mechanisms of regulation of histone marks in response to environmental insults. The link between histone modifiers, histone acetylation levels, and placental and hepatic function should be established. Alteration of the epigenome early during ontogenesis, could be a mechanism of "memorization" of the environment in utero, contributing to particular gene expression patterns and thus to adult phenotype establishment. It could be an underlying mechanism explaining the conditioning of the offspring health later in life [9, 88]. Advances in this direction should help to unravel the molecular mechanisms of developmental conditioning induced by maternal weight trajectories.
Abbreviations
BRDs:

bromodomain proteins
CD:

control diet
CTRL:

control group
DNMTs:

DNA methyltransferases
DOHaD:

developmental origins of health and disease
E18.5:

embryonic day 18.5
FGR:

fetal growth restriction
FPI:

fetal-weight-to-placental-weight ratio index
H3:

histone 3
HDACs:

histone deacetylases
HFD:

high-fat diet
KATs:

lysine acetyltransferases
IUGR:

intrauterine growth restriction
KDMs:

lysine-specific demethylases
KMTs:

lysine methyltransferases
LGA:

large for gestational age
MBDs:

methyl-binding domain proteins
NA:

non-amplified
OB:

obese group
OGTT:

oral glucose tolerance test
PRMTs:

protein arginine n-methyltransferases
P adj :

adjusted p value
qPCR:

real-time polymerase chain reaction
RT:

reverse transcription
SGA:

small for gestational age
TETs:

TET methylcytosine dioxygenases
TLDA:

TaqMan low-density array
WL:

weight loss group
Declarations
Acknowledgements
The help of Marion Lemaire with the expression study is greatly acknowledged. We are grateful to Dr. Amanda Sferruzzi-Perri for sharing with us her expertise in placental layers sampling. We thank the members of the Infectiologie Expérimentale des Rongeurs et Poissons Unit (UE 0907) of the INRA (Jouy-en-Josas) for their professionalism and help with animal experiments. We thank Bénédicte Langelier (Micalis), Nicolas Crapart, and Claudia Bevilacqua (BRIDGE-ICE Platform) of the INRA (Jouy-en-Josas) for technical assistance with TLDA expression study. We wish to thank the members of Neurobiologie de l'Olfaction Unity (UR1197) of INRA for help with tissue sampling. This study was supported by the Fondation Cœur et Artères (FCA 13T1) and the Institut Benjamin Delessert. PEP and SV were supported by the Ministère de la Recherche.
The data sets supporting the results of this article are included within the article and its additional files, available at the Clin Epigenetic's website.
Open AccessThis article is distributed under the terms of the Creative Commons Attribution 4.0 International License (http://creativecommons.org/licenses/by/4.0/), which permits unrestricted use, distribution, and reproduction in any medium, provided you give appropriate credit to the original author(s) and the source, provide a link to the Creative Commons license, and indicate if changes were made. The Creative Commons Public Domain Dedication waiver (http://creativecommons.org/publicdomain/zero/1.0/) applies to the data made available in this article, unless otherwise stated.
Authors' Affiliations
(1)
UMR BDR, INRA, ENVA, Université Paris Saclay, Jouy en Josas, France
(2)
Ecole Doctorale 394 "Physiologie, physiopathologie et thérapeutique", Université Pierre et Marie Curie, Paris, France
(3)
Univ. Lille, EA4489, Équipe Malnutrition Maternelle et Programmation des Maladies Métaboliques, Lille, France
(4)
Université Versailles Saint-Quentin en Yvelines (UVSQ), Guyancourt, France
References
Ng M. Global, regional, and national prevalence of overweight and obesity in children and adults during 1980–2013: a systematic analysis for the Global Burden of Disease Study 2013. Lancet. 384: ed. 2014 May 29;766–81.Google Scholar
Lee CYW, Koren G. Maternal obesity: effects on pregnancy and the role of pre-conception counselling. J Obstet Gynaecol. 2010;30:101–6.View ArticlePubMedGoogle Scholar
Acosta O, Ramirez VI, Lager S, Gaccioli F, Dudley DJ, Powell TL, et al. Increased glucose and placental GLUT-1 in large infants of obese nondiabetic mothers. Am J Obstet Gynecol. 2015;212:227. e1–227.e7.View ArticlePubMedGoogle Scholar
Gaudet L, Ferraro ZM, Wen SW, Walker M. Maternal obesity and occurrence of fetal macrosomia: a systematic review and meta-analysis. BioMed Res Int. 2014;2014:1–22.View ArticleGoogle Scholar
Liu L, Hong Z, Zhang L. Associations of prepregnancy body mass index and gestational weight gain with pregnancy outcomes in nulliparous women delivering single live babies. Sci Rep. 2015;5:12863.PubMed CentralView ArticlePubMedGoogle Scholar
Rajasingam D, Seed PT, Briley AL, Shennan AH, Poston L. A prospective study of pregnancy outcome and biomarkers of oxidative stress in nulliparous obese women. Am J Obstet Gynecol. 2009;200:395. e1–395.e9.View ArticlePubMedGoogle Scholar
Hales CN, Barker DJ, Clark PM, Cox LJ, Fall C, Osmond C, et al. Fetal and infant growth and impaired glucose tolerance at age 64. BMJ. 1991;303:1019–22.PubMed CentralView ArticlePubMedGoogle Scholar
Fernandez-Twinn DS, Ozanne SE. Mechanisms by which poor early growth programs type-2 diabetes, obesity and the metabolic syndrome. Physiol Behav. 2006;88:234–43.View ArticlePubMedGoogle Scholar
Hanson MA, Gluckman PD. Early developmental conditioning of later health and disease: physiology or pathophysiology? Physiol Rev. 2014;94:1027–76.PubMed CentralView ArticlePubMedGoogle Scholar
Hayes EK, Lechowicz A, Petrik JJ, Storozhuk Y, Paez-Parent S, Dai Q, et al. Adverse fetal and neonatal outcomes associated with a life-long high fat diet: role of altered development of the placental casculature. Reiss I, editor. PLoS ONE. 2012;7:e33370.Google Scholar
Sferruzzi-Perri AN, Vaughan OR, Haro M, Cooper WN, Musial B, Charalambous M, et al. An obesogenic diet during mouse pregnancy modifies maternal nutrient partitioning and the fetal growth trajectory. FASEB J. 2013;27:3928–37.View ArticlePubMedGoogle Scholar
Tarrade A, Rousseau-Ralliard D, Aubrière M-C, Peynot N, Dahirel M, Bertrand-Michel J, et al. Sexual dimorphism of the feto-placental phenotype in response to a high fat and control maternal diets in a rabbit model. Zenclussen AC, editor. PLoS ONE. 2013;8:e83458.Google Scholar
Georgiades P, Ferguson-Smith AC, Burton GJ. Comparative developmental anatomy of the murine and human definitive placentae. Placenta. 2002;23:3–19.View ArticlePubMedGoogle Scholar
McCurdy CE, Bishop JM, Williams SM, Grayson BE, Smith MS, Friedman JE, et al. Maternal high-fat diet triggers lipotoxicity in the fetal livers of nonhuman primates. J Clin Invest. 2009;119(2):323–35.PubMed CentralPubMedGoogle Scholar
Plata M del M, Williams L, Seki Y, Hartil K, Kaur H, Lin C-L, et al. Critical periods of increased fetal vulnerability to a maternal high fat diet. Reprod Biol Endocrinol RBE. 2014;12:80.View ArticleGoogle Scholar
Swanson AM, David AL. Animal models of fetal growth restriction: considerations for translational medicine. Placenta. 2015;36:623–30.View ArticlePubMedGoogle Scholar
Attig L, Gabory A, Junien C. Early nutrition and epigenetic programming: chasing shadows. Curr Opin Clin Nutr Metab Care. 2010;13:284–93.View ArticlePubMedGoogle Scholar
Delahaye F, Wijetunga NA, Heo HJ, Tozour JN, Zhao YM, Greally JM, et al. Sexual dimorphism in epigenomic responses of stem cells to extreme fetal growth. Nat Commun. 2014;5:5187.PubMed CentralView ArticlePubMedGoogle Scholar
Fu Q. Uteroplacental insufficiency induces site-specific changes in histone H3 covalent modifications and affects DNA-histone H3 positioning in day 0 IUGR rat liver. Physiol Genomics. 2004;20:108–16.View ArticlePubMedGoogle Scholar
MacLennan NK. Uteroplacental insufficiency alters DNA methylation, one-carbon metabolism, and histone acetylation in IUGR rats. Physiol Genomics. 2004;18:43–50.View ArticlePubMedGoogle Scholar
Park JH, Stoffers DA, Nicholls RD, Simmons RA. Development of type 2 diabetes following intrauterine growth retardation in rats is associated with progressive epigenetic silencing of Pdx1. J Clin Invest. 2008;118:2316–24.PubMed CentralView ArticlePubMedGoogle Scholar
Raychaudhuri N, Raychaudhuri S, Thamotharan M, Devaskar SU. Histone code modifications repress glucose transporter 4 expression in the intrauterine growth-restricted offspring. J Biol Chem. 2008;283:13611–26.PubMed CentralView ArticlePubMedGoogle Scholar
Gabory A, Attig L, Junien C. Developmental programming and epigenetics. Am J Clin Nutr. 2011;94:1943S–52S.View ArticlePubMedGoogle Scholar
Donohoe DR, Bultman SJ. Metaboloepigenetics: interrelationships between energy metabolism and epigenetic control of gene expression. J Cell Physiol. 2012;227:3169–77.PubMed CentralView ArticlePubMedGoogle Scholar
Waterland RA, Michels KB. Epigenetic epidemiology of the developmental origins hypothesis. Annu Rev Nutr. 2007;27:363–88.View ArticlePubMedGoogle Scholar
Paden MM, Avery DM. Preconception counseling to prevent the complications of obesity during pregnancy. Am J Clin Med. 2012;9:30–5.Google Scholar
Forsum E, Brantsæter AL, Olafsdottir A-S, Olsen SF, Thorsdottir I. Weight loss before conception: a systematic literature review. Food Nutr Res. 2013;57.Google Scholar
Villamor E, Cnattingius S. Interpregnancy weight change and risk of adverse pregnancy outcomes: a population-based study. The Lancet. 2006;368:1164–70.View ArticleGoogle Scholar
Diouf I, Charles MA, Thiebaugeorges O, Forhan A, Kaminski M, Heude B, et al. Maternal weight change before pregnancy in relation to birthweight and risks of adverse pregnancy outcomes. Eur J Epidemiol. 2011;26:789–96.PubMed CentralView ArticlePubMedGoogle Scholar
Gabory A, Ferry L, Fajardy I, Jouneau L, Gothié J-D, Vigé A, et al. Maternal diets trigger sex-specific divergent trajectories of gene expression and epigenetic systems in mouse placenta. Aguila MB, editor. PLoS ONE. 2012;7:e47986.Google Scholar
Mao J, Zhang X, Sieli PT, Falduto MT, Torres KE, Rosenfeld CS. Contrasting effects of different maternal diets on sexually dimorphic gene expression in the murine placenta. Proc Natl Acad Sci. 2010;107:5557–62.PubMed CentralView ArticlePubMedGoogle Scholar
Clifton VL. Review: sex and the human placenta: mediating differential strategies of fetal growth and survival. Placenta. 2010;31:S33–9.View ArticlePubMedGoogle Scholar
Attig L, Vigé A, Gabory A, Karimi M, Beauger A, Gross M-S, et al. Dietary alleviation of maternal obesity and diabetes: increased resistance to diet-induced obesity transcriptional and epigenetic signatures. PloS One. 2013;8, e66816.PubMed CentralView ArticlePubMedGoogle Scholar
Rosario FJ, Kanai Y, Powell TL, Jansson T. Increased placental nutrient transport in a novel mouse model of maternal obesity with fetal overgrowth: maternal obesity and placental nutrient transport. Obesity. 2015;23:1663–70.View ArticlePubMedGoogle Scholar
Gheorghe CP, Goyal R, Mittal A, Longo LD. Gene expression in the placenta: maternal stress and epigenetic responses. Int J Dev Biol. 2010;54:507–23.PubMed CentralView ArticlePubMedGoogle Scholar
King V, Hibbert N, Seckl JR, Norman JE, Drake AJ. The effects of an obesogenic diet during pregnancy on fetal growth and placental gene expression are gestation dependent. Placenta. 2013;34:1087–90.View ArticlePubMedGoogle Scholar
Sasson IE, Vitins AP, Mainigi MA, Moley KH, Simmons RA. Pre-gestational vs gestational exposure to maternal obesity differentially programs the offspring in mice. Diabetologia. 2015;58:615–24.PubMed CentralView ArticlePubMedGoogle Scholar
Jones HN, Woollett LA, Barbour N, Prasad PD, Powell TL, Jansson T. High-fat diet before and during pregnancy causes marked up-regulation of placental nutrient transport and fetal overgrowth in C57/BL6 mice. FASEB J. 2009;23:271–8.PubMed CentralView ArticlePubMedGoogle Scholar
Strakovsky RS, Zhang X, Zhou D, Pan Y-X. Gestational high fat diet programs hepatic phosphoenolpyruvate carboxykinase gene expression and histone modification in neonatal offspring rats: programming gluconeogenesis by gestational high fat diet. J Physiol. 2011;589:2707–17.PubMed CentralView ArticlePubMedGoogle Scholar
Lane RH, MacLennan NK, Hsu JL, Janke SM, Pham TD. Increased hepatic peroxisome proliferator-activated receptor-γ coactivator-1 gene expression in a rat model of intrauterine growth retardation and subsequent insulin resistance. Endocrinology. 2002;143:2486–90.PubMedGoogle Scholar
Postic C, Shiota M, Niswender KD, Jetton TL, Chen Y, Moates JM, et al. Dual roles for glucokinase in glucose homeostasis as determined by liver and pancreatic β cell-specific gene knock-outs using Cre recombinase. J Biol Chem. 1999;274:305–15.View ArticlePubMedGoogle Scholar
Mele J, Muralimanoharan S, Maloyan A, Myatt L. Impaired mitochondrial function in human placenta with increased maternal adiposity. AJP Endocrinol Metab. 2014;307:E419–25.View ArticleGoogle Scholar
Dube E, Gravel A, Martin C, Desparois G, Moussa I, Ethier-Chiasson M, et al. Modulation of fatty acid transport and metabolism by maternal obesity in the human full-term placenta. Biol Reprod. 2012;87:14–4.Google Scholar
Muramatsu-Kato K, Itoh H, Kobayashi-Kohmura Y, Murakami H, Uchida T, Suzuki K, et al. Comparison between placental gene expression of 11β-hydroxysteroid dehydrogenases and infantile growth at 10 months of age: placental 11βHSD and infantile growth. J Obstet Gynaecol Res. 2014;40:465–72.View ArticlePubMedGoogle Scholar
Struwe E, Berzl GM, Schild RL, Beckmann MW, Dörr HG, Rascher W, et al. Simultaneously reduced gene expression of cortisol-activating and cortisol-inactivating enzymes in placentas of small-for-gestational-age neonates. Am J Obstet Gynecol. 2007;197:43. e1–43.e6.View ArticlePubMedGoogle Scholar
Street ME, Viani I, Ziveri MA, Volta C, Smerieri A, Bernasconi S. Impairment of insulin receptor signal transduction in placentas of intra-uterine growth-restricted newborns and its relationship with fetal growth. Eur J Endocrinol Eur Fed Endocr Soc. 2011;164:45–52.View ArticleGoogle Scholar
Colomiere M, Permezel M, Riley C, Desoye G, Lappas M. Defective insulin signaling in placenta from pregnancies complicated by gestational diabetes mellitus. Eur J Endocrinol. 2009;160:567–78.View ArticlePubMedGoogle Scholar
Hiden U, Glitzner E, Hartmann M, Desoye G. Insulin and the IGF system in the human placenta of normal and diabetic pregnancies. J Anat. 2009;215:60–8.PubMed CentralView ArticlePubMedGoogle Scholar
Bonnin A, Goeden N, Chen K, Wilson ML, King J, Shih JC, et al. A transient placental source of serotonin for the fetal forebrain. Nature. 2011;472:347–50.PubMed CentralView ArticlePubMedGoogle Scholar
Goeden N, Velasquez JC, Bonnin A. Placental tryptophan metabolism as a potential novel pathway for the developmental origins of mental diseases. Transl Dev Psychiatry. 2013;1:20593.View ArticleGoogle Scholar
Martinez JA, Milagro FI, Claycombe KJ, Schalinske KL. Epigenetics in adipose tissue, obesity, weight loss, and diabetes. Adv Nutr Int Rev J. 2014;5:71–81.View ArticleGoogle Scholar
Han H-S, Choi D, Choi S, Koo S-H. Roles of protein arginine methyltransferases in the control of glucose metabolism. Endocrinol Metab. 2014;29:435.View ArticleGoogle Scholar
Yamagata K, Daitoku H, Takahashi Y, Namiki K, Hisatake K, Kako K, et al. Arginine methylation of FOXO transcription factors inhibits their phosphorylation by Akt. Mol Cell. 2008;32:221–31.View ArticlePubMedGoogle Scholar
Bogaerts A, Ameye L, Martens E, Devlieger R. Weight loss in obese pregnant women and risk for adverse perinatal outcomes. Obstet Gynecol. 2015;125:566–75.View ArticlePubMedGoogle Scholar
Tuersunjiang N, Odhiambo JF, Long NM, Shasa DR, Nathanielsz PW, Ford SP. Diet reduction to requirements in obese/overfed ewes from early gestation prevents glucose/insulin dysregulation and returns fetal adiposity and organ development to control levels. Am J Physiol Endocrinol Metab. 2013;305:E868–78.PubMed CentralView ArticlePubMedGoogle Scholar
Srinivasan M. Maternal hyperinsulinemia predisposes rat fetuses for hyperinsulinemia, and adult-onset obesity and maternal mild food restriction reverses this phenotype. AJP Endocrinol Metab. 2005;290:E129–34.View ArticleGoogle Scholar
Zambrano E, Martínez-Samayoa PM, Rodríguez-González GL, Nathanielsz PW. RAPID REPORT: dietary intervention prior to pregnancy reverses metabolic programming in male offspring of obese rats: dietary intervention to reverse metabolic programming outcomes. J. Physiol. 2010;588:1791–9.View ArticleGoogle Scholar
Du Y, Liu B, Guo F, Xu G, Ding Y, Liu Y, et al. The essential role of Mbd5 in the regulation of somatic growth and glucose homeostasis in mice. Chowen JA, editor. PLoS ONE. 2012;7:e47358.Google Scholar
Wang X, Lacza Z, Sun YE, Han W. Leptin resistance and obesity in mice with deletion of methyl-CpG-binding protein 2 (MeCP2) in hypothalamic pro-opiomelanocortin (POMC) neurons. Diabetologia. 2014;57:236–45.View ArticlePubMedGoogle Scholar
Fyffe SL, Neul JL, Samaco RC, Chao H-T, Ben-Shachar S, Moretti P, et al. Deletion of Mecp2 in Sim1-expressing neurons reveals a critical role for MeCP2 in feeding behavior, aggression, and the response to stress. Neuron. 2008;59:947–58.PubMed CentralView ArticlePubMedGoogle Scholar
Ganguly A, Chen Y, Shin B-C, Devaskar SU. Prenatal caloric restriction enhances DNA methylation and MeCP2 recruitment with reduced murine placental glucose transporter isoform 3 expression. J Nutr Biochem. 2014;25:259–66.PubMed CentralView ArticlePubMedGoogle Scholar
Nicholas LM, Rattanatray L, MacLaughlin SM, Ozanne SE, Kleemann DO, Walker SK, et al. Differential effects of maternal obesity and weight loss in the periconceptional period on the epigenetic regulation of hepatic insulin-signaling pathways in the offspring. FASEB J. 2013;27:3786–96.View ArticlePubMedGoogle Scholar
Wu LL-Y, Dunning KR, Yang X, Russell DL, Lane M, Norman RJ, et al. High-fat diet causes lipotoxicity responses in cumulus–oocyte complexes and decreased fertilization rates. Endocrinology. 2010;151:5438–45.View ArticlePubMedGoogle Scholar
Robker RL, Akison LK, Bennett BD, Thrupp PN, Chura LR, Russell DL, et al. Obese women exhibit differences in ovarian metabolites, hormones, and gene expression compared with moderate-weight women. J Clin Endocrinol Metab. 2009;94:1533–40.View ArticlePubMedGoogle Scholar
Luzzo KM, Wang Q, Purcell SH, Chi M, Jimenez PT, Grindler N, et al. High fat diet induced developmental defects in the mouse: oocyte meiotic aneuploidy and fetal growth retardation/brain defects. Clarke H, editor. PLoS ONE. 2012;7:e49217.Google Scholar
Wei Y, Yang C-R, Wei Y-P, Ge Z-J, Zhao Z-A, Zhang B, et al. Enriched environment-induced maternal weight loss reprograms metabolic gene expression in mouse offspring. J Biol Chem. 2015;290:4604–19.PubMed CentralView ArticlePubMedGoogle Scholar
Ge Z-J, Luo S-M, Lin F, Liang Q-X, Huang L, Wei Y-C, et al. DNA methylation in oocytes and liver of female mice and their offspring: effects of high-fat-diet-induced obesity. Environ Health Perspect. 2014;122:159–64.PubMed CentralPubMedGoogle Scholar
Ding L, Pan R, Huang X, Wang J-X, Shen Y-T, Xu L, et al. Changes in histone acetylation during oocyte meiotic maturation in the diabetic mouse. Theriogenology. 2012;78:784–92.View ArticlePubMedGoogle Scholar
Aagaard-Tillery KM, Grove K, Bishop J, Ke X, Fu Q, McKnight R, et al. Developmental origins of disease and determinants of chromatin structure: maternal diet modifies the primate fetal epigenome. J Mol Endocrinol. 2008;41:91–102.PubMed CentralView ArticlePubMedGoogle Scholar
Suter MA, Chen A, Burdine MS, Choudhury M, Harris RA, Lane RH, et al. A maternal high-fat diet modulates fetal SIRT1 histone and protein deacetylase activity in nonhuman primates. FASEB J. 2012;26:5106–14.PubMed CentralView ArticlePubMedGoogle Scholar
Suter MA, Ma J, Vuguin PM, Hartil K, Fiallo A, Harris RA, et al. In utero exposure to a maternal high-fat diet alters the epigenetic histone code in a murine model. Am J Obstet Gynecol. 2014;210:463. e1–463.e11.PubMed CentralPubMedGoogle Scholar
Vaiman D, Gascoin-Lachambre G, Boubred F, Mondon F, Feuerstein J-M, Ligi I, et al. The intensity of IUGR-induced transcriptome deregulations is inversely correlated with the onset of organ function in a rat model. Baud O, editor. PLoS ONE. 2011;6:e21222.Google Scholar
Yoo EJ, Chung J-J, Choe SS, Kim KH, Kim JB. Down-regulation of histone deacetylases stimulates adipocyte differentiation. J Biol Chem. 2006;281:6608–15.View ArticlePubMedGoogle Scholar
Feng D, Liu T, Sun Z, Bugge A, Mullican SE, Alenghat T, et al. A circadian rhythm orchestrated by histone deacetylase 3 controls hepatic lipid metabolism. Science. 2011;331:1315–9.PubMed CentralView ArticlePubMedGoogle Scholar
Sookoian S, Gemma C, Gianotti TF, Burgueño A, Castaño G, Pirola CJ. Genetic variants of Clock transcription factor are associated with individual susceptibility to obesity. Am J Clin Nutr. 2008;87:1606–15.PubMedGoogle Scholar
Garaulet M, Corbalan MD, Madrid JA, Morales E, Baraza JC, Lee Y-C, et al. CLOCK gene is implicated in weight reduction in obese patients participating in a dietary programme based on the Mediterranean diet. Int J Obes. 2010;34:516–23.View ArticleGoogle Scholar
Turek FW. Obesity and metabolic syndrome in circadian Clock mutant mice. Science. 2005;308:1043–5.PubMed CentralView ArticlePubMedGoogle Scholar
Coste A, Louet J-F, Lagouge M, Lerin C, Antal MC, Meziane H, et al. The genetic ablation of SRC-3 protects against obesity and improves insulin sensitivity by reducing the acetylation of PGC-1α. Proc Natl Acad Sci. 2008;105:17187–92.PubMed CentralView ArticlePubMedGoogle Scholar
Zhou XY, Shibusawa N, Naik K, Porras D, Temple K, Ou H, et al. Insulin regulation of hepatic gluconeogenesis through phosphorylation of CREB-binding protein. Nat Med. 2004;10:633–7.View ArticlePubMedGoogle Scholar
Bricambert J, Miranda J, Benhamed F, Girard J, Postic C, Dentin R. Salt-inducible kinase 2 links transcriptional coactivator p300 phosphorylation to the prevention of ChREBP-dependent hepatic steatosis in mice. J Clin Invest. 2010;120:4316–31.PubMed CentralView ArticlePubMedGoogle Scholar
Marmorstein R, Zhou M-M. Writers and readers of histone acetylation: structure, mechanism, and inhibition. Cold Spring Harb Perspect Biol. 2014;6:a018762–2.Google Scholar
Wang F, Liu H, Blanton WP, Belkina A, Lebrasseur NK, Denis GV. Brd2 disruption in mice causes severe obesity without type 2 diabetes. Biochem J. 2010;425:71–83.View ArticleGoogle Scholar
Jump DB, Tripathy S, Depner CM. Fatty acid-regulated transcription factors in the liver. Annu Rev Nutr. 2013;33:249–69.PubMed CentralView ArticlePubMedGoogle Scholar
White CL, Purpera MN, Morrison CD. Maternal obesity is necessary for programming effect of high-fat diet on offspring. AJP Regul Integr Comp Physiol. 2009;296:R1464–72.View ArticleGoogle Scholar
Howie GJ, Sloboda DM, Kamal T, Vickers MH. Maternal nutritional history predicts obesity in adult offspring independent of postnatal diet: maternal high fat nutrition and obesity in offspring. J Physiol. 2009;587:905–15.PubMed CentralView ArticlePubMedGoogle Scholar
Li J, Wang W, Liu C, Wang W, Li W, Shu Q, et al. Critical role of histone acetylation by p300 in human placental 11β-HSD2 expression. J Clin Endocrinol Metab. 2013;98:E1189–97.View ArticlePubMedGoogle Scholar
Vaiman D, Calicchio R, Miralles F. Landscape of transcriptional deregulations in the preeclamptic placenta. PLoS ONE. 2013;8(6), e65498.PubMed CentralView ArticlePubMedGoogle Scholar
Portha B, Fournier A, Ah Kioon MD, Mezger V, Movassat J. Early environmental factors, alteration of epigenetic marks and metabolic disease susceptibility. Biochimie. 2014;97:1–15.View ArticlePubMedGoogle Scholar
Andrikopoulos S, Blair AR, Deluca N, Fam BC, Proietto J. Evaluating the glucose tolerance test in mice. AJP Endocrinol Metab. 2008;295:E1323–32.View ArticleGoogle Scholar
Bates D, Mächler M, Bolker B, Walker S. Fitting linear mixed-effects models using lme4. J Stat Softw. 2015;67. Google Scholar
Zeileis A, Hothorn T. Diagnostic checking in regression relationships. R News. 2002;2:7–10.Google Scholar
Benjamini Y, Hochberg Y. Controlling the false discovery rate: a practical and powerful approach to multiple testing. J R Stat Soc Ser B Methodol. 1995;57:289–300.Google Scholar
Fox J, Sanford W. An {R} companion to applied regression. second. Thousand Oaks {CA}: Sage; 2011.Google Scholar
Dilworth MR, Kusinski LC, Baker BC, Renshall LJ, Greenwood SL, Sibley CP, et al. Defining fetal growth restriction in mice: a standardized and clinically relevant approach. Placenta. 2011;32:914–6.View ArticlePubMedGoogle Scholar
Vandesompele J, De Preter K, Pattyn F, Poppe B, Van Roy N, De Paepe A, et al. Accurate normalization of real-time quantitative RT-PCR data by geometric averaging of multiple internal control genes. Genome Biol. 2002;3:research0034.PubMed CentralView ArticlePubMedGoogle Scholar
Gabory A, Ripoche M-A, Le Digarcher A, Watrin F, Ziyyat A, Forné T, et al. H19 acts as a trans regulator of the imprinted gene network controlling growth in mice. Dev Camb Engl. 2009;136:3413–21.Google Scholar
Zeileis A, Wiel MA, Hornik K, Hothorn T. Implementing a class of permutation tests: the coin package. J Stat Softw. 2008;28:1–23.Google Scholar