Epigenetic signature of preterm birth in adult twins
Clinical Epigenetics
2018
10:87
Received: 28 February 2018
Accepted: 11 June 2018
Published: 27 June 2018
Abstract
Background
Preterm birth is a leading cause of perinatal mortality and long-term health consequences. Epigenetic mechanisms may have been at play in preterm birth survivors, and these could be persistent and detrimental to health later in life.
Methods
We performed a genome-wide DNA methylation profiling in adult twins of premature birth to identify genomic regions under differential epigenetic regulation in 144 twins with a median age of 33 years (age range 30–36).
Results
Association analysis detected three genomic regions annotated to the SDHAP3, TAGLN3 and GSTT1 genes on chromosomes 5, 3 and 22 (FWER: 0.01, 0.02 and 0.04) respectively. These genes display strong involvement in neurodevelopmental disorders, cancer susceptibility and premature delivery. The three identified significant regions were successfully replicated in an independent sample of twins of even older age (median age 66, range 56–80) with similar regulatory patterns and nominal p values < 5.05e−04. Biological pathway analysis detected five significantly enriched pathways all explicitly involved in immune responses.
Conclusion
We have found novel evidence associating premature delivery with epigenetic modification of important genes/pathways and revealed that preterm birth, as an early life event, could be related to differential methylation regulation patterns observable in adults and even at high ages which could potentially mediate susceptibility to age-related diseases and adult health.
Keywords
Preterm birth
Twins
Epigenetics
Epigenome-wide association study
Adults
Background
Preterm birth (PTB) or premature birth is defined as birth before 37 weeks of pregnancy. With a prevalence estimated from 5 to 18% in singleton pregnancies across 184 countries according to the World Health Organization and over 50% in twin pregnancies in the USA [1], PTB is a leading cause of perinatal mortality as well as long-term morbidity and health consequences. Survivors of PTB were subject to adaptive mechanisms that might be deleterious later in life, and are more susceptible to early on-set chronic diseases [2] including cardiovascular disease [3], metabolic disorders [4], respiratory complications [5] and mental and cognitive impairments [6]. Despite the strong epidemiological evidence, the molecular mechanisms and etiology behind these phenotypes have been poorly understood. Preterm infants are exposed to various stressful conditions in the peridelivery period, a critical stage for their organ development. Molecular mechanisms including epigenetic modification may have been involved in the adaptation to adverse environment which, in the long-run, could be detrimental to health [7–9]. It has been hypothesized that epigenetic modifications such as DNA methylation induced by PTB may lead to long-term consequences and increased susceptibility to adult-onset diseases [10–12].
Advantaged by the emerging new technology in genomic analysis of DNA methylation, epigenome-wide association studies (EWAS) have been done to look for DNA methylation markers of PTB in neonates [13–16] and have reported differentially methylated sites implicated in neural function [16], or with increased risk for adverse health outcomes later in life [13]. Notably, PTB-associated methylation patterns were also investigated in adolescents by Cruickshank et al. [14] and Simpkin et al. [15] in their longitudinal samples. Although relatively large numbers of CpG sites were found significantly differentially methylated in association with PTB at birth, they are largely resolved in adolescents in both studies. Nevertheless, persistent methylation differences were identified at ten CpG sites in the study by Cruickshank et al. [14] reflecting a lasting epigenetic effect of PTB.
The fact that PTB is associated with an increased risk of chronic diseases in adults suggests that it is of high importance to focus on the epigenetic signature of PTB that mediates the long-term health consequences. Given the high prevalence of PTB in twin pregnancies, epigenetic analysis of PTB in twins is therefore especially important and valuable for the health of the twin population and for the general population as well. Using relatively large numbers of adult twin samples for discovery (144 twins) and replication (350 twins), we conducted an epigenomic profiling of the DNA methylome to look for genomic sites and regions under epigenetic regulation in association with PTB in adult subjects.
Results
Discovery EWAS
We first performed an EWAS on the 144 discovery samples using regression analysis on each of the 473,864 CpGs after filtering, measured using the Illumina Infinium HumanMethylation450 Beadchip assay (see the '
Methods
' section for details). From the volcano plot (Fig.
2
) and Manhattan plot (Additional file
1
: Figure S1), it can be seen that no CpG reached genome-wide significance level of FDR < 0.05 for the effect of PTB (Additional file
2
: Table S1). We continued our discovery EWAS by performing genomic region-based analysis using the
bumphunter
function in the free R package
minfi
(see the '
Methods
' section for detail)
.
By focusing on regions with a mean methylation difference of over 10% between PTB and term births, we found a list of 16,508 regions (Additional file
3
: Figure S2) and among them 2651 regions with
p
value < 0.05 (Additional file
4
: Table S2). Table
2
shows the top six regions with FWER < 0.1, three of them with FWER < 0.05. Among the top three DMRs, the most significant was annotated to the promotor region of
SDHAP3
gene on chromosome 5 at p15.33 exhibiting a clear pattern of hypomethylation (Figs.
3a
and
4a
); the second most significant DMR was hypermethylated in the gene body (second or third intron) of
TAGLN3
on chromosome 3 at q13.2 (Figs.
3b
and
4b
); and the third DMR was hypermethylated in the promotor region of the GSTT1 gene on chromosome 22 at q11.23 (Figs.
3c
and
4c
). Of the three less significant DMRs with FWER < 0.1, two were hypomethylated in the promotor region of the
DUSP22
and
NFYA/LOC221442
genes on chromosome 6 (Fig.
5a
,
b
), and one was hypermethylated in the promotor of
mir886
on chromosome 5 (Fig.
5
c). In Additional file
5
: Table S3, we show the detailed information on statistical estimate and biological annotations for single CpGs in each of the DMRs in Figs.
3
,
4
and
5
(Table
2
). CpGs in each DMR show similar direction of effect and tend to have low nominal
p
values that may, however, not reach statistical significance individually.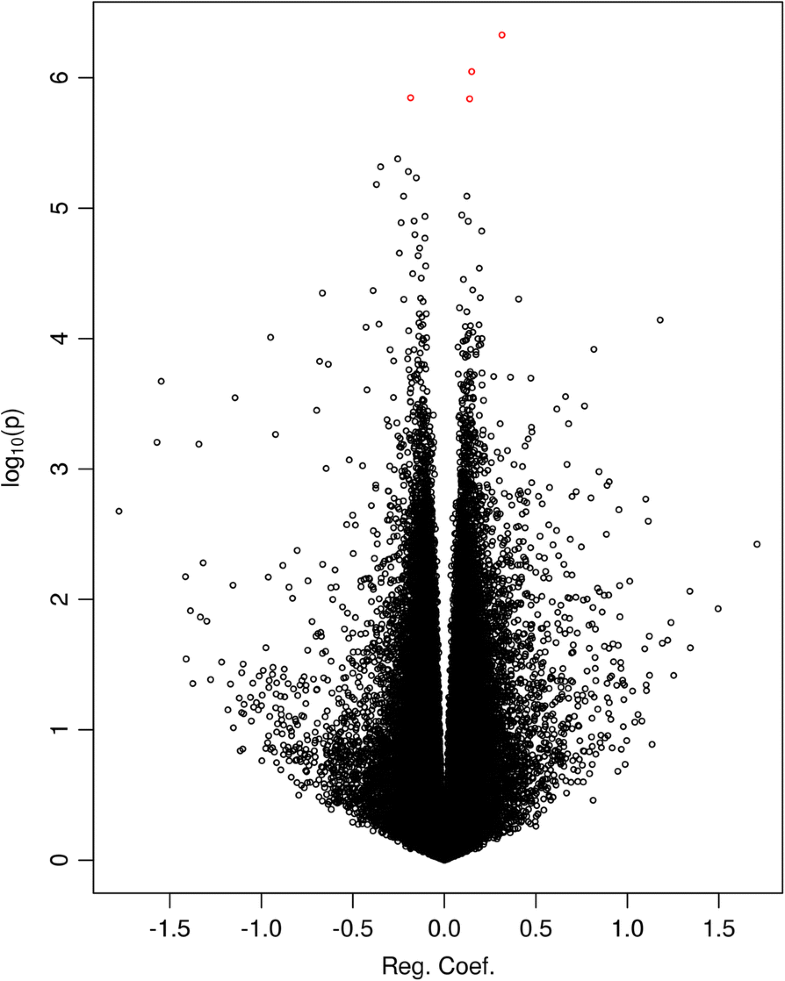 Table 2
Characterizations of the six identified DMRs with FWER < 0.1
DMR

Chr

Start

End

Discovery

Replication

Value

p value

FWER

Value

p value

Linked genes

Gene region

Location to CGI

1

5

1,594,282

1,594,863

− 0.505

4.46E−07

0.01

− 0.157

1.90E−04

SDHAP3

Body, TSS200, TSS1500

Island

2

3

111,730,545

111,730,545

1.571

7.92E−07

0.02

0.891

8.88E−05

TAGLN3

Body

NA

3

22

24,384,159

24,384,573

0.455

2.28E−06

0.04

0.184

5.03E−04

GSTT1

1stExon, 5′UTR, TSS200

Island

4

6

291,687

292,596

− 0.453

4.26E−06

0.08

0.311

2.55E−05

DUSP22

1stExon, 5′UTR, TSS200, TSS1500

Island, N-Shore

5

6

41,068,646

41,068,752

− 0.512

4.46E−06

0.08

0.382

1.70E−05

NFYA, LOC221442

3'UTR

Island

6

5

135,415,258

135,416,613

0.271

4.90E−06

0.10

0.197

8.68E−06

MIR886

Body, TSS200, TSS1500

Island, N-Shore, S-Shore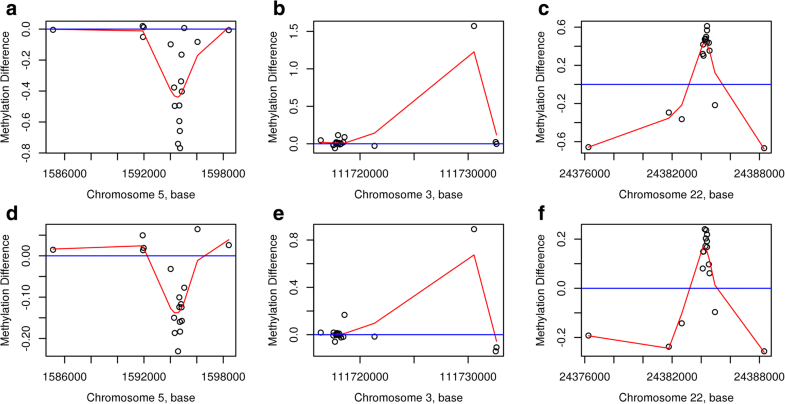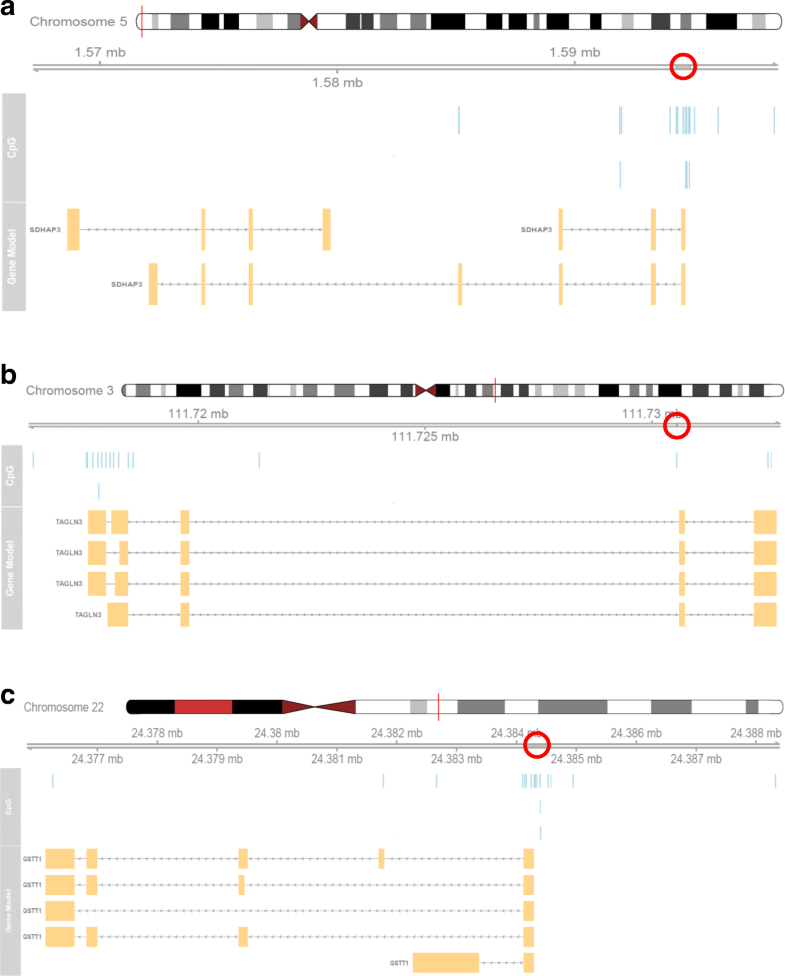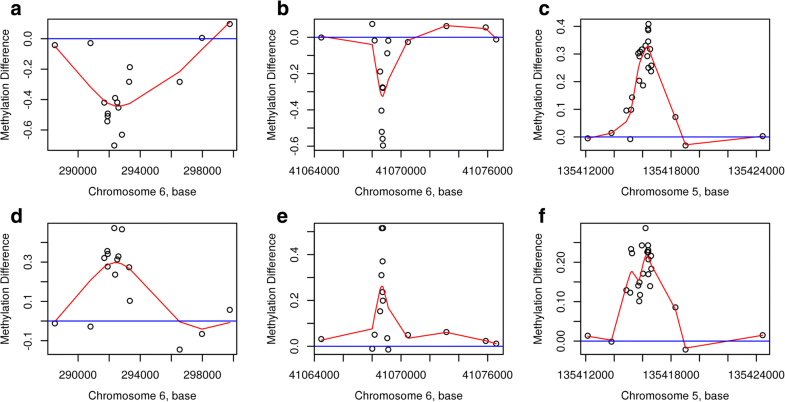 Functional analysis of significant DMRs
To study the biological functions of the 2651 regions with
p
 < 0.05 (Additiona file
5
: Table S2), we used the online annotation tool GREAT (see the '
Methods
' section) for exploring the
cis
regulatory regions of nearby genes, making use of the Molecular Signatures Database (MSigDB) which is one of the most widely used and comprehensive databases of gene sets for performing gene set enrichment analysis. The analysis identified five MSigDB pathways, all involved in immune responses (Table
3
). Both the binomial test over genomic regions and the hypergeometric test over genes showed very high significance for the five pathways as indicated by their FDRs (FDR < 8.13e−28 for binomial test; FDR < 9.37e−03 for hypergeometric test).
Table 3
MSigDB Pathways enriched by DMRs with nominal p < 0.05 from GREAT analysis
Binomial model

Hypergeometric model

Term Name

Rawp value

FDR

Fold enrichment

Exp.

Obs.

Gene Hits

Rawp value

FDR

Fold enrichment

Exp.

Obs.Gene Hits

TotalGenes

Antigen processing and presentation

1.33e−55

1.76e−52

12.28

6.27

77

3.55e−5

9.37e−3

2.10

13.79

29

80

Graft-versus-host disease

5.65e−53

3.73e−50

14.46

4.63

67

2.17e−6

9.56e−4

2.98

6.38

19

37

Type I diabetes mellitus

1.52e−50

6.72e−48

10.20

7.65

78

1.24e-7

1.63e−4

3.11

7.07

22

41

Allograft rejection

7.25e−50

2.40e−47

12.55

5.42

68

7.10e-7

4.69e−4

3.15

6.03

19

35

Viral myocarditis

4.92e-30

8.13e−28

5.13

15.02

77

9.64e-6

3.18e−3

2.30

11.72

27

68
Replication of top significant DMRs
Using the old twin samples, we performed independent replication analysis of the six DMRs in Table 2. For each DMR, the same set of CpGs as in the discovery stage was selected according to genomic location. Differential methylation between PTB and term birth replication samples was estimated in the same manner as for the discovery analysis (adjusting for age, sex and cell composition). Figure 3d–f displays the replicated differential methylation patterns corresponding to the three discovery-stage DMRs in Fig. 3a–c. As shown in Fig. 3, the three DMRs with FWER < 0.05 were all nicely replicated with nearly the same patterns. Table 2 shows very low nominal p values for the replication DMRs: 1.9e−04, 8.88e−05 and 5.03e−04 respectively.
In Fig. 5d–f, we show the replication results for the three less significant discovery DMRs with 0.05 < FWER < 0.1. Interestingly, although a similar methylation pattern was replicated for the DMR on chromosome 5, the other two DMRs on chromosome 6 were replicated with again similar patterns but opposite directions. The corresponding patterns in the replication samples were not random patterns considering their very low nominal p values (2.55e−05, 1.7e−05 and 8.68e−06 respectively) (Table 2).
Discussion
We have performed the first genome-wide association study on the epigenetic effect of preterm birth in adults. Cruickshank et al. [14] investigated PTB-related epigenetic changes at birth and at 18 years of age and reported no genome-wide significant finding in their samples from 18-year-olds. Likewise, our analysis did not identify any CpG sites reaching genome-wide significance in the discovery samples of young adults. The highly valuable findings in this study come from genomic region-based association analysis that jointly tested the association of groups of adjacent CpGs that form DMRs. As shown in Table 2, multiple genomic regions were found as differentially methylated in association with PTB. The results indicate that, as an early life event, PTB could impose differential epigenetic patterns that can be detected in the DNA methylome of adult subjects in their thirties as in the discovery samples and even at old ages as in the replication samples.
Among the genes linked to the most significant DMRs in Table 2, SDHAP3 has very recently been implicated in smoking, as significantly decreased methylation at the CpG island within the promoter region of SDHAP3 on chromosome 5 was reported in smoking-exposed foetuses [25]. The PTB associated methylation pattern as shown in Figs. 3a and 4a points to the same direction and genomic location although maternal smoking information is not available in our study. A differential DNA methylation pattern was also found in SDHAP3 when comparing autistic brains and control [26]. The second most significant DMR is in the gene body of TAGLN3 (Fig. 4b). This gene (also known as NP22, encoding a novel cytoskeleton-associated protein) is differentially expressed in human alcoholic brain [27] and in the anterior cingulate cortex of schizophrenia [28].
Perhaps, the most interesting DMR found in this study is the third DMR in Table 2. This DMR sits in the promotor region of GSTT1 (glutathione S-transferases gene theta 1) on chromosome 22 (Fig. 4c). Polymorphisms in the GST genes are partially responsible for the variability in GST enzymatic activity across individuals. Maternal genetic variations (the null genotype or homozygous deletion) in GSTT1 have been intensively associated with an increased risk of preterm delivery and low birthweight, alone [29, 30] or in combination with smoking [31–33]. The interaction between GSTs and smoking shows the involvement of epigenetic mechanism that links maternal behaviour and genetic susceptibility in contributing to adverse pregnancy outcomes. The association between GST genetic variation and PTB has been observed not only in the mother but also in the child [34]. In fact, Bustamante et al. [35] found that the child genotype is responsible for the effect after adjusting for maternal genotype. As our observation is based on PTB adults, our result is in line with their conclusion but from an epigenetic perspective. Most importantly, the latter suggests that environmental factors could also be involved in the association between GSTT1 and PTB through the epigenetic mechanism. Taken together, both genetic and epigenetic variations in the child can be associated with PTB. The coherence between genetics and epigenetics here is sensible because DNA methylation at the promotor region turns the gene off, which is equivalent to a deletion or the null genotype of the gene.
As an extra effort, we explored the transcriptional profiles of the genes linked to significant DMRs. Gene expression data on two genes, TAGLN3 and GSTT1, were available from the Agilent Human Gene Expression Microarray (v3) applied to the same discovery samples. After adjusting for covariates, no expression difference was found for TAGLN3 between term birth and PTB (p = 0.639) while a borderline significance (p = 0.059) for the down-expression of GSTT1 in PTB (Additional file 6: Figure S3). Although the expression of GSTT1 can also be regulated by other mechanisms or influenced by deletion of the gene in PTB subjects, the reduced expression level in PTB group provides alternative evidence in support of DNA methylation analysis.
Among the three less significant DMRs in Table 2, the last one on chromosome 5 is replicated by a similar pattern in the old twins (Fig. 5f). The CpGs in this region are hypermethylated in the promotor region and gene body of mir886, a noncoding RNA repressed in cancer [36, 37]. The two DMRs on chromosome 6 display significant patterns (p values 2.55e−05 and 1.70e−05) in the replication samples but with opposite directions as compared to the discovery DMRs (hypomethylation in the discovery samples, and hypermethylation in the replication samples) which could possibly suggest age-dependent effects. The DMR located on chromosome 6 from bp 291,687 to 292,596 covers the promotor region of the DUSP22 gene. Epigenetic alteration of this gene has been shown to mediate Alzheimer's disease [38] and dementia [39]. Interestingly, hypomethylation of the DUSP22 promotor has been reported to correlate with duration of service in firefighters [40]. The observed epigenetic modification could result from exposure to complex mixtures of toxic substances from burning and overheated materials. Although the smoking status of mothers of our twins is not available, the finding among the firefighters could resemble smoking-exposed foetuses. The DMR located from bp 41,068,646 to 41,068,752 on chromosome 6 is at the 3′UTR of the NFYA (nuclear transcription factor Y) gene. As a transcription factor, NFYA binds to the CAAT box in promotors of many genes in eukaryotes and functions as a regulator of their overexpression in several types of cancer [41]. Note that the same gene has been found to be persistently hypermethylated by PTB in an epigenome-wide association study on both newborn and 18-year-old samples [14]. In brief, the genes covered by these less significant DMRs are implicated in neurodegenerative disorders and risk of cancer as well.
PTB newborns have immature immune systems with reduced innate and adaptive immune function [42]. It is interesting to see that four of the five pathways in Table 3 overlap with pathways deduced from genes linked to CpGs showing significant correlation in maternal and PTB fetal methylation [43], and that all the five pathways appeared in the enriched functional pathways from genes with copy number variations in common miscarriage [44]. Results from our biological pathway analysis reconfirm the importance of the immune system in PTB but in adult samples. Meanwhile the overlap in biological pathways could also suggest the broad involvement of immunity in labour complications in general. Most importantly, the immune implication of PTB could persist into adult life and even old ages. The high involvement of the immune system in PTB as revealed by region-based analysis can also be seen from the Manhattan plot for DMRs (Additional file 3: Figure S2) when compared with the Manhattan plot for single-CpG sites (Additional file 1: Figure S1). The former displays a clearer enrichment pattern of DMRs in the major histocompatibility complex (MHC) region on chromosome 6.
The fact that the significant DMRs were identified and replicated in independent and much older samples has a twofold significance. First, it reveals functional genes differentially regulated in association with PTB through epigenetic mechanism; the latter could serve to link PTB with maternal environmental exposure or lifestyle factors to provide clue for prevention of PTB. Second, and also most importantly, the altered DNA methylation patterns observed in our discovery young adults persist in old subjects of up to 80 years of age, suggesting that some of the PTB-associated epigenetic modifications can be long-lasting or perhaps persistent throughout the entire life. In summary, our genomic region-based analysis of the DNA methylome identified epigenetic fingerprints of premature birth in young adult subjects, consistently replicable in old adults. Functional annotation of the significant methylation patterns associated with PTB revealed genes involved in adverse pregnancy outcomes, in neurodevelopmental disorders and in cancer susceptibility, providing epigenetic evidence of long-term effects of early life events in support of the developmental origin of disease and health.
Finally, it should be kept in mind that our significant findings are based on twins. Even though findings from this study are highly relevant to PTB in general (e.g. the GSTT1 gene), generalization of our results should be done with caution because the aetiology of PTB in twins could involve risk factors specific for twin pregnancies [45], such as uterine overdistention [46]. Further replication studies using twin and non-twin samples are warranted for validation, justification and generalization of our findings.
Conclusions
This study provides novel evidence for PTB-associated epigenetic regulation in important genes/pathways and meanwhile reveals that premature delivery, as an early life event, could be related to differential methylation regulation patterns observable in adults and even at high ages which could potentially mediate susceptibility to age-related diseases and adult health.
Abbreviations
CpG:

Cytosine-phosphate-guanine
DMBR:

Danish medical birth registry
DMP:

Differentially methylated probe
DMR:

Differentially methylated region
EDTA:

Ethylene di-amine tetra acetic acid
EWAS:

Epigenome-wide association study
FDR:

False discovery rate
FWER:

Family-wise error rate
GREAT:

Genomic Regions Enrichment of Annotations Tool
MHC:

Major histocompatibility complex
MSigDB:

Molecular Signatures Database
SWAN:

Subset-quantile Within Array Normalization
TSS:

Transcription start site(s)
Declarations
Acknowledgements
This study was supported by the Integrated research on Developmental determinants of Aging and Longevity (IDEAL), EU's FP7 project number: 259679 and by the DFF research project 1 from the Danish Council for Independent Research, Medical Sciences (DFF-FSS), project number: DFF – 6110-00114. The work of Shuxia Li was jointly supported by the Velux Foundation research grant number 000121540 and Novo Nordisk Foundation Medical and Natural Sciences Research Grant [grant number NNF13OC0007493].
Availability of data and materials
Both raw and processed DNA methylation data have been deposited to the NCBI GEO database http://www.ncbi.nlm.nih.gov/geo/ under accession number GSE61496.
Authors' contributions
QT, LC, KC and MF contributed to the conception and design. SL, QT, LC, MN, MS and ML contributed to the analysis and interpretation. QT and SL contributed to the drafting of the manuscript. All authors read and approved the final manuscript.
Ethics approval and consent to participate
Informed consent was obtained for all participants; the study was approved by The Regional Scientific Ethical Committees for Southern Denmark (S-20090033) and conducted in accordance with the Helsinki II declaration.
Consent for publication
Informed written consent was obtained from all the participants. Additionally, the manuscript does not contain any individual person's data in any form.
Competing interests
The authors declare that they have no competing interests in this work.
Publisher's Note
Springer Nature remains neutral with regard to jurisdictional claims in published maps and institutional affiliations.
Open AccessThis article is distributed under the terms of the Creative Commons Attribution 4.0 International License (http://creativecommons.org/licenses/by/4.0/), which permits unrestricted use, distribution, and reproduction in any medium, provided you give appropriate credit to the original author(s) and the source, provide a link to the Creative Commons license, and indicate if changes were made. The Creative Commons Public Domain Dedication waiver (http://creativecommons.org/publicdomain/zero/1.0/) applies to the data made available in this article, unless otherwise stated.
Authors' Affiliations
(1)
Epidemiology and Biostatistics, Department of Public Health, Faculty of Health Science, University of Southern Denmark, Odense, Denmark
(2)
Unit of Human Genetics, Department of Clinical Research, University of Southern Denmark, Odense, Denmark
(3)
Department of Endocrinology, Odense University Hospital, Odense, Denmark
(4)
Department of Clinical Genetics, Odense University Hospital, Odense, Denmark