Letter to the Editor

Open Access
Combining omics data to identify genes associated with allergic rhinitis
Clinical Epigenetics
The official journal of the Clinical Epigenetics Society
2017
9:3
Received: 6 October 2016
Accepted: 3 January 2017
Published: 18 January 2017
Abstract
Allergic rhinitis is a common chronic disorder characterized by immunoglobulin E-mediated inflammation. To identify new genes associated with this trait, we performed genome- and epigenome-wide association studies and linked marginally significant CpGs located in genes or its promoter and SNPs located 1 Mb from the CpGs, by identifying cis methylation quantitative trait loci (mQTL). This approach relies on functional cellular aspects rather than stringent statistical correction. We were able to identify one gene with significant cis-mQTL for allergic rhinitis, caudal-type homeobox 1 (CDX1). We also identified 11 genes with marginally significant cis-mQTLs (p < 0.05) including one with both allergic rhinitis with or without asthma (RNF39). Moreover, most SNPs identified were not located closest to the gene they were linked to through cis-mQTLs counting the one linked to CDX1 located in a gene previously associated with asthma and atopic dermatitis. By combining omics data, we were able to identify new genes associated with allergic rhinitis and better assess the genes linked to associated SNPs.
Keywords
Allergic rhinitisAsthmaGWASEWASmQTLsOmics
Introduction
Allergic rhinitis is one of the most common allergies worldwide and one of the most common chronic disorders among children and adults [1]. Early sensitization to aeroallergens and food combined with the presence of atopic dermatitis, characterized by an immunoglobulin E (IgE)-mediated inflammation, can result in the development of asthma and/or allergic rhinitis later in life in a process called "atopic march" [2]. Genetic studies identified hundreds of genes associated with allergic rhinitis, and genome-wide association studies (GWASs) pinpointed single nucleotide polymorphisms (SNPs) associated with its development [3, 4]. However, a majority of identified SNPs lie in the non-coding genomic region, making it difficult to identify the targeted genes. Given that DNA methylation may have an impact on gene regulation [5], the probability of detecting true positive associations should be improved by combining nominally significant data from genomics and epigenomics and linking them by quantitative trait loci (QTL) analysis. Methylation QTLs (mQTLs) allow assessing the impact of DNA-sequenced variations (SNPs) on DNA methylation. They have been assessed in different tissues and cell types and were shown to overlap with GWAS hits [6–9]. We used this approach to identify allergic rhinitis genes and illustrate its usefulness in the context of a complex trait.
Results and discussion
In this study, we used a novel approach that links genetic (SNPs) and functional (CpGs) data through the use of mQTLs identifying new genes associated with allergic rhinitis with or without asthma (Fig.
1
). It relies on functional cellular data and reduces the stringent cutoff normally used in GWAS. Even though this is a pilot experiment with small number of samples, we identified one significant
cis-
mQTL for allergic rhinitis located in caudal-type homeobox 1 (
CDX1
) (
p
 = 6.41e−5) (Table
2
). We also observed nine nominally associated
cis-
mQTLs located in five genes for allergic rhinitis and 16 located in nine genes for allergic rhinitis with asthma (Table
2
). One gene was reported being associated in both traits: ring finger protein 39 (
RNF39
). It has the highest number of mQTLs identified in both allergic rhinitis with (four) or without asthma (five).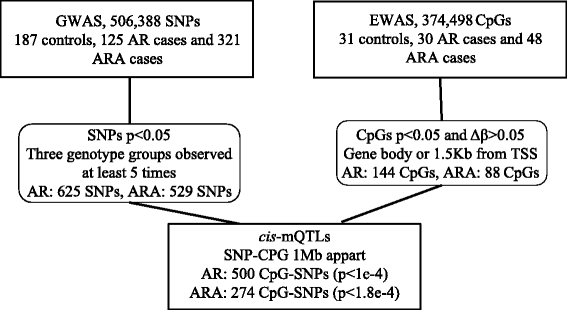 Table 2
Genes with cis-mQTL sites significantly associated with allergic rhinitis with or without asthma
Trait

Gene

Locus

mQTLs

GWAS analysis

EWAS analysis

p value

SNP

p value

CpGs

Δβ a

p value

Allergic rhinitis

CDX1 b

chr5q32

6.41e−5

rs888989

0.0038

cg18424208

−5.19

0.0002

PPAN-P2RY11

chr19p13.2

0.0245

rs3752199

0.0346

cg24118856

7.51

4.39e−5

RNF39 c

chr6p22.1

0.0090

rs2844833

0.0270

cg05563515

10.11

0.0212

0.0229

rs2844833

0.0270

cg24637044

5.85

0.0132

0.0265

rs2844833

0.0270

cg01286685

7.78

0.0266

0.0411

rs2523872

0.0123

cg10930308

9.50

0.0255

0.0499

rs2523872

0.0123

cg01286685

7.78

0.0266

SRRT

chr7q22.1

0.0412

rs6942824

0.0224

cg10426581

5.26

0.0096

Allergic rhinitis with asthma

ADORA1

chr1q32.1

0.0337

rs6661284

0.0337

cg19315653

−6.26

0.0315

ITGB2

chr21q22.3

0.0381

rs7275203

0.0381

cg18012089

6.10

0.0068

LINC00336

chr6p21.31

0.0073

rs9461924

0.0073

cg04329454

−7.16

0.0015

MFSD6L

chr17p13.1

0.0120

rs9895992

0.0120

cg11685316

5.01

0.0072

PCDH8

chr13q14.3

0.0152

rs732774

0.0295

cg14950829

7.53

0.0097

0.0135

rs3742297

0.0480

cg14950829

7.53

0.0097

0.0259

rs1801249

0.0296

cg14950829

7.53

0.0097

0.0259

rs4943046

0.0298

cg14950829

7.53

0.0097

PITX2

chr4q25

0.0257

rs2067004

0.0272

cg13385016

5.06

0.0240

0.0249

rs9992755

0.0289

cg13385016

5.06

0.0240

RNF180

chr5q12.3

0.0130

rs7713289

0.0130

cg17370163

5.43

0.0021

RNF39 c

chr6p22.1

0.0133

rs2517504

0.0047

cg03343571

9.19

0.0451

0.0171

rs2517504

0.0047

cg01286685

8.21

0.0478

0.0401

rs2535238

0.0248

cg01286685

8.21

0.0478

0.0499

rs2523872

0.0299

cg01286685

8.21

0.0478

ZFPM1

chr16q24.2

0.0304

rs750740

0.0304

cg04983687

5.53

0.0056
The significantly or nominally associated genes were not associated with any related trait before. Interestingly, the majority of the genes linked to a SNP by the cis-mQTLs are not the closest ones, thus would not be the ones reported in a regular GWAS study. For example, all of the significant SNPs reported for the RNF39 cis-mQTLs are located 300 kb to 1 Mb away from the gene and are located closer to other genes, which were previously associated with pulmonary function (rs2844833-HLA-F [21], rs2523872-MUC22 [21], rs2517504-HCG22 [21, 22], rs2535238-ZFP57 [21]). The best example remains the one for the significantly associated mQTL that links rs888989 to a CpG located in the promoter region of the CDX1 gene. The SNP is located in an intron of TNFAIP3 interacting protein 1 (TNIP1) and 900 kb from CDX1. The former was previously associated with atopic dermatitis [23] and asthma [24]. According to the GTEx Portal (http://www.gtexportal.org/), rs888989 and CDX1 form an expression quantitative trait loci (eQTL) in the lungs (p = 0.04), which is not the case for TNIP1 (p = 0.94). This reinforces the possible implication of this gene in allergic rhinitis and shows that our method may better assess the true genes of interest linked to the associated SNPs.
The originality of our approach resides in combining GWAS and EWAS nominally associated SNPs and CpGs, using cis-mQTL data, to identify genes of interest in this disease. This method has the potential to reduce false negative findings by relying on the cellular mechanisms of gene regulation compared to the use of stringent statistical corrections. The use of a well-described collection coming from a founder population and including subjects selected based on the same precise criteria allowed a more unified genetic background and phenotype. However, since this is a pilot study, the limited number of samples included in the EWAS and the GWAS may constrain the power of the findings. We were not able to test SNPs previously associated with the trait in previous GWASs because they did not meet the criteria to be included in the mQTL analysis. We also analyzed SNPs and CpGs preselected in the arrays by the manufacturers, thus excluding potentially important SNPs or CpG sites, which are not in linkage disequilibrium. DNA methylation analysis using whole blood could have limited the findings, even if correction for cell counts was included in our model. Apart from the limitations, we showed that our approach is promising and acknowledging for the lack of power in future studies will permit to better pinpoint genes of interests for different traits. Studying other tissues implicated in allergic rhinitis trait, like nasal or lung cells, could also reveal other genes implicated in the physiopathology. Genes identified in this study, notably CDX1, are worthwhile to be further investigated to understand the allergic rhinitis pathogenesis and the atopic march.
Abbreviations
AR:

Allergic rhinitis
ARA:

Allergic rhinitis with asthma
CDX1:

Caudal-type homeobox 1
eQTL:

Expression quantitative trait loci
EWAS:

Epigenome-wide association study
GWAS:

Genome-wide association study
HCG22:

HLA complex group 22
HLA-F:

Major histocompatibility complex, class I, F
IgE:

Immunoglobulin E
MAF:

Minor allele frequency
mQTL:

Methylation quantitative trait loci
MUC22:

Mucin 22
RNF39:

Ring finger protein 39
SLSJ:

Saguenay–Lac-Saint-Jean
SNP:

Single nucleotide polymorphism
SWAN:

Subset-quantile within array normalization
TNIP1:

TNFAIP3 interacting protein 1
TSS:

Transcription start site
ZFP57:

Zinc finger protein 57
Declarations
Acknowledgements
This work was supported by Laprise and Pastinen operating grants from the Canadian Institute of Health Research (CIHR); AM was supported by the Fonds de Recherche du Québec—Santé (FRQS) doctoral training award. CL is the director of the Asthma Strategic Group of the Respiratory Health Network (RHN), investigator of CHILD Study, and is a member of the AllerGen NCE Inc. CL is the chairholder of the Canada Research Chair in the Environment and Genetics of Respiratory Disorders and Allergies, and TP is the chairholder of the Canada Research Chair in Human Genomics.
Funding
The study is funded by the Canadian Institute of Health research operating grant.
Availability of data and materials
Data is available upon request.
Authors' contributions
CL collected the data and managed the SLSJ cohort and conceived and supervised the study. AM analyzed and interpreted the data and wrote the manuscript draft under the supervision of CL. CL, LPB, ML, and TP edited the manuscript. All authors reviewed and approved the final manuscript.
Competing interests
The authors declare that they have no competing interests.
Consent for publication
Not applicable
Ethics approval and consent to participate
All subjects gave their informed consent, and the project was approved by the research ethic committee of the Centre intégré universitaire de santé et de services sociaux du SLSJ.
Open AccessThis article is distributed under the terms of the Creative Commons Attribution 4.0 International License (http://creativecommons.org/licenses/by/4.0/), which permits unrestricted use, distribution, and reproduction in any medium, provided you give appropriate credit to the original author(s) and the source, provide a link to the Creative Commons license, and indicate if changes were made. The Creative Commons Public Domain Dedication waiver (http://creativecommons.org/publicdomain/zero/1.0/) applies to the data made available in this article, unless otherwise stated.
Authors' Affiliations
(1)
Department of Human Genetics, McGill University and Genome Quebec Innovation Centre, Montréal, Canada
(2)
Département des sciences fondamentales, Université du Québec à Chicoutimi, Saguenay, Canada
(3)
Institut Universitaire de Cardiologie et de Pneumologie de Québec, Université Laval, Québec, Canada