DNA methylation links genetics, fetal environment, and an unhealthy lifestyle to the development of type 2 diabetes
Clinical Epigenetics
The official journal of the Clinical Epigenetics Society
2017
9:105
Received: 4 May 2017
Accepted: 29 August 2017
Published: 3 October 2017
Abstract
Type 2 diabetes is a complex trait with both environmental and hereditary factors contributing to the overall pathogenesis. One link between genes, environment, and disease is epigenetics influencing gene transcription and, consequently, organ function. Genome-wide studies have shown altered DNA methylation in tissues important for glucose homeostasis including pancreas, liver, skeletal muscle, and adipose tissue from subjects with type 2 diabetes compared with nondiabetic controls. Factors predisposing for type 2 diabetes including an adverse intrauterine environment, increasing age, overweight, physical inactivity, a family history of the disease, and an unhealthy diet have all shown to affect the DNA methylation pattern in target tissues for insulin resistance in humans. Epigenetics including DNA methylation may therefore improve our understanding of the type 2 diabetes pathogenesis, contribute to development of novel treatments, and be a useful tool to identify individuals at risk for developing the disease.
Keywords
EpigeneticsDNA methylationType 2 diabetesInsulin resistanceAgingObesityIntrauterine environmentGenetics
Background
Type 2 diabetes is one of the most common chronic metabolic diseases in developed countries [1]. This form of diabetes is a consequence of the target tissues becoming resistant to the effects of insulin and the failure of pancreatic β-cells to produce enough insulin. It is shown that type 2 diabetes develops with age, physical inactivity, and obesity in subjects with a genetic predisposition and/or in subjects who have experienced an adverse intrauterine environment. It is a complex multifactorial disease whose development is dependent on interactions in and between the predisposing factors.
One link between genes, environmental exposure, and disease development is epigenetics. It provides a molecular mechanism to explain how interactions between genetic and environmental factors may be involved in a disease process. The term epigenetics is typically described as heritable changes in gene function that occur without a change in the nucleotide sequence [2]. Epigenetic regulation includes DNA methylation, histone modifications, and non-coding RNA. DNA methylation is the most studied epigenetic mark so far and occurs mainly at the fifth position of the cytosine ring in CpG dinucleotides. DNA methylation is required to maintain cell-specific gene expression, plays an important role during embryonic development, and contributes to the establishment of imprinting and X-chromosome inactivation [3–5]. DNA methylation in promoter regions has been associated with transcriptional silencing. However, emerging data show that the effect of DNA methylation depends on the genomic location, and it may also affect alternative splicing, genomic stability, transcriptional elongation, and transcription of non-coding RNAs [3]. It may thereby also be associated with increased gene expression. The establishment and maintenance of epigenetic modifications are susceptible to environmental factors including dietary factors and changes in metabolism [6]. This, in addition to the fact that epigenetic changes accumulate in the living individual [7], led to the hypothesis that epigenetic modifications could be involved in age and lifestyle-related metabolic diseases such as type 2 diabetes. Indeed, we and others have shown altered epigenetic states in tissues important for glucose homeostasis including pancreas, liver, skeletal muscle, and adipose tissue from subjects with type 2 diabetes compared with nondiabetic controls [8–14]. These studies include differential DNA methylation of candidate genes that affect insulin secretion from pancreatic beta cells and thereby could play an important role in the pathogenesis of type 2 diabetes [8, 14].
The aim of this review is to summarize studies supporting epigenetics as a link between genetics, the fetal environment, an unhealthy lifestyle and the development of type 2 diabetes. In particular, this review will focus on risk factors for type 2 diabetes and their impact on DNA methylation in target tissues for insulin resistance in humans, including skeletal muscle, liver and adipose tissue (Fig.
1
).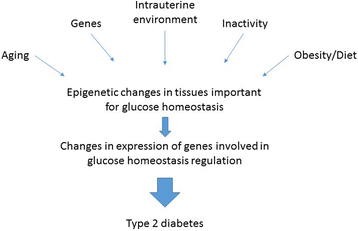 DNA methylation and risk factors for type 2 diabetes
Conclusions
The prevalence of type 2 diabetes is rapidly increasing worldwide. This disorder causes suffering, deaths, and costs and is becoming a more and more severe problem for our society. It is important to better understand the underlying mechanisms in order to improve prediction, prevention, and treatment of the disease. As suggested in this review, type 2 diabetes develops due to an interplay between epigenetics, genetics, fetal environment, and lifestyle. Studies presented in this review show that DNA methylation is highly dynamic and responsive to the environment. Despite the facts that most of the findings in the reviewed papers are correlative and that most studies investigate only a small number of the existing CpG sites, these findings will be valuable for hypothesis development of future studies. Future work should focus on finding the optimal lifestyle (for example, type of diet and type/duration of exercise) for hindering the development of epigenetic-based diseases and how all these could be affected by genetic background. Epigenetics can either provide a biological mechanism for disease development, be targeted for therapy, or serve as a biomarker of disease or disease risk even if not directly involved in causing the disease. The epigenetic studies summarized in this review may improve our understanding of disease pathogenesis, contribute to development of novel therapies, and improve prediction of type 2 diabetes.
Abbreviations
BMI:

Body mass index
DNMT1:

DNA methyltransferase 1
SAM:

S-adenosylmethionine
SNPs:

Single nucleotide polymorphisms
Declarations
Acknowledgements
Not applicable.
Funding
This work was supported by grants from the Swedish Research Council, Region Skåne (ALF), the Royal Physiographic Society in Lund, the Påhlsson Foundation, and the Swedish Diabetes Foundation.
Availability of data and materials
Not applicable.
Authors' contributions
Both authors reviewed the literature and wrote the manuscript. Both authors read and approved the final manuscript.
Ethics approval and consent to participate
Not applicable.
Consent for publication
Not applicable.
Competing interests
The authors declare that they have no competing interests.
Publisher's Note
Springer Nature remains neutral with regard to jurisdictional claims in published maps and institutional affiliations.
Open AccessThis article is distributed under the terms of the Creative Commons Attribution 4.0 International License (http://creativecommons.org/licenses/by/4.0/), which permits unrestricted use, distribution, and reproduction in any medium, provided you give appropriate credit to the original author(s) and the source, provide a link to the Creative Commons license, and indicate if changes were made. The Creative Commons Public Domain Dedication waiver (http://creativecommons.org/publicdomain/zero/1.0/) applies to the data made available in this article, unless otherwise stated.
Authors' Affiliations
(1)
Department of Clinical Sciences, Epigenetics and Diabetes Unit, Lund University Diabetes Centre, Scania University Hospital, Malmö, Sweden