Epigenetic modulators as therapeutic targets in prostate cancer
Clinical Epigenetics
The official journal of the Clinical Epigenetics Society
2016
8:98
Received: 7 July 2016
Accepted: 7 September 2016
Published: 15 September 2016
Abstract
Prostate cancer is one of the most common non-cutaneous malignancies among men worldwide. Epigenetic aberrations, including changes in DNA methylation patterns and/or histone modifications, are key drivers of prostate carcinogenesis. These epigenetic defects might be due to deregulated function and/or expression of the epigenetic machinery, affecting the expression of several important genes. Remarkably, epigenetic modifications are reversible and numerous compounds that target the epigenetic enzymes and regulatory proteins were reported to be effective in cancer growth control. In fact, some of these drugs are already being tested in clinical trials. This review discusses the most important epigenetic alterations in prostate cancer, highlighting the role of epigenetic modulating compounds in pre-clinical and clinical trials as potential therapeutic agents for prostate cancer management.
Keywords
Prostate cancerDNMTiHistone modulators
Background
Prostate cancer
Prostate cancer (PCa) is one of the most common malignancies worldwide and a leading cause of cancer-related morbidity and mortality [1]. When diagnosed at early stages, it is potentially curable by radical prostatectomy or radiotherapy [2]. Furthermore, in many men, the disease is in fact indolent raising an important unmet need to better understand the biology of those prostate cancers that will never require exposure to treatment. However, for PCa that recurs after failure of primary surgery/radiotherapy or hormone-naive metastatic disease, androgen deprivation therapy (ADT), combined with docetaxel chemotherapy in suitably fit patients, is the mainstay of treatment [3–5]. Gonadotropin-releasing hormone (GnRH) agonists or antagonists, initially combined with anti-androgens (e.g., bicalutamide), are used to lower androgen levels, leading to tumor remission and a decline in serum prostate-specific antigen (PSA). Although nearly all patients respond to ADT, for patients with metastatic cancer progression to a lethal stage of the disease, termed castration-resistant prostate cancer (CRPC), occurs in virtually all patients after a median of 11 months [6, 7]. Despite previously being termed "hormone refractory" in fact, CRPC normally remains, at least initially, critically dependent on androgen receptor (AR) signaling. The mechanisms underlying castration resistance relating to the AR itself include receptor amplification, activating mutations, constitutively active truncating splice variants, phosphorylation, and methylation. Persistent transcriptional AR activity can also be mediated by altered responsiveness to, or increased expression of, alternative ligands including progesterone and corticosteroids or by adrenal production of androgens that is not responsive to GnRH agonists/antagonists, as well as intraprostatic testosterone and dihydrotestosterone (DHT) synthesis [8]. Finally, components of the activated AR complex, including epigenetic mediators as described in this review, may be overexpressed (co-activators) or repressed (co-repressors) and other signaling pathways may also be activated, for example, including the MAPK, PI3K/Akt, and Wnt pathways [9, 10]. For metastatic CRPC (mCRPC), treatment with next-generation hormonal therapies, such as the CYP17A1 inhibitor abiraterone which depletes androgen synthesis pathway precursors or the AR antagonist enzalutamide, is an option; however, acquired resistance inevitably arises (within 1–2 years in the pre-docetaxel setting) [11, 12]. It is becoming increasingly clear that this clinical phenotype is commonly characterized by therapeutic cross resistance, at least between available hormonal therapies, making sequential use of limited benefit, and that current treatment options drive the emergence of treatment-resistant clonally convergent subpopulations [13, 14]. For mCRPC, other agents that have an established survival benefit include chemotherapy with either docetaxel or cabazitaxel combined with prednisone, the radiopharmaceutical radium-223, and the autologous cellular immunotherapy sipuleucel T [15–19]. Unfortunately, none of these agents are curative and the median survival from the point of transition to mCRPC is 2–3 years [7], strengthening the urgent need for investigation of new therapeutic approaches.
DNA methylation and histone modifications in prostate cancer
PCa is a complex and heterogeneous disease that arises from both genetic and epigenetic alterations [20]. Concerning epigenetic modifications, DNA methylation is the best well-studied epigenetic alteration [21]. It consists of the addition of a methyl group by DNA methyltransferases (DNMTs): DNMT1, DNMT3A, and DNMT3B, donated by S-adenosylmethionine (SAM), to cytosine residues within CpG dinucleotides. Whereas DNMT1 ensures the maintenance of tissue-specific methylation patterns over cellular replication, DNMT3A and DNMT3B are involved in the maintenance and de novo methylation of DNA strands [22, 23]. Aberrant alterations of the methylation patterns are common features of PCa development and progression (Fig. 1). Global DNA hypomethylation increases as the disease progresses, with a lower overall content of 5-methylcytosine (m5C) found in metastatic tissues [24], promoting chromosome instability, activation of retrotransposons, and aberrant gene expression. Loss of imprinting of IGF2 (with consequent biallelic expression) was found in cancerous as well as in associated histologically normal peripheral zone prostatic tissue, which indicates that it might predispose the development of carcinogenesis over a long latency period [25]. Promoter hypomethylation may result in the activation of proto-oncogenes, although this is a relatively underexplored event. One example is urokinase plasminogen activator (PLAU), a gene involved in tumor invasion and metastasis and whose expression has been associated with CRPC [26]. Heparanase, an endo-β-D-glucuronidase, is also highly expressed in PCa, especially in metastatic lesions, but not in prostatic intraepithelial neoplasia (PIN) [27]. Conversely, DNA hypermethylation at specific gene loci is a key molecular hallmark of PCa. In fact, this is one of the first aberrations, seen as early as in pre-invasive lesions, such as PIN, and persisting throughout disease progression [28]. Tumor suppressor genes silenced by promotor hypermethylation in PCa are involved in important cellular pathways, including cell cycle control, apoptosis, DNA damage repair or hormonal response. Thus far, more than 100 genes have been shown to be inactivated by promoter hypermethylation in PCa. Remarkably, glutathione S-transferase pi 1 (GSTP1), a gene involved in DNA repair, is hypermethylated in more than 90 % of PCa cases, as well as in over 50 % of PCa precursor lesions, suggesting this as an early event in prostate carcinogenesis [29–32]. Methylation of Ras association domain family protein 1, isoform A (RASSF1A) promoter was strongly correlated with an increased risk of PCa recurrence, aggressiveness, and tumor progression [33, 34]. Progression to CRPC was also linked with AR silencing by hypermethylation [35]. In fact, AR hypermethylation was described in about 30 % of CRPC [36]. Several other genes were described as frequently hypermethylated in morphologically normal prostate tissue and in PIN (e.g., ATP binding cassette subfamily B member 1 (ABCB1), adenomatous polyposis coli (APC), cyclin D2 (CCND2), O-6-methylguanine-DNA methyltransferase (MGMT), retinoic acid receptor beta 2 (RARβ2), RASSF1A, prostaglandin-endoperoxide synthase 2 (PTGS2)) further implicating DNA hypermethylation in PCa initiation [37–39].
In addition to DNA methylation, histone modifications were also implicated in prostate carcinogenesis (Fig.
1
). The N-terminal tails of histones may undergo a variety of post-translational covalent modifications, which are catalyzed by various histone-modifying enzymes (Fig.
2
). At least 16 different post-translational modifications (PTMs) have been reported, including acetylation, methylation, phosphorylation, ubiquitination, and glycosylation [
40
]. These changes constitute the "histone code" which acts as a layer of epigenetic regulation of gene expression affecting chromatin structure and remodeling [
41
]. In general, acetylation enables transcriptional activity and is catalyzed by histone acetyltransferases (HAT). Conversely, histone deacetylases (HDACs) remove acetyl groups leading to condensed and repressive chromatin. In PCa, HDAC 1, 2, and 3 are strongly expressed, especially in CRPC [
42
,
43
]. Moreover, HDAC1 and HDAC2 were found to be highly expressed in PCa with high Gleason score and might be correlated with increased proliferative capacity [
43
] but only HDAC2 expression has been associated with shorter PCa patient relapse-free survival time after radical prostatectomy. Additionally, HATs and HDACs may change the acetylation status of non-histone proteins, such as AR [
44
]. Indeed, AR co-activators and co-repressors influence transcriptional activity by regulating AR itself or its responsive genes, via their respective HAT or HDAC activities. Acetylation of coactivators enhances the transcriptional activity of AR facilitating its binding to target DNA sequences. Contrarily, AR activity is abrogated by HDAC1, HDAC2, and sirtuin 1 (SIRT1) [
45
]. SIRT1 was shown to be downregulated in PCa, compared to normal prostatic tissue, leading to H2A.Z overexpression and consequent upregulation of v-myc avian myelocytomatosis viral oncogene homolog (
MYC
) and other oncogenes [
46
].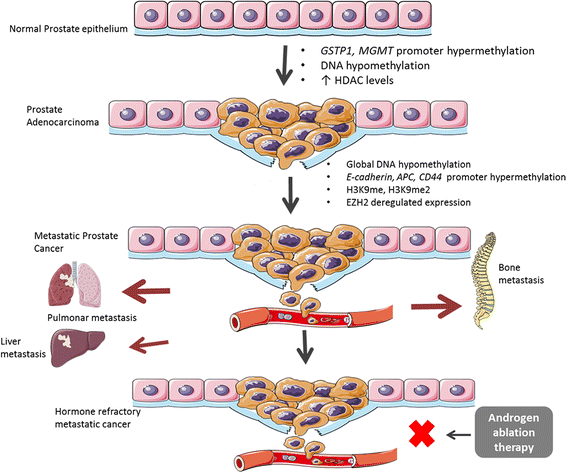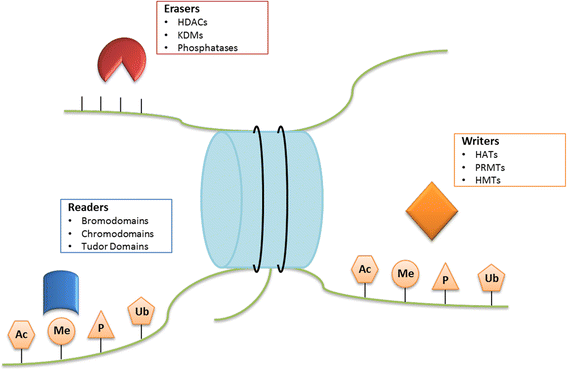 Histone methylation may be associated with transcriptional activation or repression, depending on the amino acid residue and the number of methyl groups added. Specifically, methylation of lysines 4, 36, and 79 of histone 3 (H3K4me3, H3K36me, and H3K79me) are marks of active transcription, whereas methylation of lysines 9 and 27 of histone 3 (H3K9 and H3K27) results in silent chromatin state [40, 47]. In PCa, H3K4me, H3K9me2, H3K9me3, and acetylation of H3 and H4 were shown to be reduced in comparison with non-malignant tissue. It was also demonstrated that CRPC patients displayed increased levels of H3K4me, H3K4me2, and H3K4me3 [48]. In fact, high levels of lysine-specific demethylase 1A (KDM1A) was correlated with increased risk for disease relapse [49] and AR function [50]. The histone methyltransferase (HMT) polycomb protein enhancer of zeste homolog 2 (EZH2) is by far the most studied epigenetic enzyme in PCa. This enzyme, responsible for H3K27 trimethylation, was found to be overexpressed in PCa, particularly in mCRPC [51] and was associated with promoter hypermethylation and repression of some tumor suppressor genes, suggesting its involvement in PCa progression [51, 52]. Interestingly, in CRPC, the oncogenic role of EZH2 was independent of its polycomb transcriptional repressor activity, functioning as a co-activator of several transcription factors such as AR [53]. Thereby, epigenetic deregulation of co-activators may contribute to failure of androgen deprivation therapy in PCa patients. Lysine-specific demethylase 1 (LSD1) is another enzyme involved in prostate carcinogenesis. It acts both as co-activator and co-repressor of transcription by targeting H3K4 or H3K9, respectively [49, 54, 55]. In fact, LSD1 was found to form a complex with AR, stimulating its activity. Moreover, increased levels of LSD1 were associated with aggressive CRPC and high risk of disease relapse [49, 55].
Several other histone-modifying enzymes, like JHDM2A, JMJD2C, SET9, and SMYD3 have already been shown to play a role in prostate carcinogenesis [50, 56–59]. Moreover, in addition to changes in chromatin modifier enzymes, some histone modifying patterns, like H3K18Ac, H3K4me2, and H3K4me1 were also associated with increased risk for PCa recurrence [48, 60].
Evidence acquisition
We searched PubMed for publications on PCa and epigenetic therapy using the keywords: prostate cancer, DNA methylation, histone modifications, epigenetic drugs, DNMT inhibitors, HDAC inhibitors, histone modulators, HAT inhibitors, histone demethylase (HDM) inhibitors, and every drug mentioned on the manuscript, on January 15, 2016. Only articles written in English were retrieved. Original reports were selected based on the detail of analysis, mechanistic support of data, novelty, and potential clinical usefulness of the findings. A total of 283 papers were included in this review.
Epigenetic silencing as a therapeutic target in prostate cancer
The interest in epigenetic modulators as targets for cancer therapy has been growing in recent years (Fig.
3
) [
61
]. Indeed, six epigenetic compounds that target either DNA methylation or histone deacetylation have already been approved by the Food and Drug Administration (FDA) for cancer treatment (Table
1
) [
62
–
68
]. Herein, we will focus on the advances of the use of DNMT inhibitors (DNMTi) and histone modulators for PCa therapy.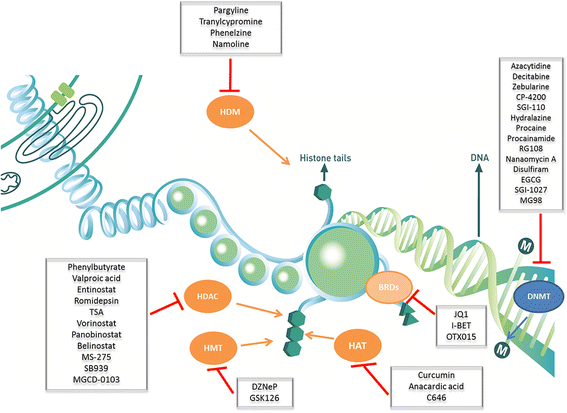 Table 1
Epigenetic drugs for cancer therapy approved by FDA
| Drug | Comercial name | Company | Class | Year of approval | Treatment type | Cancer |
| --- | --- | --- | --- | --- | --- | --- |
| 5-Azacytidine | Vidaza® | Celgene Corporation | DNMTi | 2004 | Single agent | Myelodysplastic syndrome |
| 5-Aza-2′-deoxycytidine | Dacogen® | Eisai | DNMTi | 2006 | Single agent | Myelodysplastic syndrome |
| Vorinostat/SAHA | Zolinza® | Merck | Pan-HDACi | 2006 | Single agent | Cutaneous T cell lymphoma |
| Romidepsin | Istodax® | Celgene Corporation | Class I HDACi | 2009 | Single agent | Cutaneous and peripheral T cell lymphoma |
| Belinostat | Beleodaq® | Spectrum Pharmaceuticals, Inc. | Pan-HDACi | 2014 | Single agent | Peripheral T cell lymphoma |
| Panobinostat | Farydak® | Novartis | Pan-HDACi | 2015 | Combination with bortezomid and examethasone | Multiple myeloma |
Conclusion and future directions
Considering the success of epigenetic drugs in acute leukemia and myelodysplastic syndrome, there is a growing interest for their use in solid tumors. The results of epigenetic-based therapy in cutaneous lymphomas further suggest the possibility that solid tumors may also respond to such treatment.
Concerning DNMT inhibitors, the lack of success of azanucleosides observed in solid tumors, including PCa, might be due to the fact that they are mostly effective in highly proliferative tumors and the rate of active cell division is much lower in solid tumors, compared to hematolymphoid neoplasms. Moreover, the potential of demethylating agents to cause global hypomethylation leading to unwanted activation of imprinted or silenced genes is an additional concern. Therefore, their lack of specificity might paradoxically contribute to tumorigenesis and increased disease aggressiveness due to upregulation of genes involved in metastasis. Indeed, several studies have shown incredible substantial decrease in m5C content alongside with specific demethylation of tumor suppressor gene promoters with concomitant re-expression [281]. Treatment with azanucleosides is also associated with hematopoietic, nervous, and metabolic toxicity. However, they usually display a lower toxicity profile than conventional chemotherapy. Although, non-nucleoside inhibitor compounds are less cytotoxic than nucleoside inhibitors, they proved to be less effective than azanucleosides at inhibiting DNA methylation and reactivating gene expression [69, 102, 116].
Considering histone modulators, the best studied thus far are HDACi. However, these compounds are not specific and they rather act on non-histone proteins in addition to histones, which could contribute to more aggressive side effects. Nevertheless, it was shown that these drugs preferentially target genes that have become abnormally silenced in cancer and, indeed, the chromatin silencing structure induced by cancer is more susceptible to reactivation than the structure of physiologically compacted chromatin [282]. The ideal treatment would be the one that could selectively reverse hypermethylation of tumor suppressor genes' promoters, reestablishing its function, without causing global demethylation of the genome. Eventually, the combination of DNMTi with HDACi and conventional chemotherapy might be a promising strategy for the treatment of PCa patients. Nevertheless, additional studies are required to assess the role of DNMTi, especially non-nucleoside analogues, as therapeutic options for PCa.
Of some concern, much of the clinical evaluation of epigenetic therapeutics in PCa to date has been undertaken in late stage, heavily pre-treated mCRPC patients, commonly without a patient stratification strategy and with agents of sometimes poorly defined specificity for epigenetic effect (particularly for "repurposed" drugs). Since epigenetics is a complex process of gene regulation, there is a need for evaluation of agents where we understand clearly the epigenetic target(s), in clinical trials where we also test potential predictive biomarkers to select patients that would benefit from these therapies. Ideally, pre-clinical studies should focus on providing patient stratification hypotheses that we can take through to the clinic. Earlier stage disease, for example, patients who have biochemical recurrence after radical prostatectomy or patients receiving ADT prior to transition to a CRPC phenotype might represent more relevant clinical settings for assessment of epigenetic therapeutics [28]. It might also be useful to evaluate other parameters. For example, low doses of 5-aza-2′-deoxycytidine have shown to be able to minimize toxicity while potentially improving the targeted effects of DNA hypomethylation [283]. Thus, the hypothesis of reducing dose to an epigenetic but not cytotoxic level might allow us to target better the therapeutic index between efficacy and safety, particularly in combinations of either epigenetic/epigenetic and epigenetic/non-epigenetic drugs. In addition, we have relatively limited experience of the clinical impact of prolonged maintenance treatment with epigenetic agents, at high or low dose, in terms of toxicity profiles or mechanisms of emergent acquired resistance to therapy. Together with increased insight into the molecular mechanisms underlying the activity of epigenetic-based drugs, linking the rapidly advancing biological understanding of the disease for more precise selection of PCa subtypes for clinical trials will hopefully foster successful clinical validation of these drugs for the treatment of PCa.
Abbreviations
ABCB1 :

ATP binding cassette subfamily B member 1
AdoHcy:

S-Adenosyl-l-homocysteine
AdoMet:

S-Adenosyl-methionine
ADT:

Androgen deprivation therapy
ALDH1:

Aldehyde dehydrogenase 1
ALL:

Acute lymphocytic leukemia
AML:

Acute myeloid leukemia
APC :

Adenomatous polyposis coli
AR:

Androgen receptor
BCL2 :

B cell CLL/lymphoma 2
BET:

Bromodomain and extraterminal domain family
BRD:

Bromodomain-containing protein
CCND2 :

Cyclin D2
COX2 :

Cyclooxygenase-2
CRPC:

Castration-resistant prostate cancer
CTC:

Circulating tumor cells
DHT:

Dihydrotestosterone
DNMT:

DNA methyltransferase
DNMTi:

DNA methyltransferases inhibitors
DZNeP:

3-Dezaneplanocin-A
EFEMP :

EGF-containing fibulin-like extracellular matrix protein
EGCG:

Epigallocatechin-3-gallate
EGF:

Epidermal growth factor
EGFR:

Epidermal growth factor receptor
EMT:

Epithelial mesenchymal transition
ERβ:

Estrogen receptor β
ETS :

v-ets Avian erythroblastosis virus E26 oncogene homolog
EZH2:

Enhancer of zeste 2 polycomb repressive complex 2 subunit
FAD:

Flavin adenine dinucleotide
FDA:

Food and Drug Administration
GnRH:

Gonadotropin-realizing hormone
GSTP1 :

Glutathione S-transferase pi 1
HAT:

Histone acetyltransferase
HATi:

Histone acetyltransferase inhibitors
HDAC:

Histone deacetylases
HDACi:

Histone deacetylase inhibitors
HDM:

Histone demethylase
HDMi:

Histone demethylase inhibitor
HER2:

Human epidermal growth factor receptor 2
HMT:

Histone methyltransferase
HMTi:

Histone methyltransferase inhibitor
IL-6:

Interleukin 6
IGF2 :

Insulin-like growth factor 2
I.v.:

Intravenous
KDM1A:

Lysine-specific demethylase 1A
LSD1:

Lysine (K)-specific demethylase 1A
MAO:

Monoamine oxidase
mCRPC:

Metastatic castration-resistant prostate cancer
MeCP2 :

Methyl CpG binding protein 2
MDS:

Myelodysplastic Syndrome
MGMT :

O-6-Methylguanine-DNA methyltransferase
MYC :

v-Myc avian myelocytomatosis viral oncogene homolog
NDRG1 :

N-Myc downstream regulated gene-1
Neurog1 :

Neurogenin 1
NF-kB:

Nuclear factor kappa B
PCa:

Prostate cancer
PCAF:

p300/CBP associated factor
PEITC:

Phenethyl isothiocyanate
PFS:

Progression-free survival
PIN:

Prostatic intraepithelial neoplasia
PLAU :

Urokinase plasminogen activator
PRC2:

Polycomb repressive complex 2
PSA:

Prostate-specific antigen
PSA-DT:

PSA doubling time
PTGS2 :

Prostaglandin-endoperoxide synthase 2
PTMs :

Histone post-translational modifications
RARβ2 :

Retinoic acid receptor beta 2
RASSF1A :

Ras association domain family protein 1, isoform A
RT:

Radiotherapy
SAHA:

Suberoylanilide hydroxamic acid
SAM:

S-Adenosylmethionine
SIRT:

Sirtuin
SPARC :

Secreted protein acid and cysteine rich
TIMP:

Tissue Inhibitor of Metalloproteinase
TMPRSS2 :

Transmembrane protease serine 2
TSA:

Trichostatin A
UTR:

Untranslated region
VPA:

Valproic acid
Declarations
Acknowledgements
The page charges of this publication are supported by COST ACTION CM1406.
The authors are grateful to Mrs. Manuela Montezuma for her drawing on Fig. 3.
Funding
IG is a research fellow from Federal funds through Programa Operacional Temático Factores de Competitividade (COMPETE) with co-participation from the European Community Fund (FEDER) and by national funds through Fundação para a Ciência e Tecnologia (CI-IPOP-BPD/UID/DTP/00776/2013). CJ's research is supported by Research Center of the Portuguese Oncology Institute of Porto. SJC's and GP's research on epigenetics is supported by Cancer Research UK and the Experimental Cancer Medicine Centre.
Availability of data and materials
Not applicable.
Authors' contributions
IG, EP-S, and SJC collected the information. IG, EP-S, RH, GP, SJC, and CJ wrote and revised the paper. IG and EP-S draw the Figs. 1 and 2. All authors read and approved the final manuscript.
Competing interests
The authors declare that they have no competing interests.
Consent for publication
Not applicable.
Ethics approval and consent to participate
Not applicable.
Open AccessThis article is distributed under the terms of the Creative Commons Attribution 4.0 International License (http://creativecommons.org/licenses/by/4.0/), which permits unrestricted use, distribution, and reproduction in any medium, provided you give appropriate credit to the original author(s) and the source, provide a link to the Creative Commons license, and indicate if changes were made. The Creative Commons Public Domain Dedication waiver (http://creativecommons.org/publicdomain/zero/1.0/) applies to the data made available in this article, unless otherwise stated.
Authors' Affiliations
(1)
Cancer Biology and Epigenetics Group—Research Center (CI-IPOP), Portuguese Oncology Institute of Porto (IPO-Porto), Porto, Portugal
(2)
School of Allied Health Sciences (ESTSP), Polytechnic of Porto, Porto, Portugal
(3)
Department of Pathology, Portuguese Oncology Institute of Porto (IPO Porto), Porto, Portugal
(4)
Department of Pathology and Molecular Immunology, Institute of Biomedical Sciences Abel Salazar—University of Porto (ICBAS-UP), Porto, Portugal
(5)
Cancer Research UK Centre, Cancer Sciences, The Somers Cancer Research Building, University of Southampton Faculty of Medicine, Southampton General Hospital, Southampton, UK