Establishing an analytic pipeline for genome-wide DNA methylation
Clinical Epigenetics
The official journal of the Clinical Epigenetics Society
2016
8:45
Received: 29 January 2016
Accepted: 18 April 2016
Published: 27 April 2016
Abstract
The need for research investigating DNA methylation (DNAm) in clinical studies has increased, leading to the evolution of new analytic methods to improve accuracy and reproducibility of the interpretation of results from these studies. The purpose of this article is to provide clinical researchers with a summary of the major data processing steps routinely applied in clinical studies investigating genome-wide DNAm using the Illumina HumanMethylation 450K BeadChip. In most studies, the primary goal of employing DNAm analysis is to identify differential methylation at CpG sites among phenotypic groups. Experimental design considerations are crucial at the onset to minimize bias from factors related to sample processing and avoid confounding experimental variables with non-biological batch effects. Although there are currently no de facto standard methods for analyzing these data, we review the major steps in processing DNAm data recommended by several research studies. We describe several variations available for clinical researchers to process, analyze, and interpret DNAm data. These insights are applicable to most types of genome-wide DNAm array platforms and will be applicable for the next generation of DNAm array technologies (e.g., the 850K array). Selection of the DNAm analytic pipeline followed by investigators should be guided by the research question and supported by recently published methods.
Keywords
DNA methylationEpigenomicsMicroarray analysis
Background
Epigenetic changes, among which DNA methylation (DNAm) is frequently studied, are increasingly being considered as potential contributors to disease processes or to serve as biomarkers for patients at risk of developing disease [1]. Clinical research conducted to identify biological mediators associated with an increased risk for disease suggest that epigenetic modifications may be involved in virtually any complex disease [2]. In contrast to genetic mutations that arise infrequently in somatic cells and tend to be relatively static, epigenetic modifications are plastic. As a result, these alterations may be amenable to clinical interventions and could lead to the development of new treatments [3]. In recent years, there has been a proliferation of translational clinical research utilizing data produced by high-throughput technologies that are capable of measuring epigenomic modifications across the genome [4]. Generally speaking, high-throughput technologies allow for the simultaneous measurements of thousands of DNA features (e.g., CpG sites) in a more rapid, reproducible, and cost-effective manner than assessing each feature individually. These genome-wide platforms have the advantage of obtaining a snapshot of the cellular state and have revolutionized the genome sciences by facilitating hypothesis-generating studies to complement more direct hypothesis testing. The Illumina Infinium HumanMethylation450 BeadChip (450K) is the most commonly used tool to assess genome-wide DNAm according to the Gene Expression Omnibus Database [5], and the technical details of this technology have been previously published [6]. Best practices for designing whole-genome DNAm experiments have also been published [7–9]. The purpose of this review is to provide an accessible summary of the major data processing steps routinely applied in clinical studies investigating genome-wide DNAm using the 450K array. Although DNAm technology continues to change at a rapid pace, the information in this review will be applicable to the next generation of DNAm array technologies [10].
Review
Measurement of genome-wide DNAm
DNAm is a chemical modification to DNA that adds a methyl group to cytosines that are adjacent to guanine nucleotides, referred to as CpG sites, which may result in changes to gene expression without altering the DNA sequence [11]. The relationship between this chemical modification and health conditions has been increasingly studied, and several investigators report associations between the degree of methylation in a genomic region in disease states or in response to environmental exposures [1, 12]. DNAm across the genome can be assayed using either microarrays or specialized whole-genome sequencing (WGS) protocols. In both approaches, DNA samples are first treated with sodium bisulfite, which converts unmethylated cytosines to uracil, while methylated cytosines are unaffected. Microarrays measure DNAm using thousands of oligonucleotide probes that each target a specific genomic location [6]. WGS provides comprehensive coverage of DNAm sites; however, it has a much higher cost and many investigators have elected to use less expensive modern DNAm arrays for initial surveys of DNAm in epidemiological samples [13].
The most frequently used microarrays for measuring DNAm are manufactured by Illumina. The first Illumina methylation microarray, referred to as the 27K array, interrogated 27,578 sites across the genome. For this array, two probes were used for each locus to separately identify methylated and unmethylated CpG sites. The next major methylation platform released by Illumina was the Infinium Human Methylation450 BeadChip microarray, which measures 485,512 CpG sites, the majority of which are localized to regions that potentially could regulate gene expression and therefore are of possible clinical relevance (99 % of the sites are localized to genes that have been well characterized in RefSeq or sites outside of genes that are likely to regulate gene expression, such as promoter regions) [6]. In addition to the dual-probe approach used in the 27K array, which is referred to as a "type I" probe, the 450K array incorporates "type II" probes to expand CpG site coverage. The type II probes use two differentially "colored" (using fluorochromes) channels for each locus, one that is specific for methylated and one for unmethylated CpGs, with these channels being distinguished from one another by a single-base mismatch.
Signal processing for all array-based technologies requires a multi-step analysis protocol to obtain consistent and reproducible results [
14
,
15
]. For example, the 450K array has values for type I probes (135,476 sites), as well as type II probes (350,036 sites), the latter of which measure both methylated and unmethylated CpGs (using two color channels, as noted above) [
6
]. Technical differences in the probe designs result in less efficiency for detecting variance in DNAm in the type II probes when compared to type I probes, especially at the ends of the probe intensity distribution (Fig.
1a
). As a result of the "hybrid" two-assay (type I and type II probes) design of the 450K array, researchers have developed several statistical approaches to normalize variance between the probe types and reduce a potential source of bias in results favoring one probe type over another [
16
–
20
]. Signals for both probe types are frequently summarized as a beta value representing a ratio of the average signal for methylated alleles to that of the total of the methylated and unmethylated alleles for biological interpretation [
6
].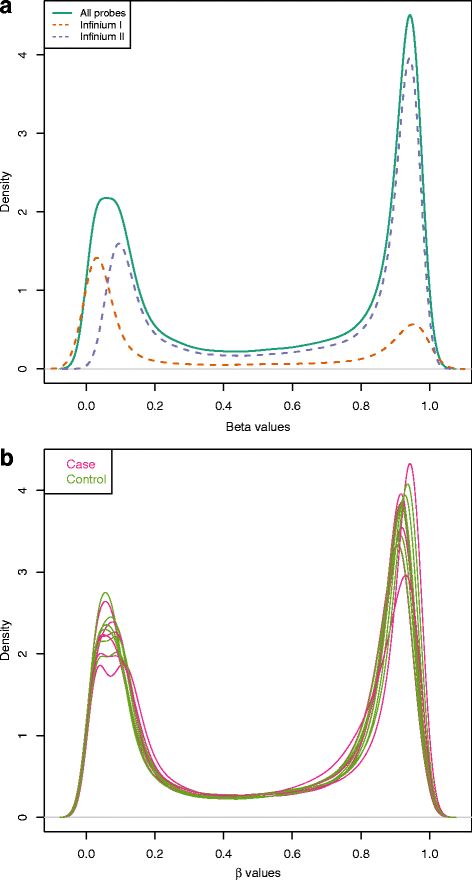 The goal of this methods review is not to describe the technical details of data analysis approaches but rather to outline the major steps/considerations in the experimental design and processing of raw data into interpretable DNAm values. By understanding the analytic pipeline, a clinical researcher will be better able to plan and communicate project goals as well as have appropriate expectations related to the interpretation of results. Software for all methods presented can be obtained through the free and open-source R statistical computing environment [
21
] and Bioconductor [
22
] (cran.r-project.org and bioconductor.org). A selection of popular DNAm packages have been reviewed elsewhere [
16
,
20
]. These R and Bioconductor resources have become the de facto software for methods development in this area by an expert community of researchers who continually introduce and upgrade analytic "packages" by taking advantage of R's highly extensible platform. A summary of the data processing steps described in this review is listed in Table
1
.
Table 1
Major steps in the 450K array analysis pipeline
| Analysis | Rationale |
| --- | --- |
| Sample filtering | Experimental samples are compared to control probes present within the array technology to identify samples that fail to adequately detect DNAm. Samples with poor detection may be inaccurate, due to poor sample quality, and thus might be considered for exclusion from the dataset. |
| Probe filtering | Raw data must past initial quality and data screening. Probes failing to meet preset detection values and/or failed probes are removed from analysis because they are unreliable (see text). For example, some probes may cross-hybridize or overlap with SNPs, which could confound results. Study aims should be considered when determining which probes to remove. |
| Within-array normalization | This step removes "background" noise and corrects for technical dye-based (red/green), intensity, and probe type (I/II) differences within the array technology. |
| Batch effects | The step assesses and accounts for variation that is not caused by biological differences but by external variation (e.g., samples are processed on different days or at different facilities). |
| Cell composition | Whole blood contains multiple cell types with potentially different DNAm profiles. As different samples may contain varying proportions of cell types, statistical methods have been developed to estimate and correct for this cellular heterogeneity. |
| Differential DNAm positions and regions | Currently, many analytic pipelines assess for DNAm differences in both specific positions and broader regions. DNAm positions interrogated on the array are not evenly distributed, and both differentially methylated positions and regions may yield clinically meaningful results. |
| Biological and clinical interpretation | Various approaches may be necessary for accurate interpretation of differential methylation between groups. Tools for functional and regulatory enrichment analyses are available. Manual exploration of the literature and validation in a second cohort or by another method (e.g., bisulfite sequencing) remains as viable options for interpretation. |
Overview of DNAm array analysis pipeline
Conclusions
Advances in research methods utilizing new technologies that produce large amounts of data, like the 450K array, are increasingly being used to improve our understanding of various disease processes. Clinical researchers are uniquely poised to accelerate the translational arm of research by using these types of technologies to improve our understanding of disease risk, better estimate disease prognosis, and make more personalized therapeutic decisions. However, the processing and statistical analyses of these data are complex. To ensure accurate translation and clinical applications, researchers must be aware of how these data are processed and analyzed. The analytic pipeline is a foundational process to ensure data quality, reliability, and reproducibility of reported findings. Streamlined approaches are available that automate a number of steps described in this review and can serve as a starting point for less experienced users [16, 56, 84]. This review provides a summation of the essential analytic steps that clinical researchers will need to consider when planning and reporting findings from DNAm studies using the 450K array and can serve as a "prequel" to more in-depth, helpful reviews on specific methods that are available (e.g., [16, 20, 36]).
Abbreviations
450K:

Illumina Infinium HumanMethylation450 BeadChip
DMP:

differentially methylated positions
DMR:

differentially methylated regions
DNAm:

DNA methylation
WGS:

whole-genome sequencing
Declarations
Acknowledgements
The content of this publication is solely the responsibility of the authors. ARS (R01NR013932 & R01NR012667), CJC (R01NR012667 & R01AG037986), ARW (UL1RR031990), DEL (R01NR012667), and TPY (R01AG037986, R01NR012667, R01AA018333, & P60MD002256) are currently receiving research grant funding from the National Institutes of Health. TPY also holds a 2015 Preterm Birth Research Grant from the Burroughs Wellcome Fund.
Open AccessThis article is distributed under the terms of the Creative Commons Attribution 4.0 International License (http://creativecommons.org/licenses/by/4.0/), which permits unrestricted use, distribution, and reproduction in any medium, provided you give appropriate credit to the original author(s) and the source, provide a link to the Creative Commons license, and indicate if changes were made. The Creative Commons Public Domain Dedication waiver (http://creativecommons.org/publicdomain/zero/1.0/) applies to the data made available in this article, unless otherwise stated.
Authors' Affiliations
(1)
School of Nursing, Yale University, West Haven, USA
(2)
Department of Biostatistics, Virginia Commonwealth University, Richmond, USA
(3)
Center for Clinical and Translational Research, Virginia Commonwealth University, Richmond, USA
(4)
Departments of Pathology and Human and Molecular Genetics, Virginia Commonwealth University, Richmond, USA
(5)
School of Nursing, University of Connecticut, Storrs, USA
(6)
College of Nursing, University of Florida, Gainesville, USA
(7)
Department of Human and Molecular Genetics, Virginia Commonwealth University, Richmond, USA