A multi-method approach to the molecular diagnosis of overt and borderline 11p15.5 defects underlying Silver–Russell and Beckwith–Wiedemann syndromes
Clinical Epigenetics
The official journal of the Clinical Epigenetics Society
2016
8:23
Received: 27 July 2015
Accepted: 8 February 2016
Published: 1 March 2016
The Erratum to this article has been published in Clinical Epigenetics 2016 8:40
Abstract
Background
Multiple (epi)genetic defects affecting the expression of the imprinted genes within the 11p15.5 chromosomal region underlie Silver–Russell (SRS) and Beckwith–Wiedemann (BWS) syndromes. The molecular diagnosis of these opposite growth disorders requires a multi-approach flowchart to disclose known primary and secondary (epi)genetic alterations; however, up to 20 and 30 % of clinically diagnosed BWS and SRS cases remain without molecular diagnosis. The complex structure of the 11p15 region with variable CpG methylation and low-rate mosaicism may account for missed diagnoses. Here, we demonstrate the relevance of complementary techniques for the assessment of different CpGs and the importance of testing multiple tissues to increase the SRS and BWS detection rate.
Results
Molecular testing of 147 and 450 clinically diagnosed SRS and BWS cases provided diagnosis in 34 SRS and 185 BWS patients, with 9 SRS and 21 BWS cases remaining undiagnosed and herein referred to as "borderline." A flowchart including complementary techniques and, when applicable, the analysis of buccal swabs, allowed confirmation of the molecular diagnosis in all borderline cases. Comparison of methylation levels by methylation-specific multiplex ligation-dependent probe amplification (MS-MLPA) in borderline and control cases defined an interval of H19/IGF2:IG-DMR loss of methylation that was distinct between "easy to diagnose" and "borderline" cases, which were characterized by values ≤mean −3 standard deviations (SDs) compared to controls. Values ≥mean +1 SD at H19/IGF2: IG-DMR were assigned to borderline hypermethylated BWS cases and those ≤mean −2 SD at KCNQ1OT1: TSS-DMR to hypomethylated BWS cases; these were supported by quantitative pyrosequencing or Southern blot analysis. Six BWS cases suspected to carry mosaic paternal uniparental disomy of chromosome 11 were confirmed by SNP array, which detected mosaicism till 10 %. Regarding the clinical presentation, borderline SRS were representative of the syndromic phenotype, with exception of one patient, whereas BWS cases showed low frequency of the most common features except hemihyperplasia.
Conclusions
A conclusive molecular diagnosis was reached in borderline methylation cases, increasing the detection rate by 6 % for SRS and 5 % for BWS cases. The introduction of complementary techniques and additional tissue analyses into routine diagnostic work-up should facilitate the identification of cases undiagnosed because of mosaicism, a distinctive feature of epigenetic disorders.
Keywords
Beckwith–Wiedemann syndromeSilver–Russell syndromeMolecular diagnosisMosaic (epi)genetic alterationsBorderline casesMulti-method approachMS-MLPAPyrosequencingSouthern blotSNP array
Background
The 11p15.5 chromosomal region contains two clusters of imprinted genes, the monoallelic expression of which is independently regulated by cis-acting differentially methylated regions (DMRs) or imprinting control centers (ICR), ICR1 (alias H19/IGF2:IG-DMR) and ICR2 (alias KCNQ1OT1:TSS-DMR), corresponding to sequences methylated on one parental allele [1]. H19/IGF2:IG-DMR, which is located upstream of the H19 promoter, controls the telomeric cluster containing the IGF2 and H19 genes, which are expressed on the paternal and maternal chromosomes, respectively. KCNQ1OT1:TSS-DMR, lying within an intron of the KCNQ1 gene, regulates the centromeric cluster containing the CDKN1C and KCNQ1 genes, which are expressed by alleles of maternal origin, and the KCNQ1 antisense transcript KCNQ1OT1, which is expressed on the paternal allele [2–4]. Multiple genetic and epigenetic defects lead to the congenital Silver–Russell (SRS) and Beckwith–Wiedemann (BWS) syndromes, which are characterized by opposite growth disorder phenotypes and imbalances in the expression levels of the resident imprinted genes. The variety of (epi)genetic alterations and the complex structural organization of the 11p15.5 region account for the difficult molecular diagnostics of these clinically and genetically heterogeneous disorders [5, 6]. Currently, loss of methylation (LoM) of the paternal ICR1-H19 locus is present in >50 % of SRS patients, whereas gain of methylation (GoM) of the maternal ICR1-H19 is observed in 5 % of BWS patients and has recently been suggested to be more common than previously thought [7]. More than 50 % of BWS patients display LoM at the maternal KCNQ1OT1:TSS-DMR, leading to biallelic expression of the KCNQ1OT1 long non-coding transcript and silencing of the active maternal alleles. More than 20 % of BWS patients carry mosaic paternal uniparental disomy of chromosome 11 (upd(11)pat), with a great variability in the level and extent of isodisomy. After adding 5–10 % of BWS patients positive for loss-of-function CDKN1C mutations and a small (1–2 %) fraction of 11p familial or de novo rearrangements causing duplication of the paternal chromosome, up to 20 % of clinically diagnosed BWS cases remain without a molecular diagnosis [8, 9]. A similar situation occurs for SRS, where 10 % of the patients carry maternal upd7 and a tiny fraction (up to 4 %), slightly higher than that for BWS, carry structural rearrangements of the maternal chromosome 11p [5, 10]. In parallel, familial forms of SRS bear gain of function mutations of the PCNA domain of CDKN1C [11], further confirming that opposed functional mutations underlie the opposite phenotypes. Because several primary or secondary epigenetic mechanisms associated with BWS and SRS occur at a low mosaic level, complementary techniques interrogating different CpGs of the target genes and their flanking regions, including quantitative methylation-specific pyrosequencing [12, 13] and in some cases analysis of a tissue other than blood [14], are recommended to confirm uncertain results. The common mosaic paternal UPD11 underlying BWS usually requires parents for proband microsatellite analysis; however, SNP array might highlight overlooked low mosaic upd [15], in addition to providing fine mapping of the recombination breakpoints [16]. Similarly, detection of the rare but observable structural rearrangements or copy number variations causing subtle imbalances of the subtelomeric 11p15.5 region requires the integrated application of multicolor fluorescence in situ hybridization (FISH), high-resolution array comparative genomic hybridization (CGH), or SNP array [17–20]. Cis- and trans-acting factors responsible for complex interactions between the 11p15.5 imprinted genes have been identified in both BWS and SRS [7, 21, 22]; however, they are not included in the current diagnostic flowchart as no precise information is available on the fraction of cases accounted for by these mechanisms. Although this point is being addressed by ongoing research, diagnostic laboratories must combine all the indicated approaches to obtain the highest possible detection rate (>80 %) of (epi)genetic alterations in SRS and BWS.
In the course of our diagnostic activity on 450 patients within the BWS spectrum and 147 SRS, including 130 likely and 17 unlikely SRS [23], we encountered a set of 21 BWS and 9 SRS cases, comprehensive of an unlikely case, in which a conclusive molecular diagnosis was lacking upon a standard (epi)genetic test. These cases are herein referred to as "borderline" and are the main subjects of the present study. They exemplify the difficulties in confirming the clinical diagnosis and underscore the need to combine Southern blotting (SB) with methylation-specific multiplex ligation-dependent probe amplification (MS-MLPA) and bisulphite pyrosequencing and microsatellite segregation analysis with SNP array using patients' blood and, when possible, additional tissues, to obtain an unequivocal molecular diagnosis. Identification of low-level mosaic upd(11)pat, which implies a high cancer risk in BWS [24] and in its mildest phenotypic end (i.e., pure isolated hemihyperplasia (IH)) [25] has a strong translational impact, as it allows proper oncological surveillance and patient management.
Results
Figure
1
shows a schematic representation of the complex architecture of the 11p15.5 imprinted region, including
H19/IGF2:
IG-DMR, with its cluster organization (CTS1-CTS7) and
IGF2
:ex9-DMR,
IGF2
:alt-TSS-DMR (a) and
KCNQ1OT1
:TSS-DMR (b). As shown for both imprinted domains, the DMRs targeted by the probes used in SB, MS-MLPA, and pyrosequencing primers [
8
,
12
,
26
,
27
] are different, indicating that the available tools are not redundant, but rather complementary, for investigating the 11p15.5 methylation profile.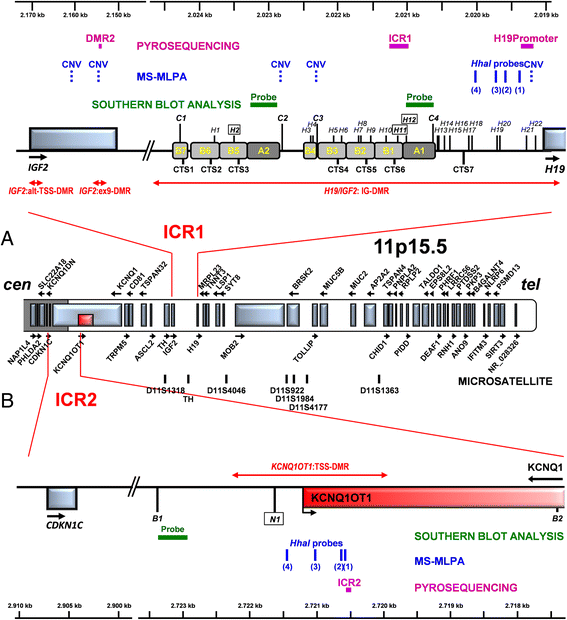 Discussion
The objective of the present work was to integrate complementary techniques to improve the identification of SRS and BWS patients with 11p15 abnormalities whose diagnosis may have been missed using standard genetic tests. Although pyrosequencing of H19/IGF2:IG-DMR and KCNQ1OT1:TSS-DMR [12, 13] and SNP arrays [15, 16] are effective techniques for the evaluation of low-level mosaic epimutations and UPD, neither technique is per se sufficient to disclose the entire spectrum of alterations. Combining these techniques is important, especially in cases in which methylation levels are near the normal threshold of control individuals. In addition, the analysis of tissues other than blood is important for detecting IH patients who, despite showing a mild phenotype, would benefit from accurate genetic counseling and specific cancer surveillance programs given their high risk of developing embryogenetic tumors [25]. In order to detect hidden mosaicism in BWS/SRS, collection of buccal swabs, urine, or cells of mesenchymal origin in conjunction with surgery should be implemented in the practical molecular work-up being facilitated by the common need for interventions in childhood to correct macroglossia, abdominal wall defects, or severe limb asymmetry.
We believe that two relevant aspects are at the roots of the complexity of BWS and SRS molecular diagnosis. First, the variable degree of methylation at the different CpGs within the H19/IGF2:IG-DMR region, which was reported recently in SRS [30] and previously in BWS [31], requires that the tools of molecular diagnosis extensively interrogate the differentially methylated CpGs in order to assure the maximum coverage. This is particularly true when a single CpG suggests deregulated methylation. Azzi [30] and Cerrato's [31] studies found that CTS1 and CTS7 tend to be correctly methylated in the presence of deregulated flanking CpGs. In the present study, we analyzed methylation patterns at the H19 promoter, A1 and B1 repeats (CTS6) by at least two approaches, while at B5 repeat (CTS3) and IGF2 by SB and pyrosequencing, respectively (see Fig. 1). In agreement with Azzi et al. [30], we observed that methylation recorded at H19 promoter and CTS3 gave overlapping results, while values at CTS6 may be normally methylated in patients, suggesting that some sites may be less representative than others. To provide a key for the interpretation of borderline molecular results obtained by MS-MLPA, which is one of the most widely applied tools in BWS/SRS diagnostic laboratories, we first compared the range of methylation levels in controls to those in affected individuals (Additional file 1: Table S1 and Fig. 3f, g). In patients with SRS, we defined a H19 hypomethylation interval that allowed distinction between "easy to diagnose," with values ≤mean −4 SD and "borderline" values, with values between mean −3 SD and mean −4 SD. In SRS, we succeeded in defining a "disease range" of H19 LoM, i.e., values that were never observed in normal controls, although with a narrow threshold [23].
Average methylation levels should be interpreted critically by assessing the values for each probe, as a patient may show normal indexes for one probe and aberrant ones for another probe. In these cases, the use of other techniques or expanding the analysis to tissues other than blood becomes necessary [31]. The inclusion of different methods allows zooming in on the entire region to be investigated, which enhances the diagnostic ability in borderline cases. The second diagnostic pitfall is the occurrence of low-grade mosaicism in BWS carriers of upd(11)pat. These patients are at risk of misdiagnosis when only methylation values are analyzed, as more than one CpG may fall within the normal range despite the use of different technical approaches. When the mean MS-MLPA blood values fall within 1 SD, detection of upd is recommended using microsatellite segregation or, even better, SNP array, as the latter method covers a more extensive region and is therefore more sensitive. SNP array validation in some cases and buccal swab in others were crucial for providing a conclusive molecular diagnosis in our borderline cases.
Without the technological stock set up for the molecular tests, 30 patients with borderline methylation levels in our SRS and BWS cohorts would have remained "suspected." Considering the two opposite growth disorders separately, 9 SRS cases (20 %) and 21 "borderline" BWS cases (more than 10 %) were among the total 43 and 206 molecularly diagnosed cases, respectively.
The fact that the fraction of SRS cases that could be molecularly diagnosed was higher than that of BWS cases could be ascribed to the clinical phenotype, which in general was more complete in SRS and hence promoted the use of genetic testing. This view is exemplified by SRS-1, SRS-5, and SRS-9 cases who all displayed strongly suggestive clinical features, although they obtained molecular diagnosis only by comparative techniques on blood and/or buccal swabs. It is worth to underline that SRS-5 developed a paravertebral neuroblastoma, as tumor occurrence has been very rarely reported in SRS [32].
Apart from this difference, both SRS and BWS borderline cases showed a wide clinical expressivity ranging from overt to incomplete or atypical phenotypes.
A case well exemplifying the challenges of clinical diagnosis and the utility of complementary molecular diagnostic technologies, when a suggestive phenotype is lacking, is SRS-6 who did not display the typical SRS facial dysmorphisms (Fig. 5a) or growth retardation (Table 1) and was referred to our laboratory for hemihyperplasia (i.e., within the BWS spectrum). The molecular diagnosis, at cut-off level by SB and MS-MLPA and then supported by pyrosequencing, allowed revision of the patient's clinical condition, which was defined as hemihypoplasia (i.e., within the SRS spectrum). The revised diagnosis implied the possibility of waiving the cancer surveillance protocol generally prescribed in IH/BWS cases, which consists of cancer plasma marker measurement and abdominal ultrasound every 3 months during the first 10 years of life. Moreover, this case well represents the seldom encountered "mixed phenotypes" bridging the two opposite growth disorders.
The clinical features of the genetically borderline BWS cases, showing intermediate aberrant methylation values (between mean ±1 SD and mean ±3 SD), were far from the classic phenotypes depicted in cases with a definite molecular diagnosis. Overgrowth at birth, which is usually present in >95 % of BWS patients, was detected in 31 % of borderline cases, and macroglossia, which is the trait described as most indicative of BWS clinical diagnosis, occurred in 33 % of this cohort versus the 70–90 % reported previously [8, 9]. BWS-3 and BWS-7 showed atypical phenotypes and needed other tests, such as array CGH and exome sequencing, to exclude the concurrence of other molecular defects. BWS-7 manifested paroxysmal tonic upgaze, a peculiar sign in BWS patients, and developed persistent hypoglycemia. BWS-3 showed IUGR, postnatal growth retardation up to late infancy, and external hydrocephaly, a sign recently highlighted in a few BWS cases [33]. In this patient, the BWS phenotype was manifested later, when the hemihyperplasia became apparent and Wilms' tumor developed. Another borderline patient finally diagnosed with H19/IGF2:IG-DMR defect, BWS-1, had Wilms' tumor, and the upd(11)pat carriers BWS-18 and BWS-21 had a benign thyroid and adrenal nodule, respectively.
The widespread occurrence of hemihyperplasia often associated with no or a few other signs supports the observation/hypothesis that a low mosaicism rate, as detected in a few of our upd(11)pat carriers, is likely responsible for the high fraction of IH cases remaining without molecular diagnosis.
As to the wide clinical expressivity of the borderline cases, concomitant factors such as multilocus methylation disturbances (MLID) [34], which may determine a relatively more severe and atypical phenotype than that of only 11p15 epimutated cases, are possibly implicated in borderline BWS cases, impairing (epi)genotype-phenotype correlations [35]. As it has been recently shown, MLID can be exhaustively detected by applying whole genome methylation approaches [36, 37] that although not yet performed in the diagnostic work-up, should be considered as further proceeding as highlighted in our BWS flowchart (Fig.4b) in cases who bear a primary epimutation, including the borderline ones. Another proceeding suitable for BWS cases without molecular diagnosis, especially familial cases, is represented by exome targeted deep sequencing (Fig. 4b) aiming at identifying mutations in genes encoding trans-acting regulators of imprinted loci [38].
The key message of our work is that efforts should be made to solve suspected cases in the SRS and BWS spectrum through various combinations of 11p15.5-targeted and cytogenomic techniques, not only for research purposes but also for the current diagnostic activity.
Conclusions
MS-MLPA or another eligible technique for the assessment of H19/IGF2:IG-DMR and H19/IGF2:IG-DMR /KCNQ1OT1:TSS-DMR epigenetic alterations may be the starting point of SRS and BWS genetic testing. The MS-MLPA results can orient the molecular geneticist in the application of cytogenomic techniques such as array CGH, SNP array, karyotyping, or targeted FISH to search for other alterations and to detect the slightest mosaicism levels within the limits of the available up-to-date methods. For BWS, besides upd(11)pat, chromosomal rearrangements may be at the basis of simultaneous H19/IGF2:IG-DMR and KCNQ1OT1:TSS-DMR dysregulation, featuring a rare condition with a recurrence risk of 50 %. Finally, CDKN1C mutations should be investigated, not only in all familial cases but also in sporadic cases presenting with omphalocele, both for research and diagnostic purposes.
The diagnostic detection rate could also be improved by introducing the analysis of tissues other than blood into the routine follow-up, as suggested by the occurrence of low-rate mosaicism and the variable degree of methylation in different tissues. The development of more sensitive technical tools should facilitate the identification of cases that may remain undiagnosed because of mosaicism, a distinctive feature of epigenetic disorders.
Methods
Subjects
A total of 147 patients aged 6 months to 20 years presenting with IUGR, mild to severe postnatal growth retardation and asymmetry, and facial phenotypes suggestive or SRS, were referred to our laboratory for molecular diagnosis. A sample of 450 patients, ranging from newborns to patients 47 years of age with a clinical diagnosis of BWS, was processed in parallel. The BWS cohort included a subset of 83 patients diagnosed with IH. The criteria for clinical diagnosis of SRS were those established in 2007 by Netchine [39] and recently updated by Azzi (2015) [23] and for BWS, those indicated by Choufani [40]. In all cases, informed consent for genetic testing was signed by the probands or their parents. DNA was extracted from peripheral blood lymphocytes (Automated extractor Tecan, Männedorf, Switzerland and Promega kit, Madison, WI) of the trios of probands and parents; whenever possible, epithelial buccal cells were collected (Oragene tubes OG-575), and DNA was extracted according to the manufacturer's protocol (Oragene DNA kit, DNA Genotek Inc., a subsidiary of OraSure Technologies).
SRS patients were investigated for upd(7)mat and H19/IGF2:IG-DMR LoM and 11p15.5 micro-rearrangements; the BWS cohort and the set of IH cases were tested for UPD11 and H19/IGF2:IG-DMR and KCNQ1OT1:TSS-DMR defects. In case of uncertain results, a different tissue (epithelial buccal cells) was examined.
The study protocol was approved by the Research Ethics Board of Istituto Auxologico Italiano, Milan, Italy, and all subjects provided written informed consent.
Uniparental disomy of chromosome 7
A panel of 20 microsatellites, spanning the whole chromosome from pter to qter, D7S517(7p22.2), D7S641(7p21.3), D7S2464(7p21.3), D7S513(7p21.3), D7S507(7p21.1), D7S503(7p21.1), D7S2493(7p15.3), D7S2525(7p15.2), D7S2496(7p14.3), D7S519(7p13), D7S2422(7p12.1), D7S2467(7p12.1), D7S506(7p12.1), D7S1870(7q11.23), D7S486(7q31.2), D7S640(7q32.3), D7S661(7q35), D7S636(7q36.1), D7S798(7q36.2), D7S2465(7q36.3) was selected for segregation analysis from parents to SRS probands. PCR analyses were performed using fluoresceinated primers and PCR products were separated using an automated ABI 310 sequencer.
Uniparental disomy of chromosome 11
The 11 polymorphic loci (D11S1363, D11S1318, D11S1984, D11S4177, D11S4046, TH, D11S4124, D11S4146, D11S1338, D11S1323, and D11S1760) from 11p15.5 to 11p14 were used for segregation analysis from parents to BWS and IH probands. Mosaicism occurrence and level were assessed by calculating the ratio between maternal and paternal peak areas as reported previously [29]. Additional 11p centromeric markers D11S4116, D11S4121, D11S902, and D11S935 and the 11q markers D11S1777, D11S4191, D11S1883, D11S987, D11S4147, D11S908, D11S4094, and D11S968 were used to establish isodisomy extent in upd carriers.
H19 and KvDMR1 methylation profiles
Declarations
Acknowledgements
The authors thank the children and their families for participating in this study, the Beckwith–Wiedemann Syndrome Italian Association (AIBWS), the Silver–Russell Syndrome Italian Association (AISRS), and the following medical geneticists/clinicians for providing cases included among those herein described: Bedeschi MF (Fondazione IRCCS Cà Granda Ospedale Maggiore Policlinico, Milano), Donti E (Medical Genetics, Hospital Santa Maria della Misericordia, University of Perugia), Giordano L (City Hospital, Brescia), Lapi E (Meyer Children's University Hospital, Firenze), Micaglio E (University Hospital, Padova), Neri M (S. Anna University Hospital, Ferrara), Rubinato E (University of Trieste), Vaccari R (Niguarda Hospital, Milano), and Pilotta A (City Hospital, Brescia).
Open AccessThis article is distributed under the terms of the Creative Commons Attribution 4.0 International License (http://creativecommons.org/licenses/by/4.0/), which permits unrestricted use, distribution, and reproduction in any medium, provided you give appropriate credit to the original author(s) and the source, provide a link to the Creative Commons license, and indicate if changes were made. The Creative Commons Public Domain Dedication waiver (http://creativecommons.org/publicdomain/zero/1.0/) applies to the data made available in this article, unless otherwise stated.
Authors' Affiliations
(1)
Human Molecular Genetics Laboratory, IRCCS Istituto Auxologico Italiano, Milano, Italy
(2)
Department of Pediatric and Public Health Sciences, University of Turin, Torino, Italy
(3)
Clinical Genetics Unit, Department of Women's and Children's Health, University of Padua, Padova, Italy
(4)
Department of Pediatrics, San Raffaele Scientific Institute, Milano, Italy
(5)
Division of Pathology - Fondazione IRCCS Ca' Granda Ospedale Maggiore Policlinico, Department of Pathophysiology and Transplantation, University of Milan, Milano, Italy
(6)
Department of Health Sciences, University of Milan, Milano, Italy
(7)
Medical Genetics Unit, Department of Surgical and Biomedical Sciences, University of Perugia, Hospital "S. M. della Misericordia", Perugia, Italy
(8)
Clinical Pediatric Genetics Unit, Pediatrics Clinics, MBBM Foundation, S. Gerardo Hospital, Monza, Italy
(9)
Department of Pediatrics and Medical Sciences, AO "Policlinico Vittorio Emanuele", Catania, Italy
(10)
Pediatric Endocrine Unit, Department of Pediatrics, IRCCS, Children's Hospital Giannina Gaslini, Genova, Italy
(11)
Department of Medical Genetics, IRCCS, Children's Hospital Giannina Gaslini, Genova, Italy
(12)
Clinical Pediatric Genetics, Department of Pediatrics, University "Federico II", Napoli, Italy
(13)
Medical Genetics Unit, Department of Laboratory Medicine, Niguarda Ca' Granda Hospital, Milano, Italy
(14)
Institute for Maternal and Child Health, Foundation IRCCS Burlo Garofolo Institute, Trieste, Italy