Environmental chemicals and DNA methylation in adults: a systematic review of the epidemiologic evidence
Clinical Epigenetics
The official journal of the Clinical Epigenetics Society
2015
7:55
Received: 5 November 2014
Accepted: 9 February 2015
Published: 29 April 2015
Abstract
Current evidence supports the notion that environmental exposures are associated with DNA-methylation and expression changes that can impact human health. Our objective was to conduct a systematic review of epidemiologic studies evaluating the association between environmental chemicals with DNA methylation levels in adults. After excluding arsenic, recently evaluated in a systematic review, we identified a total of 17 articles (6 on cadmium, 4 on lead, 2 on mercury, 1 on nickel, 1 on antimony, 1 on tungsten, 5 on persistent organic pollutants and perfluorinated compounds, 1 on bisphenol A, and 3 on polycyclic aromatic hydrocarbons). The selected articles reported quantitative methods to determine DNA methylation including immunocolorimetric assays for total content of genomic DNA methylation, and microarray technologies, methylation-specific quantitative PCR, Luminometric Methylation Assay (LUMA), and bisulfite pyrosequencing for DNA methylation content of genomic sites such as gene promoters, LINE-1, Alu elements, and others. Considering consistency, temporality, strength, dose-response relationship, and biological plausibility, we concluded that the current evidence is not sufficient to provide inference because differences across studies and limited samples sizes make it difficult to compare across studies and to evaluate sources of heterogeneity. Important questions for future research include the need for larger and longitudinal studies, the validation of findings, and the systematic evaluation of the dose-response relationships. Future studies should also consider the evaluation of epigenetic marks recently in the research spotlight such as DNA hydroxymethylation and the role of underlying genetic variants.
Keywords
Systematic reviewDNA methylationEnvironmental chemicalsCadmiumLeadMercuryMetalsPersistent organic pollutantsBisphenol APolycyclic aromatic hydrocarbons
Review
Introduction
Beyond lifestyle determinants, the role of environmental chemicals as determinants of DNA methylation has gained considerable attention. Changes in DNA methylation add biological plausibility to the increasingly recognized contribution of environmental chemicals to disease burden [
1
] as DNA methylation is involved in regulating many cellular processes, including X-chromosome inactivation, genomic imprinting, chromosome stability, and gene transcription. Environmental chemicals can interfere with the one-carbon and citric acid metabolism pathways, resulting in anomalous DNA-methylation status throughout the genome [
2
,
3
]. Environmental chemicals can also directly interact with enzymes involved not only in one-carbon metabolism and citric acid metabolism pathways but also in histone modifications [
4
-
6
]. A summary of suggested mechanisms of action of environmental chemicals on DNA methylation machinery is shown in Figure
1
. In turn, these epigenetic mechanisms may modify potential toxicity pathways specific to the environmental chemicals in the organism.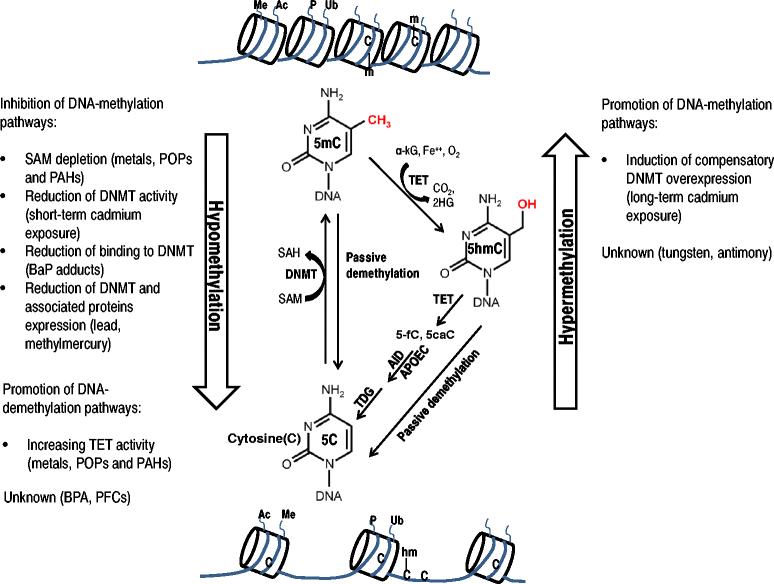 Environmental chemicals have been linked to aberrant changes in epigenetic pathways both in experimental and epidemiological studies. In animal studies, maternal diet during pregnancy was associated with the pattern of DNA methylation of specific genes, which resulted in permanent phenotypic changes including body weight and blood pressure levels [7,8]. In humans, populations exposed to famine during the prenatal period showed increased prevalence of cardiometabolic factors and ischemic heart disease mortality [9], with evidence supporting a mediating role of epigenetic mechanisms in disease pathogenesis [10]. Deleterious effects of epigenetic changes are not restricted to the prenatal period. Monozygotic twins experienced an epigenetic drift in relation to one another with advancing age, time shared together, and behavioral factors such as smoking [11]. There is, however, a need to undertake a systematic appraisal of the epidemiologic evidence evaluating the potential role of environmental chemicals as determinants of DNA methylation in adults.
Our objective was to conduct a systematic review and synthesis of results from epidemiologic studies evaluating the association of environmental chemicals including cadmium, lead, mercury, nickel, persistent organic pollutants (POPs), bisphenol A (BPA), polycyclic aromatic hydrocarbons (PAHs), and phthalates, with DNA methylation levels in adults. We did not include arsenic studies in our search because there is a recently published systematic review published by Bailey et al. [12]. Other environmental exposures, which have been related to DNA methylation, such as exposure to tobacco smoke [13-17] and air pollution [18], are out of the focus of the present review, as tobacco smoke and air pollution are mixtures of different types of chemicals rather than individual groups of compounds.
Methods
Search strategy, study selection, and data abstraction
We searched PubMed for relevant studies published through 10 April 2014 using the search strategy described in Additional file
1
: Table S1 (Supplemental Material). The search strategy retrieved a total of 867 citations (including duplicates). We included all articles assessing environmental chemical exposures using biomarkers. The search had no language restrictions. We also included two relevant studies published after 10 April 2014 and identified by hand search [
19
,
20
]. Two investigators (A.R.H. and C.C.K.) independently reviewed each of all the abstracts and selected 32 papers applying the following study exclusion criteria (Figure
2
): a) no original research (that is, reviews, editorials, non-research letters); b) no human study; c) no DNA methylation outcomes; d) no environmental chemical exposure levels measured in biological tissues (for example, environmental measures such as water or air, or distance from a source). In this systematic review, the focus was on the role of environmental chemicals exposure in DNA methylation changes in adults. Therefore, as a second layer of exclusion, we additionally excluded one study focusing on prepubescent girls [
21
], and five studies that focused on the association of maternal exposure biomarkers and DNA methylation in cord blood or the offspring and did not provide corresponding measures of DNA methylation in the mothers [
22
-
26
]. We additionally, excluded two studies with semi-quantitative assessment of DNA methylation [
27
,
28
] as the comparison of results with quantitative DNA methylation assessment methods is unclear. Any discrepancies were resolved by consensus, and if necessary, a third reviewer was involved. A native speaker reviewed the full text of any non-English article that could not be included or excluded based on the initial abstract review. We included in the final review 17 papers, some of them measuring multiple environmental toxicants evaluated in unique study populations [
19
,
29
,
30
] (Figure
2
). Our review identified no publications investigating the association between phthalates and DNA methylation. After retrieval of articles from the search, the reference lists of selected articles were checked for other potentially relevant articles, identifying no additional studies. We collected the following data for each study: first author, year of publication, study design, size and population characteristics, exposure assessment and categories for comparison, DNA methylation assessment and endpoint definition, measures of association and 95% confidence interval (CI) or
P
values, and statistical methods including DNA methylation raw data processing methods. For studies modeling exposures both as continuous and as categorical, we reported continuous measures of association due to space constraints in the tables. However, we evaluated flexible dose-response relationships when reported. For polychlorinated biphenyls (PCBs), when multiple congeners were reported, we selected the congener with the weakest, highest, and median association. We also reported all the statistically significant POPs.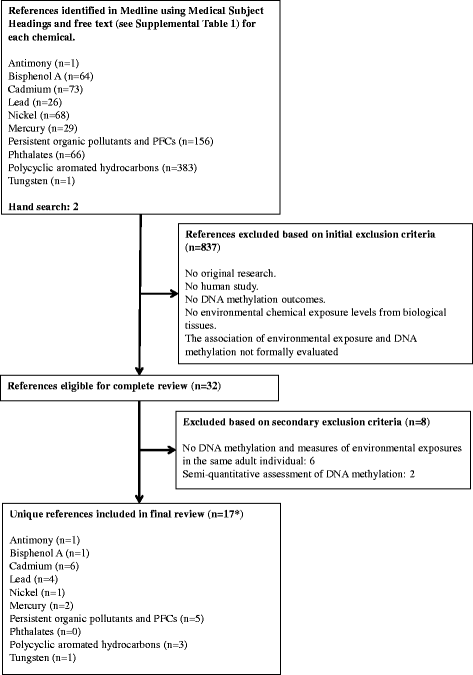 To assess study quality, we adapted the criteria used by Longnecker et al. for observational studies (Supplemental Material, Additional file 2: Table S2) [31]. We followed the criteria proposed by the 2004 US Surgeon General Report on the health consequences of smoking [32], which include the evaluation of consistency, temporality, strength, dose-response relationship, and biological plausibility including confounding. As a result, the evidence for each environmental chemical and DNA methylation was classified into four groups as modified from the Surgeon General Report [32]: sufficient evidence, suggestive but not sufficient evidence, insufficient evidence to infer a relationship, and suggestive of no relationship. We organized the presentation of the results by environmental chemical.
Current perspectives and results
General discussion and needs for future epidemiologic research
Epidemiologic evidence from distinct study populations suggests a trend for an association between increasing cadmium exposure with increased DNA methylation and a trend for an association between increasing lead and POP exposures with decreased DNA methylation, although additional studies are needed to confirm those trends. For other environmental chemicals, the low number of studies did not allow to recognize patterns in their associations with measures of DNA methylation. The epidemiologic associations were mostly in agreement with experimental evidence, although additional work is needed to better understand the relevance of the dose levels and routes of administration used in experimental studies in the context of human exposure. While the limited number of studies and the heterogeneity in DNA methylation markers limit the conclusion of this review, the evidence accrued so far supports the importance of environmental exposures in modulating the epigenome.
A limitation of the review was the substantial heterogeneity in the assessment methods of DNA methylation, especially for studies reporting global DNA methylation, which challenged the comparability across studies. For instance, LINE-1 and Alu repetitive elements have been classically used as a surrogate marker for global DNA methylation because they are abundant, hypermethylated, regions in the genome (more than one third of DNA methylation in these repetitive elements) [121]. LINE-1 and Alu elements, however, could be regulated by specific mechanisms and respond specifically to cellular stressors [122]. Other studies assessed DNA methylation globally by estimating the percentage of methylated DNA over the total number of genomic cytosines [19] or the LUMA methylation index [20,99] that goes from 0 (fully methylated DNA) to 1 (fully demethylated DNA). Among studies reporting absolutes differences in global DNA methylation, the strength of the statistically significant associations ranged between a difference (absolute value) in DNA methylation percent of 0.25 in LINE-1 per IQR (19 μg/g) of patella lead [68] to 0.75 in Alu per log ng/g lipid increase of α-Chlordane concentrations [100]. Among studies reporting differences in the relative scale, the corresponding associations ranged from a relative change of 14% comparing tertiles 3 to 1 of lead [69] to 75% comparing participants above and below the median cadmium levels [19]. Some of the retrieved studies reported dose-responses using flexible approaches (that is, quantile categories or nonparametric splines) and mostly showed fairly monotonic relationships of DNA methylation with cadmium [55], lead [68,69], and POPs [20,98-100], which add further significance to the findings.
Overall, the temporality of the reported associations cannot be evaluated in this systematic review given the low number of prospective studies. Among the four studies with originally prospective designs [19,55,68,101], all of them reported cross-sectional analyses with samples for DNA methylation and exposure status determination collected at the same time point. Only two of the prospective studies [19,101] included repeated measurements and additionally reported prospective associations of baseline exposures with DNA methylation in samples collected at follow-up visits. For cadmium, the cross-sectional association with global DNA methylation was statistically significant, whereas the prospective association after 10-year follow-up was not [19]. For PFCs, the associations with DNA methylation measured at the end of follow-up were reported not to be different either using biomarkers from samples collected at enrollment, at the end of follow-up, or the average of both [101]. The relevant type of exposure (short term versus long term), latency time, and persistence of the potential epigenetic effects of individual environmental chemicals in human populations, however, are unknown and may differ by compound. Future longitudinal studies with sufficient repeated measurements over time, which can enable the evaluation of trends and trajectories of DNA methylation by environmental exposures levels, are needed.
A major challenge in the evaluation of the association between environmental chemicals and DNA methylation was the heterogeneity of adjustment for potential confounders. For instance, residual confounding by smoking is a typical concern in epidemiologic studies assessing potential environmental chemical-epigenetic effects, because tobacco smoke is a major source of chemicals, including cadmium, lead, and PAHs, and others [32] that can have potential epigenetic effects. Most, but not all [29,53,69,85], of the retrieved articles assessed potential confounding by smoking. Sex and age are important sociodemographic factors that must be also considered as potential confounders, since they have also been related to differences in DNA methylation [123,124]. Only three studies did not address confounding by both sex and age [29,69,119]. In addition to adjustment in regression models, an alternative strategy to evaluate residual confounding is to perform separate analyses in subgroups of interest, for instance sex or smoking. For cadmium, one study in Argentinean women [54] the study population was mostly made of never smokers. For PAH, one study reported levels of DNA methylation separately for smokers and non-smokers with no statistically significant differences [120], and another study reported that all participants were not current smokers [119]. For POPs, two studies evaluated findings in smoking status subgroups [99,100], with no significant differences in the estimated associations. Four studies stratified by sex [85,99-101], reporting similar results in men and women, except a study of mercury in dental professional [85] that found a significant association between hair mercury and SEPP1 hypomethylation only among males. Eight study populations were made only of adult men or women [20,29,53,54,68,118-120]. In addition to sex and smoking, four articles additionally performed subgroup analysis by candidate polymorphisms [29,30,54,99] mostly in genes from one-carbon metabolism and exposure-related pathways (that is, polymorphisms in the Ah receptor for POPs). In addition to candidate genes, there is mounting evidence now supporting a role of the genetic variation in cis in determining DNA methylation status [124,125]. For site-specific methylation, thus, it is advisable to evaluate whether the observed associations may be attributed to nearby polymorphisms, which may be unbalanced by exposure levels by chance. Only one study reported evaluation of SNP-related clustering of DNA methylation [53]. Another study incorporated into the analysis genotypes from SNPs known to determine DNA methylation in the significant regions of interest [29].
Artifactual variation from DNA isolation and processing and methylation assessment methods and tissue-specific nature of DNA methylation profiles are other sources of potential biases. It is well established now that differential tissue-type cell heterogeneity [123,126] and, for large studies and studies using 'omics' technologies for DNA methylation assessment, evaluation and correction of potential batch effects [127,128] and background correction and normalization methods [128,129] are compelling issues that must be addressed and adequately reported. Only five studies are reported addressing tissue-specific cell heterogeneity [19,30,53,68,99]. None of the two studies using microarrays technologies reported evaluating potential batch effects [29,53]. Moreover, in the specific case of microarray technologies, given the large numbers of statistical tests conducted, it is usually required to correct for multiple comparisons. The only microarray-based study reporting methods to address multiple comparisons found no significant associations after controlling of the false positive rate, something expected given the small sample size of that study (n = 17) [53]. A total of three [54,69,120] studies attempted to validate significant regions either by using alternative DNA methylation assays to assess the consistency of results and/or by conducting functional assays in experimental models. While there is evidence supporting that arsenic-related methylation changes are associated with changes in gene expression [12,130], for other environmental chemicals, the available epidemiologic evidence is limited. Only one of the reviewed studies for cadmium [54] had available genome-wide gene expression measurements. However, the association of changes in DNA methylation with gene expression was not directly evaluated for the cadmium-related epigenetic regions. Epidemiologic studies that include assessments of environmental chemicals and coupled DNA methylation and gene expression data are needed.
An emerging issue relates to the inability of sodium bisulfite conversion, which is the commonly used method for determination of 5-mC at single-base resolution, to distinguish 5-mC from its oxidative derivative 5-hydroxymethylcytosine (5-hmC) [131]. It has been reported that 5-hmC is enriched in intergenic regions, including LINE-1 elements and gene body regions [132-134]. In studies evaluating the association of DNA methylation and environmental chemicals using bisulfite conversion based methods for DNA methylation assessment, residual measurement error by 5-hmC content is, thus, possible. In one of the reviewed papers [19], which measured global DNA methylation and hydroxymethylation in human blood samples (using antibodies specific for 5-mC and 5-hmC with no cross-specificity), there was a positive and statistically significant correlation between both epigenetic marks. Moreover, the direction of the association of both epigenetic markers with diverse determinants, including some metals, was mostly consistent. In addition, there is increasing evidence that 5-hmC could also play a role in epigenetic regulation of gene expression and be associated with disease susceptibility [135,136]. The health implications of the relationship between DNA methylation and hydroxymethylation in differentiated tissues are currently unknown. Advanced technology for high-throughput parallel sequencing on 5-mC and 5-hmC profiling across the genome may help to understand the role of DNA hydroxymethylation and its determinants in health.
Finally, the role of pre-natal exposure to environmental chemicals as a determinant of DNA methylation was out of the scope of this systematic review. Given the relevance of potential heritability of DNA methylation changes and post-birth effects of maternal environmental exposures, we briefly summarize here the epidemiologic evidence that reported results on the association of maternal exposure biomarkers and DNA methylation in cord blood and was excluded as a result of secondary exclusion criteria. We identified two studies focusing on cadmium [26,53] and POPs [22,24], respectively, and one study investigating lead [25] and PAHs [23], respectively. These studies overall support an association of pre-natal exposure to environmental chemicals with epigenetic markers in the offspring, but specific systematic reviews are needed.
Conclusions
Increasing evidence supports the role of environmental chemicals in DNA methylation changes. For cadmium, lead, and POPs, the evidence could be classified as 'suggestive but insufficient' considering some consistency and evidence of a dose-response relationship across studies, biological plausibility from experimental findings, and adjustment of confounding in epidemiologic studies. However, we finally concluded that for all the environmental chemicals evaluated, including cadmium, lead, and POPs, the current evidence is 'insufficient' to support causality given the heterogeneity among epidemiologic studies in potential for residual confounding of the associations, differences in DNA methylation assessment methods and, random error, especially because of the limited sample sizes. Important questions include the need for larger and longitudinal studies with repeated measures, validation and replication of findings, the relevance of epigenetic markers recently gaining attention such as DNA hydroxymethylation, the systematic evaluation of the dose-response relationships, and the investigation of the role of genetic variation. An emerging area of research is the role of joint exposures in changing DNA methylation, although statistical methods to comprehensively tackle mixtures of compounds are needed. As large cohorts with available measurements of environmental chemicals and genome-wide DNA methylation data become increasingly available, collaborative meta-analyses will enable to disentangle the role of environmental chemicals as determinants of DNA methylation and, also, to test the hypothesis that genomic DNA methylation may mediate chemical-related health effects.
Abbreviations
1-OHP:

1-hydroxypyrene
5-hmC:

5-hydroxymethylcytosine
5-mC:

5-methylcytosine
AAS:

atomic absorption spectrometry
BaP:

benzo[a]pyrene
BDE:

polybrominated diphenyl ether
BEE:

batch effect evaluation
BMI:

body mass index
BPA:

bisphenol A
CC:

case-control
CDT:

Comparative Toxicogenomics Database
CH:

cell heterogeneity
CI:

confidence interval
CO:

cohort
CS:

cross-sectional
DDE:

dichlorodiphenyldichloroethylene
DDT:

dichlorodiphenyl trichloroethane
DNAm:

DNA methylation
GC:

gas chromatography
HPLC:

high-performance liquid chromatography
HPLC-F:

high-performance liquid chromatography-fluorescence
HRGC-HRMS:

high-resolution chromatography coupled to high-resolution mass spectrometry
HRMS:

high-resolution mass spectrometry
IQR:

interquartile range
LUMA:

Luminometric Methylation Assay
MCC:

multiple comparison correction
NR:

not reported
PAH:

polycyclic aromatic hydrocarbons
PBDEs:

polybrominated diphenyl ether
PCBs:

polychlorinated biphenyls
PFC:

perfluorinated compounds
PFOA:

perfluorooctanoic acid
PFOS:

perfluorooctanesulfonic acid
POPs:

persistent organic pollutants
TEQ:

toxic equivalency
Declarations
Acknowledgements
Maria Tellez-Plaza was supported by the Strategic Action for Research in Health sciences (CP12/03080), which is an initiative from Carlos III Health Institute Madrid and the Spanish Ministry of Economy and Competitiveness and co-funded with European Funds for Regional Development (FEDER). Ana Navas-Acien was supported by grants R01ES021367 and R01ES025216 from the National Institute of Environmental Health Sciences.
Authors' Affiliations
(1)
Department of Internal Medicine, Hospital Clínico de Valencia, Valencia, Spain
(2)
Area of Cardiometabolic and Renal Risk, Institute for Biomedical Research Hospital Clinic de Valencia INCLIVA, Valencia, Spain
(3)
Department of Environmental Health Sciences, Johns Hopkins University Bloomberg School of Public Health, Baltimore, USA
(4)
Department of Epidemiology, Johns Hopkins Bloomberg School of Public Health, Baltimore, USA
(5)
Department of Internal Medicine, Kidney Institute and Division of Nephrology, China Medical University Hospital and College of Medicine, China Medical University, Taichung, Taiwan
(6)
Genotyping and Genetic Diagnosis Unit, Institute for Biomedical Research INCLIVA, Valencia, Spain
(7)
CIBER Physiopathology of Obesity and Nutrition (CIBEROBN), Institute of Health Carlos III, Minister of Health, Madrid, Spain
(8)
Nutrition and Genomics Laboratory, Jean Mayer US Department of Agriculture Human Nutrition Research Center on Aging at Tufts University, Boston, USA
(9)
Instituto Madrileño de Estudios Avanzados en Alimentación, Madrid, Spain
(10)
Welch Center for Prevention, Epidemiology and Clinical Research, Johns Hopkins Medical Institutions, Baltimore, USA
Copyright
© Ruiz-Hernandez et al.; licensee BioMed Central. 2015
This is an Open Access article distributed under the terms of the Creative Commons Attribution License (http://creativecommons.org/licenses/by/4.0), which permits unrestricted use, distribution, and reproduction in any medium, provided the original work is properly credited. The Creative Commons Public Domain Dedication waiver (http://creativecommons.org/publicdomain/zero/1.0/) applies to the data made available in this article, unless otherwise stated.