Concomitant downregulation of the imprinted genes DLK1 and MEG3 at 14q32.2 by epigenetic mechanisms in urothelial carcinoma
Clinical Epigenetics
The official journal of the Clinical Epigenetics Society
2014
6:29
Received: 18 June 2014
Accepted: 7 November 2014
Published: 23 November 2014
Abstract
Background
The two oppositely imprinted and expressed genes, DLK1 and MEG3, are located in the same gene cluster at 14q32. Previous studies in bladder cancer have suggested that tumor suppressor genes are located in this region, but these have not been identified.
Results
We observed that both DLK1 and MEG3 are frequently silenced in urothelial cancer tissues and cell lines. The concomitant downregulation of the two genes is difficult to explain by known mechanisms for inactivating imprinted genes, namely deletion of active alleles or epitype switching. Indeed, quantitative PCR revealed more frequent copy number gains than losses in the gene cluster that were, moreover, consistent within each sample, excluding gene losses as the cause of downregulation. Instead, we observed distinctive epigenetic alterations at the three regions controlling DLK1 and MEG3 expression, namely the DLK1 promoter; the intergenic (IG) and MEG3 differentially methylated regions (DMRs). Bisulfite sequencing and pyrosequencing revealed novel patterns of DNA methylation in tumor cells, which were distinct from that of either paternal allele. Furthermore, chromatin immunoprecipitation demonstrated loss of active and gain of repressive histone modifications at all regulatory sequences.
Conclusions
Our data support the idea that the main cause of the prevalent downregulation of DLK1 and MEG3 in urothelial carcinoma is epigenetic silencing across the 14q32 imprinted gene cluster, resulting in the unusual concomitant inactivation of oppositely expressed and imprinted genes.
Keywords
DLK1 MEG3 Urothelial cancerImprinted genesDNA methylationHistone modification
Background
The differential expression of alleles inherited from mother or father at genomic imprinted genes is achieved by epigenetic mechanisms, particularly by differential methylation at regulatory regions designated as differentially methylated regions (DMRs). Imprinted genes regulate growth and other physiological functions during embryonic development, but also in adult tissues. Since several maternally imprinted genes limit growth, they possess tumor-suppressive potential and tend to become inactivated in different types of human cancer [1]. Their inactivation in cancers is brought about by deletion of the active allele or by a change of the epigenetic state of the active allele to that of the inactive one, that is, epitype switching. Importantly, either mechanism results in a homogeneous epigenetic state that corresponds to that of the normally inactive paternal allele. A well-studied example is the imprinted tumor suppressor gene CDKN1C, which is inactivated alternatively by genetic or epigenetic mechanisms in several human cancers, including urothelial carcinoma [2, 3].
In several cancers, a cluster of imprinted genes at 14q32.2, the
DLK1-MEG3
cluster, is affected by allelic losses or epigenetic changes [
4
–
7
]. This cluster comprises several protein-coding and nonprotein-coding genes (ncRNAs), including antisense RNAs (asRNAs), small nucleolar RNAs (snoRNAs or C/D RNAs) and microRNAs (miRNAs) (Figure
1
). The paternally expressed genes include the three protein-coding genes
Delta-like 1
(
DLK1), Deiodinase Iodothyronine Type III
(
DIO3
) and
Retrotransposon-like Gene 1
(
RTL1
or
PEG11
) [
8
]. The maternally expressed genes
Maternally Expressed Gene 3
(
MEG3
),
Maternally Expressed Gene 8
(
MEG8
) and
RTL1 antisense (RTL1-AS)
[
9
,
10
] encode long noncoding RNAs. Gene expression in the cluster is controlled by differentially methylated regions (DMR) located 11 kb upstream of
MEG3
(intergenic differentially methylated region, IG DMR) and 1.3 kb upstream of the
MEG3
transcription start site
(MEG3
DMR
)
[
11
]. DNA methylation in the
DLK1
promoter is also relevant for its expression. The IG DMR
,
which is methylated on the paternal allele and unmethylated on the maternal allele, serves as the initial imprinting control region (ICR) for the entire cluster during early development [
12
], whereas in adult tissues the
MEG3
DMR usually represents the dominant regulatory region [
13
]. The expression of
DLK1
and
MEG3
is commonly reciprocal, possibly as a consequence of regulatory effects of the
MEG3
RNA [
12
].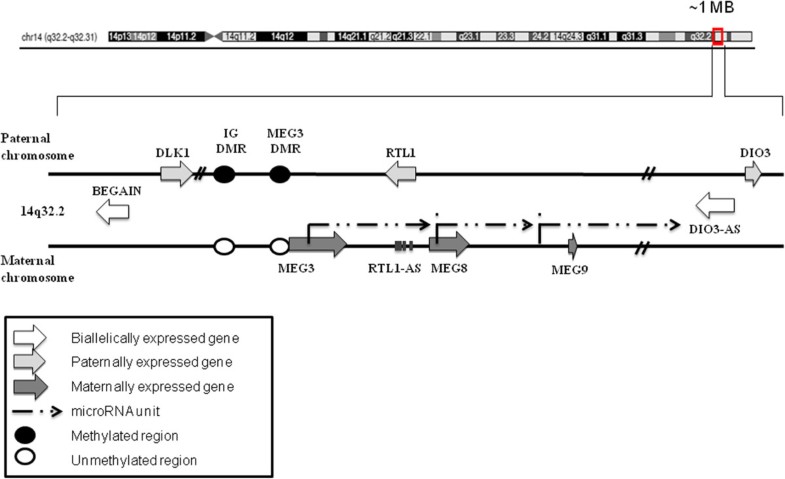 Loss of imprinting in the 14q32 region due to epimutations at the IG DMR or microdeletions has been implicated in a range of diseases including UPD14mat/pat (uniparental disomy 14) and various cancers [4–7]. In renal and hepatic cancers and certain leukemia, a loss of DLK1 expression is associated with changes in DNA methylation at this gene and its control regions [5, 14–16]. MEG3 has been reported to act as a tumor suppressor in a broader range of cancers [1, 17–19]. Both DLK1 and MEG3 exert various functions relevant for cancer development and progression, including regulation of growth factors and Notch signaling by DLK1, and regulation of TP53, pRB1 and NOTCH activity by MEG3 [20–22].
Urothelial carcinoma is the most common cancer of the urinary bladder. It can be categorized into two subtypes, namely papillary tumors and the more malignant invasive carcinomas, which are characterized by pronounced chromosomal instability [23, 24]. In particular, more than 30% of invasive urothelial cancers, especially high stage cases, have been reported to contain losses at 14q32 [25–28]. It is therefore thought that the region harbors a tumor suppressor gene antagonizing cancer progression. Given their known functions and the findings in other cancers, DLK1 and MEG3 are good tumor-suppressor candidates. Indeed, MEG3 has recently been reported to become downregulated in the majority of urothelial carcinomas and to exert tumor-suppressive functions [29]. However, the mechanism of its downregulation has not been investigated, yet.
Unexpectedly, we found that expression of both DLK1 and MEG3 was strongly diminished in urothelial carcinoma tissues and cell lines. This finding raises a conundrum as it is difficult to envision how either allelic loss or epitype switching could lead to the concomitant downregulation of these two imprinted and normally inversely expressed genes, which are located less than 100 kb apart. Indeed, upon closer investigation, we found that inactivation of the two genes is associated with the establishment of a novel epigenetic state in the region, which is distinct from that of either parental allele and is independent of copy number changes in most urothelial carcinoma tissues and cell lines. This epigenetic state involves a characteristic DNA methylation pattern and a strong shift towards repressive histone modifications across three major regulatory regions in this imprinted gene cluster. This mechanism could provide a means to silence both genes despite their normal opposite regulation.
Discussion
Previous molecular and cytogenetic analyses of urothelial cancers have suggested at least one tumor suppressor gene residing at chromosome 14q32.2 [25, 27, 32]. This chromosomal region contains a cluster of imprinted genes important for early embryonic mammalian development. The genes DLK1 and MEG3 within this cluster are tumor suppressor candidates in urothelial carcinoma due to their known functions in the regulation of cell growth and development [20, 33]. Indeed, DLK1 is downregulated by epigenetic mechanisms in renal cell carcinoma [5]. However, it is upregulated in hepatocellular carcinoma cell lines and tissues, acute myeloid leukemia and adrenocortical tumors, as well as in breast, ovarian and cervical cancer cell lines, suggesting tissue-specific functions [5, 14, 30, 34]. The long noncoding RNA MEG3 was reported to act as a tumor suppressor, too, but in a more consistent manner [1, 18, 19, 22]. In those studies on other cancers where DNA methylation had been investigated, homogeneous methylation patterns were reported in the investigated regions resulting from allelic loss or consistent with epitype switching [16]. Of note, no previous study has characterized the epigenetic state of the 14q32.2 cluster beyond DNA methylation. In the present study, we used the hepatocellular carcinoma line HepG2 as a control and obtained results consistent with previous findings [5, 16, 30]. In additional experiments (data not shown), we also confirmed the reported changes in a renal carcinoma cell line [5, 30]. With respect to HepG2, the homogeneous DNA methylation patterns, the copy number measurement and the sole expression of DLK1 argue strongly that this cell line retains only a paternal allele.
In previous reports on other cancer types, either DLK1 or MEG3 was reported to become deregulated, but not both genes, as we observed in urothelial carcinoma. Unfortunately, many papers do not comment on whether they have investigated the other gene at all. In benign bladder tissues, DLK1 and MEG3 were well detectable with MEG3 being expressed more strongly than DLK1, like in normal kidney, liver and pituitary gland [5, 30, 35]. Various models for the inverse regulation of the genes in the 14q32 imprinting cluster have been suggested [8]. Most models assume that the IG DMR activates transcription of maternally expressed RNA genes such as MEG3 and is required for silencing of the paternally expressed genes such as DLK1. Despite their reciprocal relationship in benign bladder tissue, MEG3 and DLK1 expression were found to be both significantly diminished in urothelial cancer tissues and cell lines. With respect to MEG3, our findings are fully consistent with those of Ying et al. [29]. Unfortunately, neither these authors nor others have explicitly reported on DLK1 in urothelial carcinoma.
Importantly, DLK1 is expressed from the paternal allele and MEG3 from the maternal allele. Their concomitant downregulation is therefore difficult to explain by allelic loss. Accordingly, we found a range of copy numbers between one and four in urothelial carcinoma tissues and cell lines indicating that both losses and gains of this region are frequent, accounting for the high frequency of apparent 'loss of heterozygosity' in previous reports [23, 26]. However, downregulation of the two genes was observed irrespective of whether copy numbers increased, decreased or remained steady. In particular, the copy numbers of the three sequences assayed in the region remained identical within each sample, excluding partial changes. Therefore, concomitant downregulation of both DLK1 and MEG3 can indeed not be explained by chromosomal deletions.
By a similar argument, we can exclude conventional loss of imprinting or epitype switching as a plausible cause of the concomitant downregulation. If the gene cluster assumed the maternal state, MEG3 expression should be retained or even increased, and conversely, if the gene cluster assumed the paternal state, DLK1 expression should be retained or increased. Likewise, DNA methylation at the regulatory regions should become homogeneous and resemble either the maternal or the paternal pattern. This type of change is exemplified by the HepG2 cell line, which shows strong DLK1 expression associated with a paternal epigenetic state.
A clue to the actual mechanism is provided by the observation that the DNA methylation patterns at the three regulatory regions in urothelial carcinoma cells are indeed homogeneous, but are different from both the maternal and paternal patterns in normal bladder and renal tissues. These methylation patterns therefore suggest that a novel repressed epigenetic state is established during urothelial carcinogenesis at the 14q32 gene cluster. Of note, several microRNAs encoded in the DLK1-MEG3 cluster (Figure 1) within RTL1 (for example, miR127, miR136, miR431 and miR433) and between RTL1 and DIO3 (miR376a, miR487b, miR382, miR380-5p and miR412) have also been described to be significantly reduced or silenced by DNA hypermethylation in bladder tumor tissues and the cell lines RT4, RT112 and T24 [19, 29] suggesting that silencing may extend across a large part or the entire imprinted gene cluster at 14q32. Interestingly, a coordinated regional epigenetic change has been reported for another, more centromeric, region at chromosome14q12 in urothelial carcinoma [16].
The repressed state of the DLK1-MEG3 cluster in urothelial carcinoma cell lines is also reflected in the predominance of repressive histone modifications such as H3K9 and H3K27 trimethylation (Figure 6). Interestingly, whereas other active modifications were lost, H4K16ac was largely retained, despite the observation that mono-acetylated H4K16 tends to become lost in cancer in general [36–38]. This modification often indicates transcriptional competence, but it is also associated with fixed nucleosomes [36–38]. We speculate that the repression of the cluster may be accompanied by rigid nucleosomal positioning interacting with DNA methylation as documented in other cases [39]. This hypothesis is further supported by mathematical models of how DNA methylation at CpG sites changes the physical properties, positioning and phasing of nucleosomes [40, 41]. Indeed, an overlay of nucleosome prediction at all analyzed regulatory regions (DLK1 promoter, MEG3 and IG DMR) with our experimentally obtained methylation patterns suggest strongly positioned and potentially newly phased nucleosomes in cancer compared to benign urothelial cells (Additional file 1: Figure S5). In particular, altered nucleosomal positioning could account for the peculiar patterning of DNA methylation at the MEG3 DMR, where one specific CpG site (#6) became significantly hypomethylated in cancer cells, while methylation of flanking sites rather increased. It could therefore be interesting to map the nucleosomal positioning in the 14q imprinted gene cluster in normal and cancer cells in future work.
Our study of the epigenetic changes at the DLK1-MEG3 cluster in urothelial carcinoma was hampered by the lack of an epigenetically stable normal urothelial cell line. Upon culturing, normal urothelial cells acquire a considerable degree of plasticity, including the ability to differentiate into epidermis-like as well as urothelial-like structures [42]. Upon immortalization by telomerase expression, further changes ensue, in particular, deregulation of key epigenetic regulators [43]. The DLK1-MEG3 cluster appears particularly susceptible to such changes, as reduced expression or silencing of MEG3 has also been observed in normal cell lines originating from other tissues [35, 44]. Changes in the expression of imprinted genes, specifically of Meg3, have also been reported during establishment of cell cultures of mouse embryonic fibroblasts [45]. In our study, this epigenetic instability manifested as partial changes in DNA methylation at DLK1 and MEG3 that varied between individual urothelial cell cultures. These changes did not extend to the IG DMR and were not as pronounced as in the cancer cell lines and tissues. For that reason, we used freshly isolated, noncultured urothelial cells, which are unfortunately only available in limited amounts, for the chromatin immunoprecipitation experiments.
Conclusions
In conclusion, our data suggest that the 14q32 imprinted gene cluster acquires a novel epigenetic state in urothelial cancer that allows the concomitant inactivation of DLK1 and MEG3 expression, overcoming the normally antagonistic regulation of these two imprinted genes. One target of these changes is evidently MEG3, which emerges as a tumor suppressor in many different tissues [46]. In urothelial carcinoma, specifically, Ying et al. [29] have demonstrated its tumor suppressor activity and our study confirms the remarkably high frequency of its downregulation reported by these authors. However, the inactivation of MEG3 alone could be achieved by conventional mechanisms such as allelic loss or by epitype switching. The findings reported here and the observation of others that several smaller RNA species encoded in the cluster are downregulated by DNA hypermethylation [19, 29], collectively suggest that in urothelial cancers, a regional silencing process additionally targets other genes, including potentially DLK1. The question of which of these changes support tumor progression will therefore have to be addressed by future research.
Abbreviations
ChIP:

chromatin immunoprecipitation
DMR:

differentially methylated region
ICR:

imprinting control region
IG:

intergenic
UCC:

urothelial cancer cell
UP:

(normal) urothelial cell culture.
Declarations
Acknowledgements
Annemarie Greife (formerly Koch) was supported by a PhD fellowship from the Jürgen-Manchot-Foundation. Financial support by the Krebsgesellschaft NRW is gratefully acknowledged. We are grateful to Dr. Wolfgang Goering und Christiane Hader for advice and support with several experiments.
Authors' Affiliations
(1)
Department of Urology, Medical Faculty, Heinrich-Heine University, Düsseldorf, Germany
Copyright
© Greife et al.; licensee BioMed Central Ltd. 2014
This article is published under license to BioMed Central Ltd. This is an Open Access article distributed under the terms of the Creative Commons Attribution License (http://creativecommons.org/licenses/by/4.0), which permits unrestricted use, distribution, and reproduction in any medium, provided the original work is properly credited. The Creative Commons Public Domain Dedication waiver (http://creativecommons.org/publicdomain/zero/1.0/) applies to the data made available in this article, unless otherwise stated.