Translating epigenetics into clinic: focus on lupus
Clinical Epigenetics
The official journal of the Clinical Epigenetics Society
2017
9:78
Received: 12 December 2016
Accepted: 26 July 2017
Published: 2 August 2017
Abstract
Systemic lupus erythematosus (SLE) is a chronic relapsing–remitting autoimmune disease with highly heterogeneous phenotypes. Biomarkers with high sensitivity and specificity are useful for early diagnosis as well as monitoring disease activity and long-term complications. Epigenetics potentially provide novel biomarkers in autoimmune diseases. These may include DNA methylation changes in relevant lupus-prone genes or histone modifications and microRNAs to upregulate and downregulate relevant gene expression. The timing and nature of epigenetic modification provide such changes. In lupus, DNA methylation alterations in cytokine genes, such as IFN-related gene and retrovirus gene, have been found to offer biomarkers for lupus diagnosis. Histone modifications such as histone methylation and acetylation lead to transcriptional alterations of several genes such as PTPN22, LRP1B, and TNFSF70. There are varieties of microRNAs applied as lupus biomarkers, including DNMT1-related microRNAs, renal function-associated microRNAs, microRNAs involved in the immune system, and microRNAs for phenotype classification. Thus, we conclude a wide range of promising roles of epigenetic biomarkers aiding in the diagnosing and monitoring of lupus diseases and the risk of organ damage.
Keywords
Epigenetic modificationBiomarkerDNA methylationHistone modificationMicroRNAsSystemic lupus erythematosus
Background
Systemic lupus erythematosus (SLE) is a prototype of the autoimmune diseases presenting a variety of immunological features and clinical behaviors characterized by an autoantibody response to nuclear and cytoplasmic antigens. Clinical symptoms such as arthralgia or arthritis, skin lesions, and systemic disorders are typical manifestations of organ damages in the joint, kidney, central nervous system, heart, etc., [1]. Although precise mechanisms of pathogenesis and the development of specific clinical patterns are largely unknown, there still seems to follow a defined schema of progression as starting from a preclinical phase of disease to pathologic autoimmunity, developing into distinct organ dysfunction.
There is a cluster of autoantibodies involved in the pathogenesis of autoimmune diseases, where they function against nuclear antigens [2]. SLE is facilitated by generating numerous autoantibodies, particularly unusual serum antinuclear antibodies (ANAs), antibodies directed against double-stranded DNA (anti-dsDNA), anti-histone antibodies, anti-SSA/Ro and anti-SSB/La antibodies, anti-phospholipid (aPL) antibodies, or anti-Smith (anti-Sm) nuclear antigens in abnormal titer. These autoantibodies are more likely to be disease biomarkers and clinical predictors as they are associated with some clinical features and disease phenotype prediction [3–6]. Anti-dsDNA is among the most common biomarkers for the early diagnosis of SLE, given that it is frequently occurring in most patients' serum samples, before and after the diagnosis. Also, anti-dsDNA antibody is fluctuated with, and correlates with, the kidney. A study of 40 untreated patients with lupus nephritis indicated a clear correlation between the presence of anti-dsDNA and disease severity on renal biopsy [7]. These data link the anti-dsDNA antibody levels to the Systemic Lupus Erythematosus Disease Activity Index (SLEDAI) score and lupus flare. The test of anti-dsDNA antibody is vital and remains an interesting research to observe, and besides being widely used in the clinical diagnosis, it is also considered to track the patient's progress and investigate the pathogenesis and development of diseases [8]. Also, the fluctuation of the level of anti-dsDNA antibodies and complement proteins is tightly associated with disease activity and therapeutic effect [9–15]. Anti-histone antibodies are often found in a special type of lupus which is caused by certain medicine. Anti-SSA/Ro and anti-SSB/La antibodies have been suggested to be closely related to neonatal lupus erythematosus and photosensitivity. Anti-phospholipid antibodies are clinically associated with anti-phospholipid syndrome (APS) which is a typical autoimmune disease [16]. In addition, antibodies to Smith are highly specific for SLE. The pathogenic role and the contribution of anti-Sm antibodies are still not very clear [17]. But, its high specificity for SLE diagnosis indicates important immunological diagnostic criteria for the disease. However, the sensitivity is not very high and less than 20% of Caucasian SLE patients and about 30–40% of African, African-American, and Asian patients can be detected in a multi-ethnic lupus cohort with 2322 patients [18]. As to ANA, a phase II randomized study has pointed out that ANAs are found to be negative in more than 20% of SLE patients in a period of time during the disease process [19, 20]. On the other hand, it can be found positive within a range of autoimmune diseases, such as Sjogren's syndrome (SS), scleroderma, and rheumatoid arthritis. In the case of this scenario, although ANA has been widely applied as a serological marker for diagnosis of SLE for many years, its value has been sometimes unreliable for its poor specificity [21, 22]. In a retrospective study, more than 90% of patients who were referred to a tertiary rheumatology clinic for a positive ANA test result had no evidence for an ANA-associated rheumatic disease. The poor predictive value of a positive ANA was largely due to unnecessary testing in patients with low pretest probabilities for an ANA-associated rheumatic disease [23]. Beyond that, there are many other types of diagnostic indicators in lupus, including acute-phase proteins, erythrocyte sedimentation rate (ESR), C-reactive protein (CRP), and complement protein level, but little is known about the stability and accuracy of them [24].
Epigenetic modification is defined as hereditable alterations but not coincident with alterations in the underlying DNA sequence that allow biological systems to affect transcription in response to a variety of environmental stimuli. Epigenetics is manipulated by DNA methylation, histone modification, and small noncoding RNAs. In lupus, these mechanisms exert a modulating influence on variant cell types involved in the immune system and thus play a fundamental role in programming cell identity, development, and function, as well as changes of pathogenesis [
25
,
26
]. In particular, epigenetic disequilibrium will lead to a cascade of responses to generate an altered cell nuclear activity, aberrant transcriptome, or gene expression. Studies of epigenetic aberrations in lupus derive from a large amount of works which are quite inspiring, including analysis revealing a closely connection between changes in DNA methylation patterns and twin discordance in lupus [
27
,
28
]. There is growing evidence of the epigenetics in their utility as biomarkers and targets in new therapies. Many of the epigenetic marks have been investigated as potential SLE biomarkers, considering their easy accessibility as well as convenient and specific methods of their measurement, as well as their essential ability to modulate local inflammatory processes (Fig.
1
).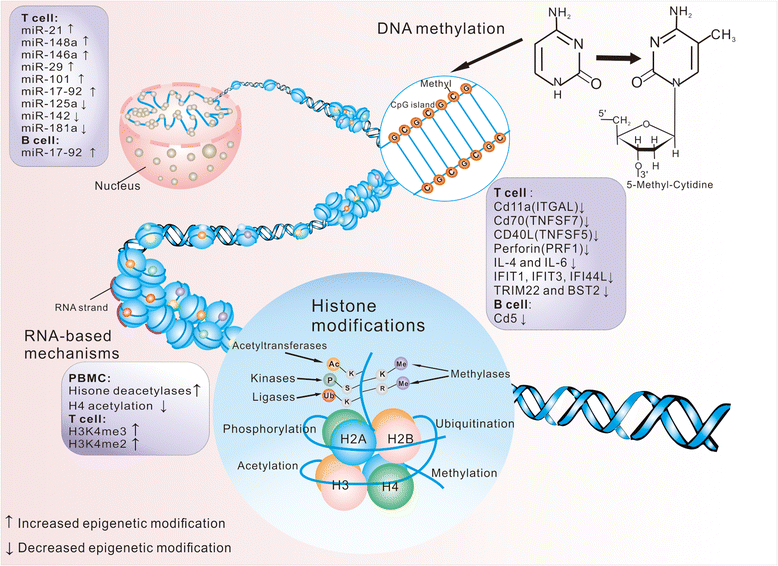 The complicated characteristics and heterogeneous hallmarks result in SLE easy misdiagnosis and missed diagnosis clinically. The complex manifestation can also explain why only a small group of patients stand to benefit from the treatment. Biomarkers are efficient methods to classify patients, evaluate the potential organ damage, and predict the risk of disease process. Hence, screening for new SLE biomarkers could help physicians and other health care professionals to monitor the disease. Epigenetics involve a basic level of gene expression regulation, making them candidate biomarkers for disease activity. In addition, the new identified biomarkers could greatly impel early diagnosis and SLE treatment management. Consequently, investigating novel distinctive biomarkers is urgent and it is thus recommended that more attention be given to epigenetic biomarkers as an appropriate disease monitor.
Conclusions
Epigenetics offer potentially benefits of diagnosing and management of several autoimmune diseases, such as lupus. Multiple factors in DNA methylation, histone modification, and microRNAs have already been announced with various clinical factors and phenotypes. In spite of this, epigenetic biomarkers are very convenient and operative. For example, methylation-induced change can somehow predict lupus flare. On the other hand, the medical therapy for SLE relies largely on the severity of the disease. Thus, identifying credible biomarkers for SLE will help to evaluate disease activity, verify patients at risk for organ damage, and facilitate early diagnosis and intervention to improve favorable outcomes. Furthermore, the unavoidability of aiming at lupus epigenome to offer a stable diagnostic marker is attracting, and particularly after partially revealing different crosstalk mechanisms between DNA methylation, histone modification, and miRNAs, which might be reliable epigenetic biomarkers in lupus.
Abbreviations
DNMT:

DNA methyltransferase
Gadd45a:

growth arrest and DNA damage-induced 45alpha
HDAC:

histone deacetylase
LN:

lupus nephritis
MBDs:

methyl-CpG-binding domain proteins
NFIL3:

nuclear factor interleukin-3-regulated protein
PBMCs:

peripheral blood mononuclear cells
RFX1:

regulatory factor X1
SLE:

systemic lupus erythematosus
Declarations
Acknowledgements
Not applicable.
Funding
This work was supported by the National Natural Science Foundation of China (no. 81270024, no. 81220108017, and no. 81430074), the Hunan Provincial Natural Science Foundation of China (14JJ1009), and the Research Fund for Postgraduate Innovation Project of Central South University (2015zzts309).
Availability of data and materials
Not applicable.
Authors' contributions
ZJ prepared the main text and tables with the help of QJ and CC. ZJ prepared the figures with the help of MP. All authors contributed to the content. All authors read and approved the final manuscript.
Ethics approval and consent to participate
Not applicable.
Consent for publication
Not applicable.
Competing interests
The authors declare that they have no competing interests.
Publisher's Note
Springer Nature remains neutral with regard to jurisdictional claims in published maps and institutional affiliations.
Open AccessThis article is distributed under the terms of the Creative Commons Attribution 4.0 International License (http://creativecommons.org/licenses/by/4.0/), which permits unrestricted use, distribution, and reproduction in any medium, provided you give appropriate credit to the original author(s) and the source, provide a link to the Creative Commons license, and indicate if changes were made. The Creative Commons Public Domain Dedication waiver (http://creativecommons.org/publicdomain/zero/1.0/) applies to the data made available in this article, unless otherwise stated.
Authors' Affiliations
(1)
Department of Dermatology, The Second Xiangya Hospital, Central South University, Changsha, China
(2)
Division of Rheumatology, Allergy and Clinical Immunology, University of California, Davis, USA
(3)
Department of Urology, The Second Xiangya Hospital, Central South University, Changsha, China