Epigenetics override pro-inflammatory PTGS transcriptomic signature towards selective hyperactivation of PGE2 in colorectal cancer
Clinical Epigenetics
The official journal of the Clinical Epigenetics Society
2015
7:74
Received: 9 January 2015
Accepted: 6 July 2015
Published: 24 July 2015
Abstract
Background
Misregulation of the PTGS (prostaglandin endoperoxide synthase, also known as cyclooxygenase or COX) pathway may lead to the accumulation of pro-inflammatory signals, which constitutes a hallmark of cancer. To get insight into the role of this signaling pathway in colorectal cancer (CRC), we have characterized the transcriptional and epigenetic landscapes of the PTGS pathway genes in normal and cancer cells.
Results
Data from four independent series of CRC patients (502 tumors including adenomas and carcinomas and 222 adjacent normal tissues) and two series of colon mucosae from 69 healthy donors have been included in the study. Gene expression was analyzed by real-time PCR and Affymetrix U219 arrays. DNA methylation was analyzed by bisulfite sequencing, dissociation curves, and HumanMethylation450K arrays. Most CRC patients show selective transcriptional deregulation of the enzymes involved in the synthesis of prostanoids and their receptors in both tumor and its adjacent mucosa. DNA methylation alterations exclusively affect the tumor tissue (both adenomas and carcinomas), redirecting the transcriptional deregulation to activation of prostaglandin E2 (PGE2) function and blockade of other biologically active prostaglandins. In particular, PTGIS, PTGER3, PTGFR, and AKR1B1 were hypermethylated in more than 40 % of all analyzed tumors.
Conclusions
The transcriptional and epigenetic profiling of the PTGS pathway provides important clues on the biology of the tumor and its microenvironment. This analysis renders candidate markers with potential clinical applicability in risk assessment and early diagnosis and for the design of new therapeutic strategies.
Keywords
DNA methylationGene expressionCOX pathwayProstanoidsInflammationProstaglandins
Background
There is strong evidence associating inflammation with cancer [1–3]. Risk factors such as tobacco smoke, high-fat diet, and chronic infection are correlated with chronic inflammation [4], and the tumor-microenvironment itself has an intrinsic inflammatory component [1, 2]. Prostanoids are signaling molecules with important pro- and anti-inflammatory roles synthesized from arachidonic acid via the PTGS (prostaglandin endoperoxide synthase, also known as cyclooxygenase or COX) pathway. Deregulation of the enzymes of this pathway during inflammatory processes, including tumorigenesis, results in abnormal levels of the different prostanoids [5–7].
The association of genetic polymorphisms in PTGS pathway genes and colorectal cancer risk and survival [8–11] supports its involvement in the etiology of the disease. PTGS2 (also known as COX-2), one of the key enzymes of this pathway, is frequently overexpressed in colorectal tumors, which results in overproduction of the downstream metabolite prostaglandin E2 (PGE2). Both, PTGS2 expression and PGE2 levels have been shown to correlate with metastasis and poor prognosis in colorectal cancer patients [12, 13, 7, 14–16]. A recent study has also highlighted the participation of PGE2/PTGS2 signaling during development of chemoresistance [17].
Aspirin and other non-steroidal anti-inflammatory drugs (NSAIDs) are able to inhibit cyclooxygenase activity and have been shown to reduce the risk and improve the outcome of colorectal cancer (CRC) and other gastrointestinal tumors [18–23]. However, their prescription for chemoprevention of colorectal cancer is restricted to high-risk individuals due to an associated increased risk of hemorrhagic strokes and gastrointestinal complications [24, 22]. PTGS2-specific inhibitors (coxibs) show lower gastrointestinal toxicity, but an increased risk of cardiovascular complications [25, 22].
Transformation of the colorectal tissue is characterized by the successive acquisition of genetic and epigenetic alterations that confer advantageous traits for tumorigenesis initiation and cancer progression [26]. Among these, DNA methylation alterations are known to be involved [27–30]. Whereas DNA hypomethylation of repetitive regions and oncogenes increases genomic instability and facilitates aberrant re-expression of imprinted genes, promoter CpG island DNA hypermethylation results in the acquisition of a repressed chromatin state and consequent gene silencing. This process is known to underlie the silencing of several tumor-suppressor genes in cancer, including APC and p16, which contribute to the acquisition and maintenance of an oncogenic state [29, 30].
Numerous components of this pathway have been found deregulated by DNA hypermethylation in cancer (reviewed in [31]). However, to our knowledge, no study has addressed how DNA methylation of multiple genes may affect the overall prostanoid production in the transformed colorectal tissue, nor in other types of cancer. Here, we have investigated transcriptional and epigenetic profiles of the PTGS pathway in four series of colorectal cancer patients (Additional file 1: Table S1). We report a global deregulation of this pathway in both the colonic mucosae and the tumor and pinpoint a set of features that might be of value as new diagnostic markers and/or as therapeutic targets in colorectal cancer patients.
Discussion
In cancer, the most frequent genetic alterations are found in a number of pathways that regulate crucial cellular processes [38, 39]. However, the majority of studies are focused on the role of individual genes, overlooking their biological context. The PTGS metabolic pathway is aberrantly regulated in cancer, being the overexpression of PTGS2 a major feature of many tumor types [6]. Nevertheless, this study and others [33, 40, 41] have shown that only a fraction of CRC present PTGS2 overactivation. This observation together with the fact that PTGS2 targeting is associated with increased cardiovascular risk [24, 25] raises the necessity to develop better strategies to specifically target this signaling pathway before and after tumor appearance.
It is well established that DNA methylation alterations are a frequent feature of many types of cancer, including colorectal cancer [29, 30, 28]. A noteworthy work from Grady and colleagues has demonstrated genome-wide aberrant DNA methylation patterns in early stages of colorectal cancer progression [36]. In particular, there is strong evidence that the PTGS pathway is deregulated at both transcriptional and epigenetic levels in colorectal cancer (reviewed in reference [31]). Nevertheless, the overall landscape of the PTGS pathway in CRC had not been outlined yet. In line with these observations, we have focused this work in the differential DNA methylation of PTGS pathway genes in CRC, having profiled data from a total of 502 tumors. This revealed up to 12 genes that are suppressed in CRC (Fig. 3), including genes that had been previously found misregulated in cancer, such as HPGD, PTGIS, PTGER3, and AKR1B1 [31].
Even though we analyzed the DNA methylation contents of tumors from four independent collections and applied two different methods, there was remarkable consistency among all datasets. The gene PTGER1 was the only one showing clear discrepancies, which we believe are due to the different location of the array probes and the oligonucleotides used in dissociation curve analysis.
We have found four genes (AKR1B1, PTGIS, PTGER3, PTGFR) hypermethylated in a high proportion of all analyzed tumors (70, 63, 45, and 50 %, respectively), suggesting that DNA methylation is an important mechanism involved in the deregulation of this pathway in CRC. Even though downregulation of PTGER3 and AKR1B1 had been previously reported [42–44], this is the first time that their DNA hypermethylation is reported in CRC, whereas the epigenetic silencing of PTGIS and PTGFR had been previously observed [35, 45]. Importantly, the methylation abnormalities appear to occur early in tumorigenesis, as their frequency was similar in adenomas and carcinomas (Additional file 1: Figure S2). This result, together with the absence of DNA methylation abnormalities in the adjacent normal tissue of CRC patients, suggests that epigenetic alterations may have a critical role in the overriding of the pro-inflammatory status towards a malignant phenotype.
We also interrogated the TCGA database for mutations in these genes, having found little evidence of downregulation of PTGS pathway genes in CRC due to genetic alterations. These results further support DNA methylation as a major gene silencing mechanism involved in this process. Still, other mechanisms cannot be fully discarded, particularly for AKR1B1 and PTGFR, whose expression is not recovered in DNMT-deficient cells.
Our experimental design included the analysis of colonic mucosae collected from healthy individuals, which allowed us to detect pre-oncogenic alterations already present in the adjacent mucosae of CRC patients. We observed a marked hyperactivation of the pathway at the expression level in adjacent mucosae from patients, which likely reflects a highly inflammatory state of the tissue (Fig.
4
). Whether this inflammatory state is cause or consequence of the tumor development remains to be fully understood.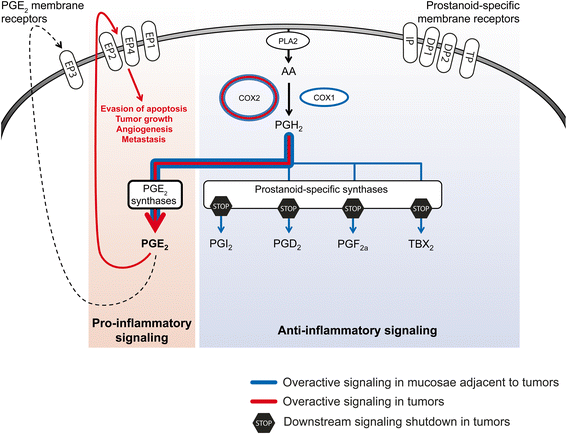 Our results also suggest that the establishment of an inflammatory state in this tissue precedes and possibly contributes to the epigenetic alterations we observe in tumors. In this regard, a connection between PTGS signaling and epigenetic changes has been proposed [46, 47]. Xia and collaborators found compelling evidences supporting a role of PGE2 promoting gene silencing by DNA methylation in CRC [47].
Even though our analysis has only been focused on transcriptional and epigenetic profiling of a series of CRC tumors, our data strongly suggests that colorectal cancers present a strong bias towards PGE2 production and pro-oncogenic signaling in detriment of the other prostanoids (Fig. 4). The overall deregulation of the pathway results in protection of the PGE2 biosynthetic pathway (PTGES, PTGES2, and PTGES3) and strong downregulation of HPGD, the responsible for PGE2 degradation in the cytosol. This is concordant with PGE2 being the major prostanoid in tumor microenvironments [6, 48] and fits previous observations in Apc Min transgenic mice, where deletion of PTGER1, PTGER2, and PTGER4 inhibits the development of CRC [49–51]. Interestingly, each one of the PGE2 receptors displayed a distinctive behavior. PTGER3 and PTGER4 were upregulated in adjacent mucosa, which could indicate the permissiveness of the host tissue to PTGS signaling. Both receptors appear to have similar roles in stromal regulation [52], but show different behaviors in the tumor: PTGER3 is the only receptor whose overexpression is maintained in the tumor tissue (Fig. 1b). This could be related with its reported role in increasing tumor growth, as opposed to the rest of the receptors [53]. PTGER2 showed consistent downregulation in both normal and tumor tissue.
A recent study has shown that in vivo administration of celecoxib (an inhibitor of PTGS2) abrogates chemoresistance in xenografted tumors derived from a patient who was resistant to chemotherapy. These results strongly suggest the participation of the PTGS/PGE2 signaling axis in the reactivation of cancer stem cells, a major cause of treatment failure [17].
Our integrative approach has contributed to explore the intricacies of the PTGS pathway in colorectal cancer, revealing a dual disruption: the adjacent non-tumor tissue of colorectal cancer patients shows global transcriptional upregulation of the PTGS pathway; whereas, cancer cells restrict the hyperactivation towards PGE2 signaling, which is achieved by epigenetic silencing of competing eicosanoid synthases and receptors, even in early stages of tumor progression. The possible involvement of epigenetic alterations in malignant cell transformation within a pro-inflammatory microenvironment releases new candidate biomarkers for prevention and early diagnosis, as well as potential new therapeutic targets. Taking into account the likely contribution of this pathway to the etiology and progression of the disease, further functional studies are required to understand the mechanisms underlying PTGS regulation and signaling in both normal and malignant cells. The ability to modulate this pathway may constitute a powerful tool to prevent and eventually treat colorectal cancer.
Finally, the influence of environmental factors cannot be excluded from the etiology of CRC. As a metabolic pathway, the PTGS pathway signaling is a result of an individual's metabolic state, being directly responsive to environmental exposures. On the other hand, diet and lifestyle factors are also known to contribute to aberrant epigenetic signatures in colorectal cancer (reviewed in [54–56]). In an omics era, patients' clinical pictures and response to therapy should be seen as the result of their unique genome, epigenome, transcriptome, proteome, metabolome, as well as of their interactome and exposome [56, 57]). The emerging concept of molecular pathological epidemiology (MPE) [57], which aims to integrate all contributing factors in one discipline, should bring new queues of personalized medicine to CRC patients. Future studies should aim to go further and integrate studies like ours with other layers of information such as diet in order to better prevent and treat cancer patients.
Conclusions
This study shows that the PTGS signaling pathway displays a pro-inflammatory molecular signature in the non-tumor colonic mucosa of colorectal cancer patients. Noteworthy, in colorectal adenomas and carcinomas, epigenetic mechanisms (namely DNA hypermethylation) redirect the transcriptional deregulation of the non-tumor environment towards selective activation of PGE2 function and blockade of other biologically active prostaglandins. These results have important implications for the proper design and application of preventive and therapeutic strategies targeting prostaglandin metabolism. The large arsenal of available agonists and antagonists of prostaglandins demand an individualized analysis of the PTGS pathway not only in patients, but also in individuals at risk of developing CRC.
Availability of supporting data
All sequencing and array data supporting the results of this article are available through Gene Expression Omnibus with accession numbers GSE44076 and GSE48684, and the TCGA data through cBioportal (www.cbioportal.org).
Abbreviations
CRC:

colorectal cancer
TCGA:

The Cancer Genome Atlas
Declarations
Acknowledgements
IC was funded by Fundação para a Ciência e a Tecnologia (SFRH/BD/28464/2006); JC was funded by a FPI fellowship. ADV was supported in part by a contract from the Ministerio de Economía y Competitividad (MINECO) (PTC2011-1091). This work was supported by the MINECO(SAF2011/23638, SAF2014/52492), the Catalan Institute of Oncology and the Instituto de Salud Carlos III (grant PI11-01439, RD12/0042/0019 and CIBERESP CB06/02/2005), the Generalitat de Catalunya (grant 2014SGR647), and the Asociación Española Contra el Cáncer (AECC). Sample collection was supported by the Xarxa de Bancs de Tumors de Catalunya sponsored by Pla Director d'Oncología de Catalunya (XBTC) and Instituto de Salud Carlos III (RD09/0076/0010). The results shown here are in part based upon data generated by the TCGA network.
Authors' Affiliations
(1)
Institute of Predictive and Personalized Medicine of Cancer (IMPPC, Badalona, Spain
(2)
Unit of Biomarkers and Susceptibility, Cancer Prevention and Control Program, Catalan Institute of Oncology (ICO), IDIBELL and CIBERESP, Hospitalet de Llobregat, Spain
(3)
Instituto de Investigaciones Biomédicas Alberto Sols (CSIC-UAM), Madrid, Spain
(4)
Department of Clinical Sciences, Faculty of Medicine, University of Barcelona, Barcelona, Spain
(5)
Current address: Department of Medicine, Imperial College London, London, UK
(6)
Current address: Science for Life Laboratory, Department of Medical Biochemistry and Biophysics, Karolinska Institutet, Stockholm, Sweden
Copyright
© Cebola et al. 2015
This is an Open Access article distributed under the terms of the Creative Commons Attribution License (http://creativecommons.org/licenses/by/4.0), which permits unrestricted use, distribution, and reproduction in any medium, provided the original work is properly credited. The Creative Commons Public Domain Dedication waiver (http://creativecommons.org/publicdomain/zero/1.0/) applies to the data made available in this article, unless otherwise stated.