Is Friedreich ataxia an epigenetic disorder?
Clinical Epigenetics
The official journal of the Clinical Epigenetics Society
2012
4:2
Received: 18 August 2011
Accepted: 30 January 2012
Published: 30 January 2012
Abstract
Friedreich ataxia (FRDA) is a debilitating and frequently fatal neurological disorder that is recessively inherited. It belongs to the group of genetic disorders known as the Repeat Expansion Diseases, in which pathology arises from the deleterious consequences of the inheritance of a tandem repeat array whose repeat number exceeds a critical threshold. In the case of FRDA, the repeat unit is the triplet GAA•TTC and the tandem array is located in the first intron of the frataxin (FXN) gene. Pathology arises because expanded alleles make lower than normal levels of mature FXN mRNA and thus reduced levels of frataxin, the FXN gene product. The repeats form a variety of unusual DNA structures that have the potential to affect gene expression in a number of ways. For example, triplex formation in vitro and in bacteria leads to the formation of persistent RNA:DNA hybrids that block transcription. In addition, these repeats have been shown to affect splicing in model systems. More recently, it has been shown that the region flanking the repeats in the FXN gene is enriched for epigenetic marks characteristic of transcriptionally repressed regions of the genome. However, exactly how repeats in an intron cause the FXN mRNA deficit in FRDA has been the subject of much debate. Identifying the mechanism or mechanisms responsible for the FXN mRNA deficit in FRDA is important for the development of treatments for this currently incurable disorder. This review discusses evidence for and against different models for the repeat-mediated mRNA deficit.
Keywords
Friedreich ataxiaheterochromatinhistone modificationstranscriptionsplicingtriplex
Introduction
Friedreich ataxia (FRDA) (OMIM 229300; http://www.omim.org/entry/229300), first described in 1863 by Nikolaus Friedreich, is a relentlessly progressive disorder caused by mutations in the frataxin (FXN) gene. It is the most common heritable ataxia in Caucasians [1]. The major pathological changes include loss of myelinated axons in peripheral neurons, particularly in the dorsal root ganglia, the degeneration of posterior columns of the spinal cord and the loss of peripheral sensory nerve fibers. Myocardial muscle fibers also degenerate and are replaced by macrophages and fibroblasts. The net result of these and other changes include not only limb and gait abnormalities, but also hypertrophic cardiomyopathy, limb muscle weakness, absent lower limb reflexes and a positive extensor plantar response (Babinski sign). Decreased vibration sense, skeletal abnormalities, dysarthria, and diabetes are common comorbid features. Many symptoms become apparent during adolescence. Loss of ambulation occurs roughly 15 years after disease onset with > 95% of patients becoming wheelchair bound by the age of 45. Early mortality due primarily to cardiac failure is not uncommon [2, 3].
Conclusions
An effect of the GAA•TTC repeat on events occurring > 1 kb away at the
FXN
promoter is difficult to reconcile with an effect of aberrant splicing. It is also difficult to reconcile with a direct effect of the formation of a triplex/R-loop unless problems occurring in the repeat lead to the buildup of stalled polymerases that stretches back to the promoter. Therefore, perhaps the most likely explanation for the promoter proximal effects is that the repeat-mediated epigenetic changes generate a chromatin configuration that is less permissive for early steps in transcription as illustrated in Figure
5
. That is that FRDA is, at least in part, a disorder of epigenetic dysregulation. The lack of an effect of BIX-01294 on
FXN
mRNA yield can be reconciled with this idea, if histone marks other than H3K9 methylation need to be removed before a chromatin conformation permissive for transcription is reestablished, as has been suggested for a number of other repressed genes [
71
,
72
]. If this is the case, it would suggest that histone deacetylase inhibitors, which are currently in clinical trials for treating FRDA, are probably acting on one of the direct causes of the transcription deficit. Such a mechanism would not necessarily preclude a role for triplexes/R-loops in events occurring at the promoter if, as discussed earlier, such structures contribute in some way to the formation of heterochromatin.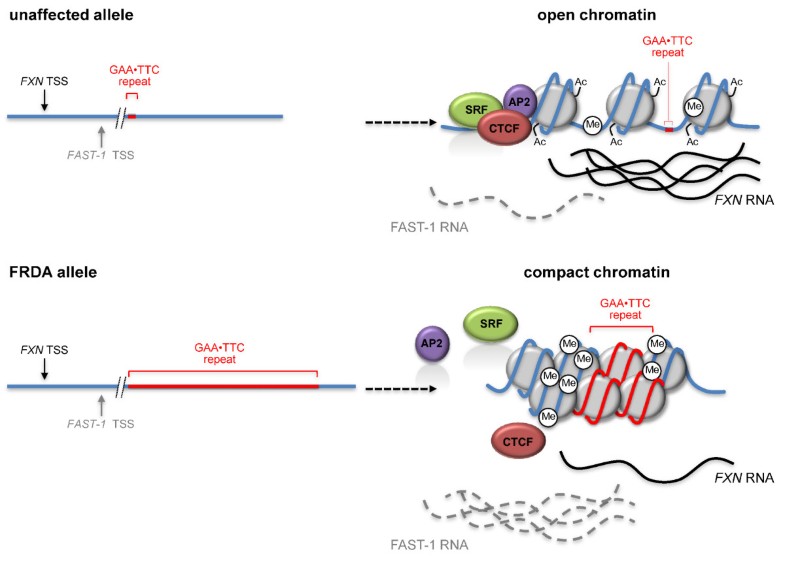 Whether problems with Pol II elongation in the vicinity of the repeat are epigenetically mediated or arise from a physical block to elongation like that formed by triplex/R-loops also remains an open question, with some data supporting a role for chromatin-mediated events and some data favoring a chromatin-independent mechanism. It may be that both mechanisms contribute to the FXN mRNA deficit in some way and further work will be necessary to understand the relative contribution of these mechanisms to the FXN mRNA deficit responsible for FRDA.
Authors' Affiliations
(1)
Section on Gene Structure and Disease, Laboratory of Cell and Molecular Biology, National Institute of Diabetes, Digestive and Kidney Diseases, National Institutes of Health, Bethesda, USA
Copyright
© Kumari and Usdin; licensee BioMed Central Ltd. 2012
This article is published under license to BioMed Central Ltd. This is an Open Access article distributed under the terms of the Creative Commons Attribution License (http://creativecommons.org/licenses/by/2.0), which permits unrestricted use, distribution, and reproduction in any medium, provided the original work is properly cited.