Epigenetic regulation of prostate cancer
Clinical Epigenetics
The official journal of the Clinical Epigenetics Society
2011
2:41
Received: 1 February 2011
Accepted: 23 May 2011
Published: 14 June 2011
Abstract
Prostate cancer is a commonly diagnosed cancer in men and a leading cause of cancer deaths. Whilst the underlying mechanisms leading to prostate cancer are still to be determined, it is evident that both genetic and epigenetic changes contribute to the development and progression of this disease. Epigenetic changes involving DNA hypo- and hypermethylation, altered histone modifications and more recently changes in microRNA expression have been detected at a range of genes associated with prostate cancer. Furthermore, there is evidence that particular epigenetic changes are associated with different stages of the disease. Whilst early detection can lead to effective treatment, and androgen deprivation therapy has a high response rate, many tumours develop towards hormone-refractory prostate cancer, for which there is no successful treatment. Reliable markers for early detection and more effective treatment strategies are, therefore, needed. Consequently, there is a considerable interest in the potential of epigenetic changes as markers or targets for therapy in prostate cancer. Epigenetic modifiers that demethylate DNA and inhibit histone deacetylases have recently been explored to reactivate silenced gene expression in cancer. However, further understanding of the mechanisms and the effects of chromatin modulation in prostate cancer are required. In this review, we examine the current literature on epigenetic changes associated with prostate cancer and discuss the potential use of epigenetic modifiers for treatment of this disease.
Keywords
Prostate cancerEpigeneticsDNA methylationHistone acetylationMicroRNA
Introduction
Prostate cancer is the most commonly diagnosed cancer for men living in developed countries (other than non-melanoma skin cancer). According to Cancer Research UK, an estimated 913,000 men worldwide were diagnosed in developed countries in 2008. According to the US National Cancer Institute, it was estimated that almost 217,730 men would be diagnosed in the USA alone in 2010 and more than 32,050 would die as a direct result of the disease. The use of prostate-specific antigen (PSA) as a screening tool has allowed the detection of prostate cancer in the early stages whilst it is still locally confined. Whilst more than 70% of diagnosed cases now survive beyond 5 years, this cancer is still associated with significant mortality and morbidity. Metastatic prostate tumours are responsible for the majority of deaths associated with this cancer. The most frequent site of prostate cancer metastasis is to bone; over 80% of men who die of prostate cancer have metastatic boney lesions (Bubendorf et al. 2000). In terms of current treatments for prostate cancer, we are still unable to identify with certainty those tumours requiring aggressive and immediate intervention (associated with considerable morbidity) and those where a "watchful-waiting" approach may be more appropriate. Thus, identification of markers predicting tumour behaviour has become of intense interest to researchers working to discover new prognostic and diagnostic markers and new targets for treatment.
Prostatic intraepithelial neoplasia (PIN) and, in particular, high-grade PIN has been identified as precancerous lesions most likely leading to prostatic carcinoma. On the prostate morphological spectrum, PIN refers to precancerous lesions involving cell proliferation within prostatic ducts, ductules and acini (De Marzo et al. 2004). PIN is believed to pre-date carcinoma by 10 or more years. High-grade PIN is considered clinically significant as men with high-grade PIN have up to 50% chance of subsequently developing prostate cancer (Lee et al. 2011). A second morphological abnormality termed atypical small acinar proliferation has also been associated with increased risk of diagnosis with prostate cancer in subsequent biopsies. Prostate tumours are most commonly graded using the Gleason score, determined by the histological characteristics of the glandular architecture within the tumour.
It is clear that epigenetic changes within a cell play a significant role in the development and progression of cancer (Esteller 2008; Jones and Baylin 2007) and, as in most other human cancers, prostate cancer development and progression appears to involve an interplay between both genetic and epigenetic changes. There is now considerable evidence that changes in gene expression which involve epigenetic alterations may be an important factor in prostate cancer progression, and development of panels of epigenetically modified genes as markers of disease progression is of considerable topical interest.
Epigenetic mechanisms
Epigenetic alterations are heritable changes in gene expression that occur without changes in DNA sequence, with the broadest definition including all factors other than DNA sequence changes that heritably influence gene expression (Berger et al. 2009). Whilst the best described of these mechanisms is DNA methylation, other epigenetic mechanisms include physical and chemical changes to chromatin and regulation of gene expression by microRNAs (miRNAs).
DNA methylation plays an important role in DNA repair, recombination and replication, as well as regulating gene activity (see Fig.
1
). DNA methylation involves the addition of a methyl group to the 5′-carbon of cytosine in CpG dinucleotide sequences, catalysed by a family DNA methyltransferases (DNMTs). CpG-rich regions, known as CpG islands are commonly found associated with the 5′-region of vertebrate genes (Gardiner-Garden and Frommer
1987
) and are generally protected from methylation (Bird
2002
). For many years, CpG islands have been implicated in gene regulation with their methylation strongly correlated with gene silencing (Illingworth and Bird
2009
). DNA methylation can regulate gene activity via two mechanisms. Firstly, methylation of CpG dinucleotides within transcription factor binding sites can inhibit transcription factor binding and, therefore, directly influence gene activity (Hark et al.
2000
). Secondly, methylated CpG dinucleotides act as binding sites for methyl CpG binding proteins, which are associated with other factors such as histone deacetylases, involved in establishing repressive chromatin structures (Jones et al.
1998
; Nan et al.
1998
).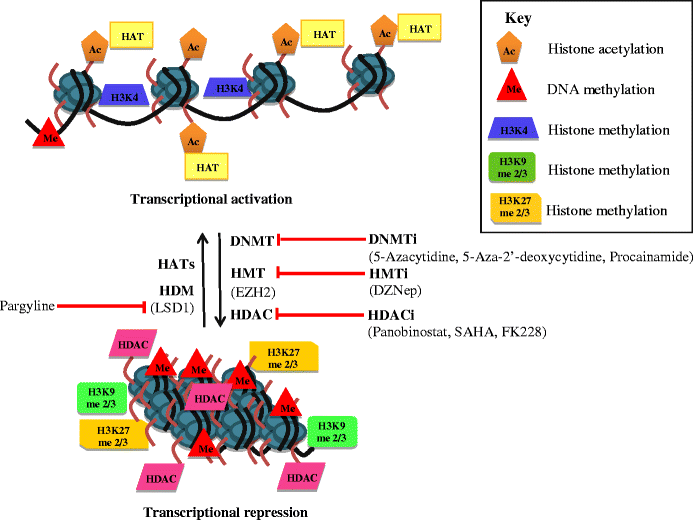 Changes in DNA methylation patterns have been linked with cancer for many years now (Jones and Baylin 2007). However, the methylation changes are complex, with both hypomethylation and hypermethylation occurring in cancer cells. Aberrant DNA hypermethylation occurs when there is a gain of DNA methylation at regions that are normally unmethylated and when this occurs at gene promoters can lead to gene inactivation. Localised hypermethylation of gene promoters has been reported in virtually all types of cancers, including prostate cancer. On the other hand, DNA hypomethylation is the demethylation of normally methylated DNA and can lead to chromosomal instability and activation of proto-oncogenes (Dunn 2003; Eden et al. 2003; Sharma et al. 2010). Both global and gene-specific hypomethylation events have also been implicated in prostate cancer.
Whilst alterations in DNA methylation have long been linked to cancer, there is also mounting evidence that other epigenetic changes, such as changes to chromatin composition or structure, contribute to cancer. Within the eukaryotic nucleus, DNA is assembled into chromatin, the basic unit of which is the nucleosome. Nucleosomes are composed of approximately 147 base pairs of DNA wrapped around an octamer of core histone proteins, containing two each of histones H2A, H2B, H3 and H4 (Kornberg and Lorch 1999). The N termini of the core histones protrude from the nucleosome and are subjected to a range of covalent modifications, catalysed by various histone-modifying enzymes. At least ten different histone modifications have now been reported, including acetylation, methylation, phosphorylation and ubiquitination (Kouzarides 2007; Gardner et al. 2011). Each of these modifications affects the chromatin structure and function in a different way by either disrupting chromatin contacts or affecting the recruitment of other proteins to the chromatin (Kouzarides 2007). Acetylation of lysine residues in histone H3 and H4 (H3Ac and H4Ac) is in general associated with transcriptional activity, whereas histone methylation is associated with transcriptional activation or repression depending on the site of modification and the number of methyl groups added (see Fig. 1). For example, histone H3 lysine 4 (H3K4) methylation is generally associated with transcriptional activation, whereas histone H3 lysine 9 (H3K9) and histone H3 lysine 27 (H3K27) di- and tri-methylation is generally associated with transcriptional repression (Kouzarides 2007). As with DNA methylation, there is an increasing body of evidence that changes in histone modifications due to aberrant activity or mis-targeting of chromatin-modifying enzymes is involved in carcinogenesis (Hake et al. 2004).
More recently, miRNAs have been identified as important regulators of gene expression. miRNAs are endogenous small non-coding, single-stranded RNAs, 18–24 bases long, which regulate gene expression by affecting the stability or the translation efficiency of target mRNAs (Pang et al. 2010). The miRNA binds to complementary sequences within the 3′ mRNA tails, although usually only with partial base pair complementarity. When miRNAs bind to mRNA with partial complementarity, they function as translational repressors whereas perfect complementarity induces degradation of the target mRNA (He and Hannon 2004; Porkka et al. 2007). Recent studies have found that aberrations in miRNA expression are associated with various human cancers including prostate cancer. About half of the known miRNA genes are located at cancer-related genomic regions (Calin et al. 2004), and in cancer, miRNAs can function as either oncogenes or tumour suppressor genes (Hayashita et al. 2005; He et al. 2005). One miRNA can target hundreds of mRNAs and, therefore, alterations in a single miRNA can have dramatic effects on cell biology. Our understanding of the function and regulatory mechanisms of miRNAs has expanded enormously over recent years; however, we still have limited capacity to identify targets of miRNAs and have much to learn about their involvement in cellular processes and disease.
Epigenetic alterations in prostate cancer progression
Epigenetic modifications as potential prostate cancer biomarkers
The current challenge for prostate cancer is its early detection, as this provides the best chance of successful treatment. Since the introduction of PSA testing, there has been a significant increase in the diagnosis of prostate cancer. Although PSA is the best tumour marker available today, PSA screening has limited accuracy. Whilst a PSA level of more than 4.0 ng/mL has predictive value for the diagnosis of prostate cancer (Thompson et al. 2004), the Prostate Cancer Prevention Trial conducted by Thompson et al. (2004) showed that 15% of men with a serum PSA value less than 4.0 ng/mL have prostate cancer, with 25% of these men having cancer of Gleason score 7 or above. Further, the majority of those with elevated PSA do not have prostate cancer (Villers et al. 1997). Therefore, there is an urgent need for more accurate biomarkers that can identify men at high prostate cancer risk and therefore improve current treatments.
Recently, increased understanding of the involvement of epigenetic alterations in the early stages of cancer has led to the investigation of epigenetic changes, particularly DNA hypermethylation as potential biomarkers. DNA hypermethylation is a relatively stable modification and has therefore been investigated as a potential biomarker, as reviewed in Phé et al. (2010). Furthermore, DNA methylation can be easily detected using highly sensitive PCR-based methods and bisulphite sequencing. In addition, as outlined above, many studies suggest that DNA hypermethylation is an important mechanism leading to gene loss of function in prostate cancer (Li et al. 2004; Whang et al. 1998; Nakayama et al. 2003). Further, recent studies suggest that DNA hypermethylation is involved in an early event in carcinogenesis (Feinberg et al. 2006) and, therefore, DNA hypermethylation may prove to be a useful tumour biomarker.
As described earlier, GSTP1 hypermethylation is a common occurrence in prostate cancer and has therefore been investigated as a potential biomarker. Jeronimo et al. (2004) examined promoter hypermethylation at GSTP1 and several other gene promoters in 118 prostate cancer samples, 38 paired high-grade PIN and 30 BPH, in order to determine the sensitivity of using GSTP1 hypermethylation as a biomarker to detect prostate cancer. Interestingly, the results showed that the frequency of methylation was different between the three groups with no GSTP1 promoter hypermethylation observed in BPH. This suggests that GSTP1 promoter hypermethylation is a sensitive prostate cancer marker with the ability to distinguish between the different stages of prostate cancer. In addition, the study found that using a combination of GSTP1 and APC methylation levels increased the detection rate of prostate cancer to almost 94%. Similarly, another study of promoter hypermethylation of GSTP1, APC and prostaglandin-endoperoxide synthase 2 (or cyclo-oxygenase 2 (COX-2)) reported that GSTP1 methylation analysis in combination with either or both of the other genes provided good correlation with tumour stage and Gleason score but not PSA levels (Bastian et al. 2007). Therefore, analysis of a combination of hypermethylated genes may provide increased sensitivity and specificity of prostate cancer detection and therefore may have potential as a biomarker in prostate cancer diagnosis.
In addition, a number of studies have demonstrated that DNA methylation may be detectable in urine samples, raising the possibility of detecting epigenetic changes using non-invasive screening methods. Cairns et al. (2001) demonstrated that GSTP1 hypermethylation can be detected in voided urine using methylation-specific PCR. Whilst GSTP1 hypermethylation was only detected in one third of the urine samples of which it was found in matched prostate cancer samples, it was not detected in any of the samples in which prostate tissue was negative for GSTP1 hypermethylation. This demonstrates that molecular diagnosis of prostate cancer by analysis of DNA methylation in urine samples may be feasible. In support of this, Goessl et al. (2001) analysed urine sediments from patients with BPH, PIN and various stages of prostate cancer and reported detection of GSTP1 promoter methylation with 98% specificity and 73% sensitivity. A further study investigated methylation of a panel of genes in post-prostate massage-voided urine (Roupret et al. 2007). The study involved 95 individuals with early prostate cancer and found that a four-gene combination of GSTP1, RASSF1a, retinoic acid receptor β2 (RARβ2) and APC was the best discriminator of malignant compared with non-malignant samples with a sensitivity of 86% and an accuracy of 89%. These studies, therefore, suggest that post-prostate massage-voided urine may be a realistic alternative as a non-invasive method of prostate cancer screening, with multiple gene panels providing a better discrimination of malignant from non-malignant cells.
Another potential cancer biomarker is the cell-free circulating DNA in serum/plasma. Recent studies have shown that individuals with prostate cancer have higher levels of cell-free DNA and that the DNA fragmentation pattern from healthy individuals is different to that from individuals with benign prostate cancer (Ellinger et al. 2008b; Jung et al. 2004; Papadopoulou et al. 2004; Altimari et al. 2008). The cell-free circulating DNA seems to be released from solid malignant tumours that undergo cellular necrosis and apoptosis (Jahr et al. 2001). Allen et al. (2004) showed that individuals with prostate cancer and PIN had significantly higher levels of cell-free circulating DNA compared with those with BPH. However, this increase in cell-free DNA appears to be a common feature of cancer, as it is also observed in breast (Huang et al. 2006), cervical (Trejo-Becerril et al. 2003), lung (Sozzi et al. 2001) and bladder (Ellinger et al. 2008a) cancer. Therefore, detecting methylation of a panel of prostate cancer-specific genes in the cell-free circulating DNA may be useful to allow a more specific diagnosis. Cell-free DNA hypermethylation at GSTP1 detected in individuals with prostate cancer, in a number of studies have shown a diagnostic specificity of nearly 100% (Jeronimo et al. 2002; Bastian et al. 2005; Papadopoulou et al. 2004; Reibenwein et al. 2007; Chuang et al. 2007; Altimari et al. 2008). However, detection of methylation at a panel of prostate-cancer-specific genes (GSTP1, TIGI, COX-2 and RPRM) increased the sensitivity of diagnosis and the ability to predict prognosis of prostate cancer even further (Ellinger et al. 2008c). Therefore, cell-free DNA may be a promising non-invasive biomarker for prostate cancer.
Finally, very recently miRNAs have been suggested as potential biomarkers in prostate cancer. An expression profile study consisting of six prostate cancer-related miRNAs (miR-141, miR-16, miR-101, miR-34c, miR-21 and miR-125b) was conducted on human prostate samples and prostate cell lines of both benign and malignant tumours (Hao et al. 2011). These miRNAs were selected on the basis of their association with prostate cancer-related proteins, PSA, Bcl-2, COX-2, and p53. However, expression levels of all six miRNAs were different across cell lines, corresponding xenograft tumours and human specimens. Interestingly, all the miRNAs showed a significantly different expression pattern when compared between the benign cell line, BPH1, and the tumourigenic subline, BPH1CAFTD, with miR-21 and miR-125b highly expressed in BPH1 CAFTD, and lower expression of miR-16, miR-34c, miR-101 and miR-141 detected in BPH1 cells. Therefore, profiles of these miRNAs clearly distinguished the benign BPH1 from the tumourigenic BPH1CAFTD cells. Analysis of human tissue samples showed a twofold upregulation of miR-21 and miR-141 in tumour samples compared with BPH samples, suggesting that miR-21 and miR-141 might be a potential biomarker useful for distinguishing tumours from benign samples. In addition, miRNAs have been detected in human plasma in a stable form and, thus, may be an attractive non-invasive biomarker (Mitchell et al. 2008). A panel of six miRNAs (miR-100, miR-125b, miR-141, miR-143, miR-205 and miR-296) were also analysed in serum samples from 25 individuals with metastatic prostate cancer and 25 healthy individuals as controls. Of all the miRNAs examined, miR-141 showed a significantly higher expression in individuals diagnosed with prostate cancer compared with individuals without prostate cancer, correlating well with the previous study by Hao et al. (2011). Therefore, miR-141 appears to be a potential non-invasive biomarker that can distinguish prostate cancer from benign or healthy controls.
Pharmacological reversal of epigenetic modifications in prostate cancer
As highlighted above, changes in epigenetic modifications are increasingly being associated with prostate cancer. Unlike genetic mutations, epigenetic alterations are potentially reversible and a range of pharmacological reagents that reverse epigenetic modifications have been characterised in recent years (see Fig. 1). This review highlights several of these agents and their potential use in the treatment of prostate cancer.
Conclusions
Early and accurate diagnosis of prostate cancer is essential, and available studies suggest that gene-specific DNA methylation analysis may prove to be useful as a prostate cancer biomarker. Hypermethylation of the GSTP1 promoter, particularly in combination with other genes implicated in tumourigenesis, is proving to be a highly specific and sensitive measure of prostate cancer. Hypermethylation of particular genes also appears to be an early event in prostate cancer development. Further studies are, therefore, required to identify panels of genes that are aberrantly methylated in prostate cancer and may be useful in early detection of the disease.
In prostate cancer, as in other cancers, epigenetic changes are proving to be as common and important in tumour development and progression as genetic changes. Given the potential to reverse aberrant epigenetic modifications, and the promising results that have been reported for some inhibitors of epigenetic modifiers in prostate cancer animal models and clinical trials, further investigation of the mechanisms of action of these agents on prostate cancer cells is warranted. As recent studies suggest, these agents are most likely to be of use in the clinic when used in combination with conventional therapies, and further studies are therefore required to investigate their action in combination with other chemotherapeutic agents.
Declarations
Acknowledgements
Work in the authors' laboratories is supported by The Cancer Council Tasmania, The Australian Cancer Research Foundation and Cancer Australia.
Conflicts of interest
The authors declare that they have no conflict of interest.
Authors' Affiliations
(1)
Menzies Research Institute Tasmania, University of Tasmania, Hobart, Australia